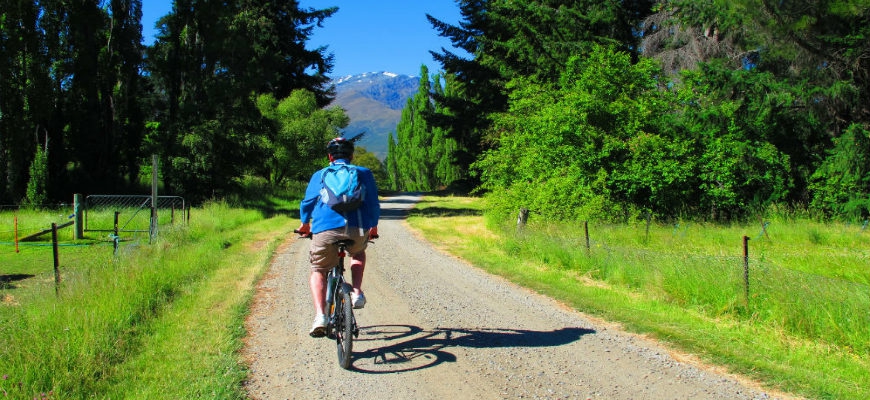 Queenstown Bike Trail
Our guide to the 100+km bike trail around Queenstown
Queenstown Trail Overview:
Part of the nationwide New Zealand Cycle Trail, The Queenstown Trail offers world-class riding over 100 kilometres of varying terrain. The trail has been designed to appeal not only to cyclists and hikers but also those looking to combine their outdoor sports with food, wine, architecture and art.

There are opportunities along the trails for tastings at award-winning wineries, viewing art made by local artists, finding your own piece of solitude, and of course, one of the primary attractions for cyclists is the non-stop beautiful views. You can even interrupt your bike ride for a quick bungy jump if you feel so inclined.
The trail is open seven days a week and completely free to ride. You can tailor your own itinerary and do as much or as little as you like.

Bike Tours:
​
For visitors to the region, the most convenient and best option is to book the bike hire and self guided tour with a local operator. Run by long-term locals, Around The Basin has been operating on the Queenstown Trail since it opened in 2012. From mountain and electric bike hire, to half day or full day bike tours and winery biking adventures, check out the team at Around The Basin.

Our guide below outlines the Queenstown Trail sections:
1. Lake Wakatipu Ride
This ride officially begins at Earnslaw Park, or you can join it from the entrance to Queenstown Gardens – just follow the signs along the lakefront. The trail follows the lake around Frankton with views of Cecil and Walter Peaks and the lofty Remarkables mountain range. You will come to the Kawarau Falls Bridge – a beautiful spot where the river is notably deep green and the point where Lake Wakatipu flows into it. This ride ends at the peninsular of Kelvin Heights. Return the same way or arrange transport back to Queenstown for you and your bikes.
Length: 15km
Level: Fairly flat and easy for most of it, though the trail becomes narrower and more challenging from Wakatipu Yacht Club onwards.
Pit-stop activities: Coffee at the Boatshed, Frankton Marina. Golf at Queenstown Golf Course and Kelvin Heights. Swimming in the lake at Frankton Beach. Jet boating on the lake.

2. Jack's Point Ride
Begin at Kelvin Grove and follow Peninsula Road. Turn right onto Poplar Drive and re-join the trail inside Jardine Park. The trail starts getting tougher from Kelvin Heights Golf Course onwards. There are some steep inclines and descents and some tight bends. This ride is all about getting off the beaten track and you will find yourself working hard to get through wild tussocks and schist. The trade-off is that you will more than likely have the trail to yourself. This ride ends at the Jack's Point resort village.
Length: 12km
Level: Advanced. Some steep terrain. A high level of technical skill is needed for parts of the trail.
Pit-stop activities: Coffee, lunch or dinner at Jack's Point. A game on Jack's Point Golf Course.

3. Twin Rivers Ride
This is the most remote part of the trail so it's a good idea to pack food and drink beforehand. This ride begins at Kawarau Falls Bridge. The trail winds alongside the edge of the Kawarau River and takes you to the Shotover River Delta. Photos here are a must, especially as you cross the restored Shotover Bridge. Look out for the picnic sign just before Billie's Bridge and take advantage of the isolation with stunning views.
Length: 26km
Level: Mostly intermediate with some steep climbs but fairly easy descents.
Pit-stop activities: Picnicking at a remote spot before Billie's Bridge near Hayes Creek.

4. Arrow River Ride
This ride begins at the Arrowtown River carpark. If you've burnt out your quads and calves on the last two rides, this one should give you some respite with gentle zigzagging over the Arrow River. You will cross five bridges - some of them suspension bridges over gorges, not for those with vertigo - meander through charming country lanes and burrow under a major highway in a tunnel through to the home of winemaking country, Gibbston Valley. You will end this part of the trail at the AJ Hackett Kawarau Bridge Bungy. A perfect way to end the day's riding by throwing yourself off a bridge!
Length: 16km
Level: Fairly easy. Good for families and beginners.
Pit-stop activities: Bungy!!! The more sedate choice would be breakfast in Arrowtown before setting off.

5. Lake Hayes Circuit
Mostly mirror-flat, Lake Hayes reflects the mountains around the Wakatipu Basin and is dubbed "the most photographed lake in New Zealand". A short ride at just under an hour, many cyclists choose to tack this ride on to one of the longer ones that make up the 100km trail such as the Countryside Ride. Lake Hayes is located around the corner from the award-winning Amisfield Winery and within easy cycling distance of the rustic café, Walnut Cottage.
Length: 8km
Level: Intermediate. Riding anti-clockwise is easier.
Pit-stop activities: Wine tasting at Amisfield. Lunch or coffee at Walnut Cottage. Or bring a picnic and enjoy a leisurely pace at Lake Hayes.

6. Countryside Ride
Beginning at Arrowtown River carpark, this ride is a must for those seeking to uncover the secrets of Speargrass Flat and Slope Hill Roads. Historic galleries and cafés are precious to locals in the know and visitors seeking some culture and a more unique experience. You will also find historic stone ruins of Thurlby Domain on Speargrass Flat Road before coming to the renovated Shotover Bridge which was built during the goldrush. You will finish this ride at Millbrook Resort where you can complete your day with a round of golf, a massage, coffee or lunch.
Length: 11.5km
Level: Intermediate.
Pit-stop activities: Spa/massage/golf/coffee/wine/lunch all at Millbrook. Browse the art galleries of Speargrass Flat Road.

7. Gibbston River Ride
This ride is a DOC operated track, suitable for both walkers and cyclists – follow the signs for the Gibbston River Trail. It begins at the end of the Kawarau Bridge - the site of the world's first commercial bungy where AJ Hackett still operates today. You are now entering wine country and will ride past the lush green Kawarau River running through the gorge on your left with neat rows of grapes in the peaceful vineyards to your right. Look out for the modern architecture of Peregrine Winery and the quaint converted chapel that is the wine-tasting room of Waitiri Creek. Gibbston Valley Winery is a must for guided tours of the wine caves and Brennan Wines are unmissable for their award-winning delectable wines.
Length: 9.6km
Level: Intermediate.
Pit-stop activities: Wine-tasting. Vineyard tours. Bungy!!!