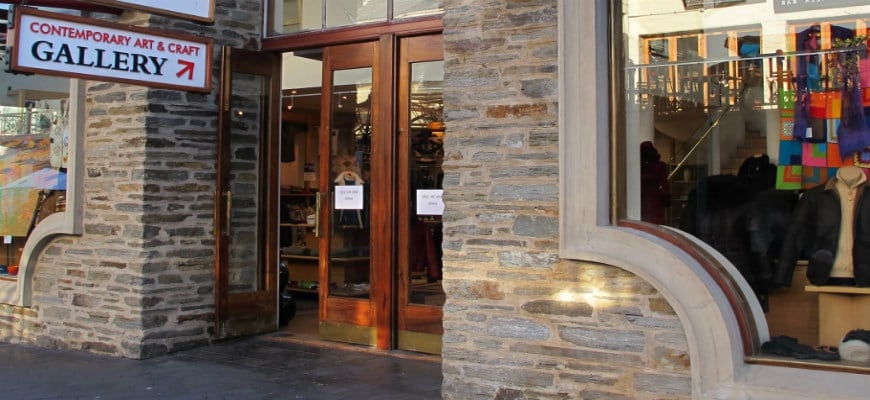 Queenstown Art Galleries
The Queenstown Lakes area has a lively community of artists who collectively offer the full breadth of the art spectrum - right through from avant garde to traditional fine art. Take a leisurely day strolling or driving between galleries from Queenstown to Arrowtown. Admire the region's creative, inspirational, talented artists and craftspeople. All of these galleries are free to look around. Opening times vary.
See the transport section of our site for more useful info about how to get around.
Romer Gallery
Romer Gallery - 15 Earl Street. One of the world's most sought after commercial photographers, with clients such as Porsche, Mercedes Benz and Aston Martin, Stephan Romer has an original and gentle approch to capturing the poetry of this landscape, bringing a powerful intimacy to the beauty of our wilderness
Opening times: Daily: 10.00 - 18.00. Phone: +64 (0)21 171 1711
Artbay
Artbay - Level 1, 32 Rees Street. Set in an industrial space reminiscent of an urban warehouse, Artbay is located in the Mountaineer Building on Rees Street and stocks abstract pieces and features work from New Zealand's next generation of boundary-pushing artists and sculptors. The art programme here also offers workshops, lectures and exhibitions.
Opening times: Mon - Sat: 11.00 - 17.30, Sunday: 12.00 - 16.00. Phone: +64 3 442 9090
Central Art Gallery
Central Art Gallery - 71 Beach Street. Across the road from the Steamer Wharf on Beach Street is Central Art Gallery. With emphasis on the more traditional aspects of fine art, Central Art showcases work from such painting virtuosos as Richard Wilson, Mark Rodgers, Dale Gallagher, Peter Beadle and Nick Fedaeff to name but a few.
Opening times: Weekdays: 10.00 - 22.00, Weekends: 11.00 - 22.00. Phone: +64 3 442 7025
Ivan Clarke Gallery
Ivan Clarke Gallery - 35 Camp Street. Clarke is one of New Zealand's most prolific and well-known artists. Ivan Clarke Gallery on Camp Street showcases works from his self-created character, the Lonely Dog collection as well as impressionist paintings and representations of iconic New Zealand landscapes.
Opening times: Weekdays: 10.00 - 21.00, Weekends: 10.00 - 18.00. Phone: +64 3 442 5232
Cloakroom Gallery
Cloakroom Gallery - Corner of Stanley & Ballarat Streets. On the corner of Stanley and Ballarat Streets, heading in the direction of Frankton and Arrowtown, this gallery is home to Queenstown Art Society and is part of Queenstown Arts Centre. This gallery is partly funded by grants, and so it has less of a dealership feel and is more inclusive and community-focused. Exhibitions feature work from local and visiting artists.
Opening times: Thurs, Fri & sometimes Sat: 11.00 - 16.00. Phone: +64 3 442 7782
Silver Fern Gallery
Silver Fern Gallery - 1B Church Lane. This small owner-operated gallery sells art and other New Zealand-related merchandise. The diversity of the stock is reflected in the price banding which begins at a budget-friendly $10 and goes right through to $9000 for original art works by local artists. Landscape paintings, Maori carvings and ceramics are all available at Silver Fern.
Opening times: Monday - Sunday: 10.00am - 6.00pm. Phone: +64 3 442 4262
Milford Galleries
Milford Galleries - 9a Earl Street. Sculptors, ceramicists and painters are just a part of the diversity on offer at Milford Galleries. From the elegant and sophisticated to the downright humorous the scope of what art is and can be is fully explored within this space. Art works can be freighted worldwide for customers and the gallery also offers valuations and investment advice.
Opening times: Monday - Friday: 10.00am – 6.00pm, or by arrangement. Phone: +64 3 442 6896
Wilson Gallery
Wilson Gallery - 45 Beach Street. One of New Zealand's premier artists, Tim Wilson is inspired by the mood and emotion of the dramatic South Island landscape. His passionate engagement with his subject matter is evident in the often misty and light-filled paintings, details of which are so finely and lovingly administered, viewers will find themselves enthralled.
Opening times: Mon – Wed: 11.00am – 6.00pm, Thurs – Sun: 11.00am – 10.00pm. Phone: +64 3 441 2727
Bonz Gallery
Bonz Gallery - The Mall. This gallery shares a space with hand-knitted fashion and high-end furniture. Neo-classic sculptures and elegant Maori-inspired ornamental glassware adorn the shelves some of which are functional pieces of homeware, such as bowls, glasses and vases. Paintings and mixed media art is also available from New Zealand's leading contemporary artists.
Opening times: Monday – Sunday: 9.00am – 10.00pm. Phone: +64 3 442 5398
Gary Mahan Gallery
Gary Mahan Gallery - 68 Hunter Road. Continuing the trail back to Queenstown, make a stop at Hunter Road, Dalefield to check out Gary Mahan's collection of New Zealand artists' work. Gary specialises in historical art and contemporary art as well as antique furniture, even working with overseas designers in some cases to find special pieces for his clients.
Opening times: By Appointment only. Please phone ahead. Mobile +64 21 927 550
Nadine Milne Gallery
Nadine Milne Gallery - 16 Buckingham Street, Arrowtown. On Buckingham Street, the Nadene Milne Gallery is an 1860s historic building and is tucked away in one of Arrowtown's quaint little nooks. Lectures by the artists and curators often accompany exhibitions and are delivered next door at Dorothy Brown's Cinema.
Opening times: Mon: Closed, Tues - Fri: 10.00 - 15.00, Weekends: 11.00 - 17.00. Phone: +64 3 442 0467
Arrowtown Gallery
Arrowtown Gallery - 8 Berkshire Street, Arrowtown. This fine art dealership is on Berkshire Street in the centre of Arrowtown and is also a framemakers and antiques collectors, stocking obscure pieces such as Chinese Storage Boxes and carved walking sticks. Works from photographers and printmakers also populate the walls of this gallery.
Opening times: Weekdays: 10.00 - 17.00, Weekends: 10.30 - 15.30. Phone: +64 3 442 1755
Speargrass Flat Road Galleries
Heading out of Arrowtown, back in the direction of Queenstown, take a drive along Speargrass Flat Road and choose from a number of art galleries.
Opening times: Vary.