Our Cycling Journey On The Otago Rail Trail
Adventure Editorial Inspiration Sports
A couple's experience on the ultimate New Zealand biking trail.
Cycling the 152km Otago Rail Trail has been on my New Zealand Bucket List since I arrived in New Zealand, 8 years ago. Well, I finally got around to it and set off on a 3 day trip across the historic railway line in December 2018.

About The Trail:

The Otago Rail Trail route follows the old railway that was built on the back of the gold mining and freight industry that boomed here in the 19th century. The rail line, a vital trade link between Central Otago and Dunedin, was operating until 1990. After it closed, the rail line was transformed into the tourist trail of today.

Today, the Otago Rail Trail is a major tourism industry. Cycling along the trail and stopping off for lunch, you will see first-hand the biking rush hour in pubs with cyclists stopping to refuel with drinks and food. Today, more than 12,000 visitors a year cycle the whole trail, with another 80,000 day-tripping to individual parts.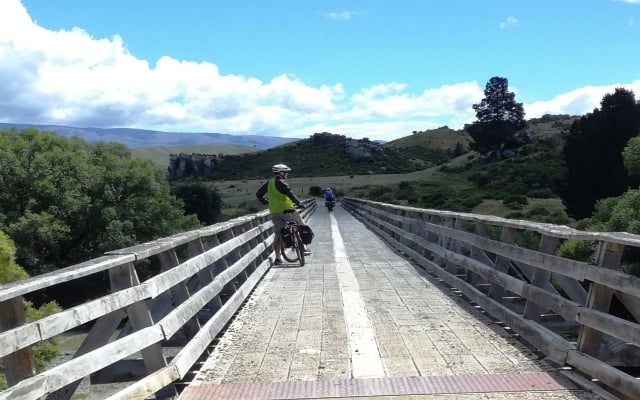 Our Otago Rail Trail Experience:

My wife and I booked our trip with Trail Journeys, who booked our 2 nights accommodation stops on the trail, provided the bike hire and transported our overnight bags each day so our bags waited for our arrival at our bed for the night.

Having spent the night in Queenstown, we took the Intercity bus in the morning (7.45am) to Clyde and the Trail Journeys depot around 75 minutes travelling time. Our journey would end 152km later in Middlemarch. If you aree flying into Christchurch and heading to Dunedin it would make sense to do the Middlemarch to Clyde way - either way round the scenery is the same! Once we were equipped with our bikes, watched an intro video on the trail, we set off around 10.00am.

Adding to the fun of the trail is the 'Otago Rail Trail Passport' that allows you to collect stamps at the 18 stations along the trail. Each station has a red-painted replica of a NZ Railways Department emergency phone box with a stamp inside to mark your passport. The purchase price gets reinvested into the maintenace of the trail so a worthwhile cause.

Day 1:

We set off from Clyde under the blanket of rain but the weather soon turned as we cycled through the pretty town of Alexandra. This marked our second stamp in our passport (after Clyde Rail Terminal) before continuing onto Galloway Station and further along for a fantastic lunch stop of Chatto Creek Tavern. Expect big portions, a lovely setting and welcoming staff.

Our afternoon ride saw us to Omakau where we took the optional detour to head to Ophir, one of Central Otago's richest towns of historic buildings. It's about a 6km return trip from the trail and well worth it if you have time - just make sure you continue on past the high street and onto the historic bridge for a great photo opportunity. Once back on the trail, it was then a short ride onto Lauder where we spent the night.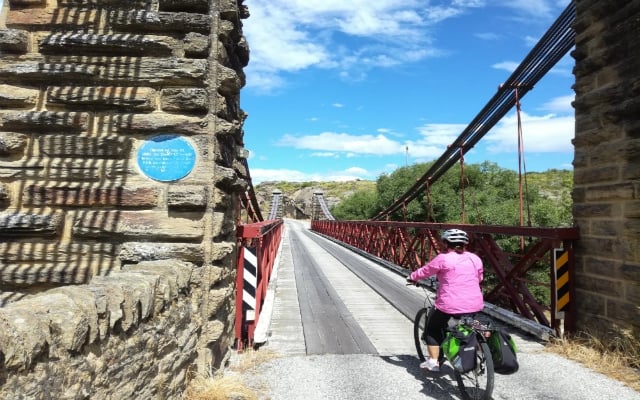 Day 2:

The next morning we were greeted by rain so having enjoyed a cooked breakfast at the Stationside Cafe we donned our ponchos and hit the trail through the most spectacular part of the trail. The trail took us across bridges, tunnels and through the stops of Oturehua, Ida Valley, Auripo, Wedderburn and Oturehua. We stopped at Oturehua for lunch at the Railway Hotel for a bite to eat and escape the rain and would again recommend.

Close by is the attraction of Hayes Engineering Works which also has a cafe, a small museum and offers tours. Opposite the Railway Hotel Pub is Gilchrist's Store, the oldest general store in Otago which houses a mixture of the old and new. The Wedderburn is a good option to stay the night if you are taking more time on the trail (4 days) - it's in a lovely setting with a number of self-contained cottages.

We then cycled onto the art deco buildings of Ranfurly, one of the bigger towns on the trail and took a well earned coffee break at Maniototo Cafe (try the brownies). At the cafe we purchased some takeaway food to have for lunch on the next day's cycle as there are no places to stop of food. It was then the final 6km ride to Waipiata and a night at the Waipiata Inn. A few handles of beer and a plentiful meal was a good way to finish the day. We'd certainly recommend a stay here.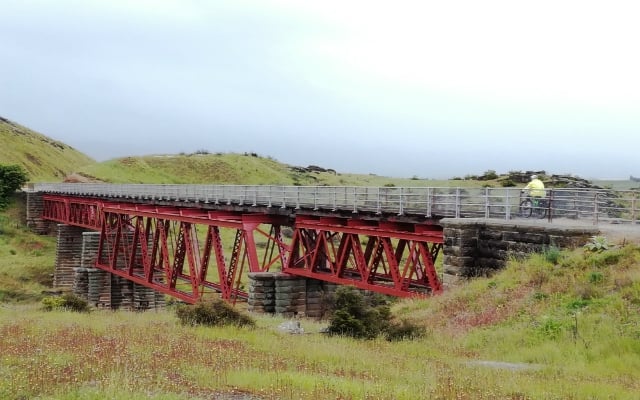 Day 3:

Grateful that the rain had stopped, and the sun was out, we then encountered the south-westerlies which meant cycling along the flat trail felt like we cycling uphill. Thoughts of wishing we hired e-bikes came thick and fast as we battled against the wind for the full 50+kms that would get us to the end point of Middlemarch. Leaving an hour earlier than we had planned at 7.30am proved to be a smart move. Our Trail Journeys bus back to Clyde was leaving at 2.30pm so we did not have the luxury of taking a full day to cycle the last leg.

The trail on our last day took us through Tiroiti, Kakonga, Rock and Pillar Station and Hyde. At Hyde, there is a self-service stop at the Otago Central Hotel where you can take a break with coffee and snacks - you will need cash though as it's an honest box with no credit card facilities. From Hyde, we then peddled the last leg through Ngapuna and finally onto Middlemarch. The last stretch is a long path through countryside that seems to go on forever. With an hour to spare before our bus left, we were delighted to reach our final destination - the end of the trail.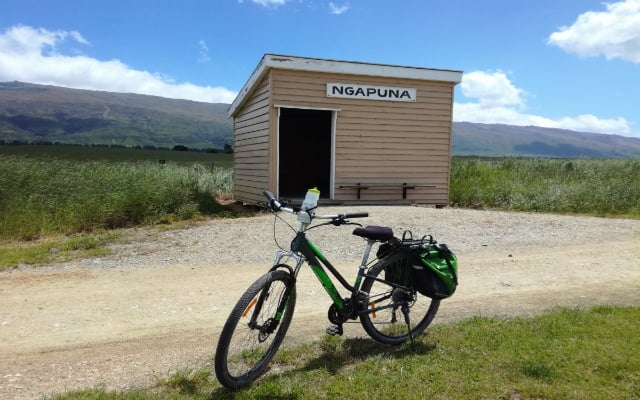 Our Trail Suppliers:

We stayed At The Big Sky Cottage in Lauder on day 1 and The Waipiata Inn on Day 2.
We departed from Clyde to Middlemarch, leaving at 10.00am and arriving on day 3 at 1.15pm.
We hired Trail Bikes, organised baggage transported and accommodation booking with Trail Journeys.
Otago Rail Trail Tips:
Do take layers of clothing including a waterproof jacket and a warmer top (not just t-shirts). The day before we started the temperature was a warm 24c, and then dropped to 14c on the day of the ride!
We suggest purchasing a poncho (couple of dollars) as it's lightweight and give extra protection if you get hit by a heavy shower on route (we wore on top of our waterproof jackets for extra cover).
Make sure you have, or purchase a water bottle for your bike as you need it and there are very few places in between stops to refill.
Bike hire is around NZD $50 a day. If you're fitness is not great, hiring an e-bike is a great option. It's double the price at NZD$100 a day but if the wind is strong you will appreciate the extra investment. It can also ensure larger groups can stay together no matter fitness levels.
Allow 10km per hour at a moderate pace. If it's going to be a windy day add on an extra hour to your cycling time if riding for the day/50km.
Purchase an Otago Rail Trail Passport (NZD$12.50). At each railway stop there is a red painted phone box to stamp your passport. Along the route, there are 18 stations to stamp your passport. (19 if you get in the town of Clyde in addition to the Clyde Rail Terminas station)
Carry some cash so you can purchase a coffee and snacks at Hyde as there are no credit card facilities and no other places to obtain food between Middlemarch and Waipiata.