Discover The Best Restaurants In Queenstown
Food & Drink Hot List
Queenstown, New Zealand, is not only known for its breathtaking scenery but also for its culinary delights. From fine dining to unique culinary experiences, and even vegetarian and vegan options, Queenstown has it all.
In this article, we have rounded up the best
restaurants
in
Queenstown
that you absolutely should not miss during your visit.
Top Fine Dining Experiences in Queenstown:
Queenstown is renowned for its stunning natural beauty, adventure sports, and of course, its world-class dining scene. If you're looking to indulge in some of the finest cuisine that Queenstown has to offer, look no further than these top fine dining experiences.
Rata
Rata
is a modern restaurant that prides itself on using the freshest locally sourced ingredients. Its menu changes seasonally, ensuring that only the best produce is used. The restaurant is owned by Michelin-starred chef Josh Emett, who has worked in some of the world's best restaurants, including Gordon Ramsay's London restaurant, The Savoy Grill. Dishes on the menu include braised beef cheek, served with truffle pomme puree and mushrooms. The restaurant also has a private dining room, perfect for special occasions.
Botswana Butchery
Botswana Butchery
is an elegant restaurant with an extensive wine list and a menu full of premium cuts of New Zealand meat. The design of the restaurant is rustic and cozy, with an open fireplace and leather seating. The lamb shank is a must-try dish, slow-cooked for hours, served with root vegetables, and a quinoa and raisin pilaf. Botswana Butchery also has a range of vegetarian options on the menu, including a delicious beetroot and feta salad.
The Grille by Eichardt's
If you're looking for an elegant and high-end fine dining experience in Queenstown,
The Grille
by Eichardt's should be on your list. Set in a beautiful historic building overlooking Lake Wakatipu, The Grille offers an exquisite menu full of locally-sourced produce and meats. The restaurant's head chef, Will Eaglesfield, has a passion for creating dishes that showcase the best of New Zealand's culinary heritage. Try their famous aged beef, served with truffled potato gratin and bone marrow jus. The Grille also has an extensive wine list, with a focus on New Zealand wines.
​No matter which of these fine dining experiences you choose, you're sure to be impressed by the quality of the food, the stunning views, and the exceptional service.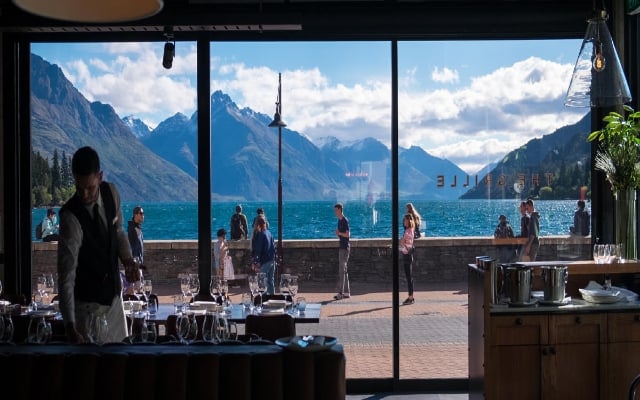 Best Casual Dining Spots:
Queenstown is a foodie's paradise, with an abundance of delicious dining options to choose from. However, if you're looking for a casual dining experience that won't break the bank, then look no further than these three spots.
Fergburger
No trip to Queenstown is complete without trying a famous
Fergburger
. This casual burger joint is famous for its juicy burgers, generous portions, and creative toppings. Try the classic "Fergburger," made with prime New Zealand beef, lettuce, tomato, red onion, aioli, and tomato relish, all on a freshly baked bun. Be prepared for long lines, as this is a popular spot amongst locals and tourists alike.
But Fergburger is more than just a place to grab a burger. It's a Queenstown institution, with a rich history dating back to 2001. The founders, Steve and John, started Fergburger with the goal of creating the best burger in New Zealand. Today, their burgers are known all over the world, and the restaurant has become a must-visit destination for anyone traveling to Queenstown.
Taco Medic
If you're in the mood for something a little spicier, then head to
Taco Medic
. This casual eatery serves delicious tacos filled with fresh ingredients and bursting with flavor. Try the "Maverick," filled with pulled pork, pineapple salsa, and chipotle mayo. They also have vegetarian and vegan options available, making it an inclusive dining experience for everyone.
Taco Medic is more than just a place to grab a quick bite. It's a celebration of Mexican cuisine, with a menu that pays homage to the traditional flavors and ingredients of Mexico. The restaurant's founders, Juan and Maria, are both originally from Mexico, and they bring their passion for their country's food to everything they do. The restaurant's communal tables and friendly staff make it easy to strike up a conversation with other diners, whether you're a solo traveler or part of a group. And if you're lucky, you might even catch one of the restaurant's live music performances, which are held regularly throughout the week.
Bespoke Kitchen
If you're looking for something a little lighter, then head to
Bespoke Kitchen
. This charming little cafe is located in the heart of Queenstown, and it offers a menu full of healthy and delicious options. From Acai bowls to smashed avocado on sourdough, everything is made from scratch using fresh local ingredients. The coffee here is also amazing.
The cafe's founders, Sarah and Tom, are both passionate about healthy living, and they wanted to create a space where people could come together to enjoy delicious food and good company. And that's exactly what Bespoke Kitchen is. With its cozy atmosphere and friendly staff, it's the perfect place to relax and catch up with friends or simply enjoy a quiet moment to yourself.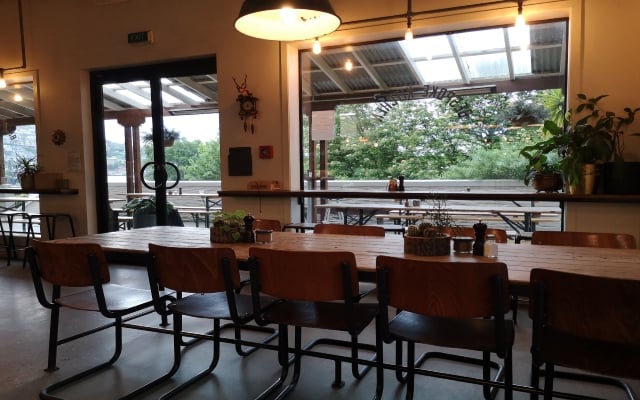 Unique Culinary Experiences:
Queenstown is known for its stunning views and adventurous activities, but it also offers a range of unique culinary experiences that are not to be missed.
The Winery
If you're looking for a relaxed evening with friends,
The Winery
is an excellent spot. Located in the heart of Queenstown, this cozy bar offers an extensive wine list, with ample seating inside or out on the sun-drenched patio. The knowledgeable staff can help you choose the perfect wine to pair with your meal or offer recommendations based on your preferences.
The menu features sharing plates, including a delightful charcuterie board, perfect for sampling different meats and cheeses paired with your favorite wine. The Winery also offers a range of small plates and main courses, all made with locally sourced ingredients.
Skyline Queenstown Stratosfare Restaurant
Ride the gondola up to the top of Bob's Peak, where you will find Skyline Queenstown
Stratosfare Restaurant
offering a unique dining experience with a view. As you ascend the mountain, take in the breathtaking views of Lake Wakatipu and the surrounding mountains. Once you arrive at the top, you'll be greeted with a warm welcome and shown to your table.
The buffet-style menu here has something for everyone, from seafood to meats, and even gluten-free and vegetarian options. The chefs use locally sourced ingredients to create dishes that are both delicious and sustainable. Be sure to save some room for dessert, as the selection here is impressive. Indulge in a decadent chocolate fondue or try the local favorite, pavlova.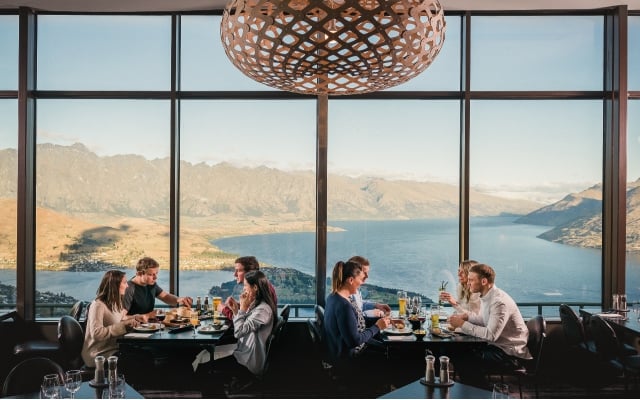 Best Restaurants for Vegetarians and Vegans:
Queenstown is known for its stunning scenery and adventurous activities, but it's also home to some of the best vegetarian and vegan restaurants in New Zealand. Here are some additional recommendations to add to your list:
Vudu Cafe & Larder
Vudu Cafe & Larder
is a trendy cafe located in the heart of Queenstown. The cafe prides itself on using fresh, local ingredients to create their delicious vegetarian and vegan dishes. Their menu is constantly changing to reflect seasonal produce, so you can always expect something new and exciting. Be sure to try their vegan "buddha bowl," which is packed with flavor and nutrients. For something sweet, their vegan smoothie bowls are a must-try, with a variety of toppings on offer.
Yonder
If you're looking for a vibrant and welcoming space to enjoy a meal, look no further than
Yonder
. This restaurant caters to a variety of dietary requirements, including vegan, vegetarian, and gluten-free options. The atmosphere is warm and inviting, with a focus on environmentally-friendly practices. In addition to their vegan "crab cakes" and mac and cheese, be sure to try their vegan "meatball" sub, made with lentils and mushrooms for a hearty and satisfying meal.
The Boat Shed Cafe
The
Boat Shed Cafe
is a hidden gem located on the shores of Lake Wakatipu. The cafe offers stunning lake views and a relaxing garden setting, making it the perfect spot for a leisurely lunch or dinner. Their menu is full of healthy and wholesome vegetarian and vegan options, including a delicious vegan burger and vegetarian quiche. For something a little more filling, their vegan burrito bowl is a fan favorite, with black beans, rice, avocado, and fresh salsa on offer.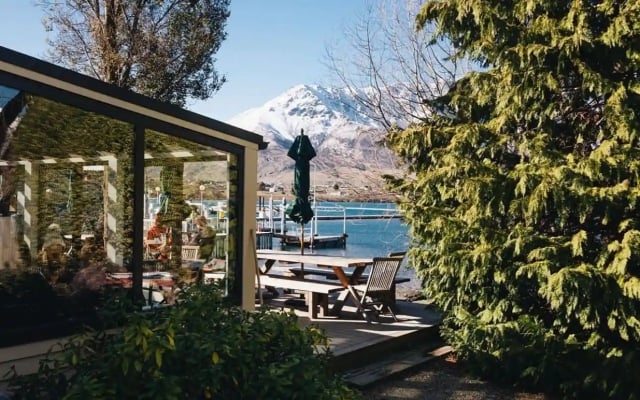 Whether you're a vegetarian, vegan, or just looking to try something new, Queenstown's restaurants have something for everyone. From fine dining experiences to casual cafes, you're sure to find a restaurant that suits your taste and budget. Be sure to add these top recommendations to your itinerary for an unforgettable culinary experience during your stay.
Queenstown Experiences:
For the best deals, check our '
Experiences Guide
' for a wide choice of activities and attractions to book and visit.
Queenstown Car Hire:
If you need to hire a car to reach any of the trails, check our
My Guide Car Rental Comparison
Tool for the best deals on the market.