Otago Rail Trail
Our guide to cycling the 150km Otago Rail Trail
One of the region's most popular tourist attractions, the Otago Central Rail Trail is a 150km-long network of cycle and walking tracks. The route roughly follows the old railway that was constructed on the back of the gold mining and freight industry that boomed here in the 19th century. The line, a vital trade link between Central Otago and Dunedin, was operational until 1990. After it closed, it was converted into the tourist trail of today.

What started off as a project to simply restore the route of an old railway line and get people out walking again, has now turned into a major industry. Today, more than 12,000 visitors a year cycle the whole trail, with another 80,000 day-tripping to individual parts.

The surrounding landscape is dry, sparse and amazingly beautiful and New Zealand's very own desert. The gold mining villages you'll visit along the way are poignant reminders of just how important this area was to the growth of the country as a whole.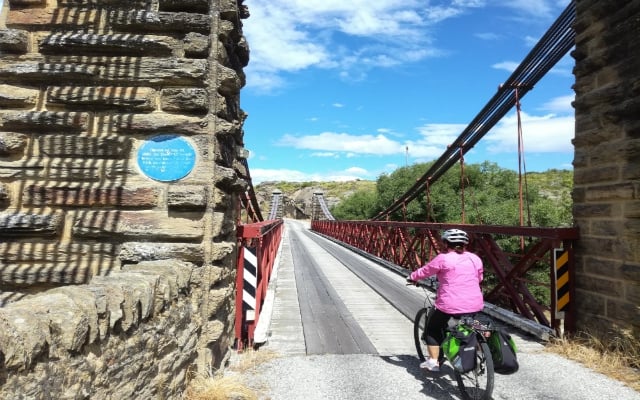 The Otago Rail Trail Route:
Beginning in Clyde at the western (Queenstown) end, the trail goes south to the pretty town of Alexandra, then bears east, passing through the villages of Galloway, Chatto Creek and Omakau. Lauder, Oturehua and Ranfurly constitute the central section of the Trail, the latter being one of the major stop-off destinations. Waipata, Kokonga and Hyde take you further east, before the Trail finishes in Middlemarch, the hub for those staying in Dunedin.

The track is publicly owned, so is free to explore, and is open all year round. Best of all, because it follows an old railway line, it's largely flat. Ideal for family bike rides or multi-day hikes, the Rail Trail is suitable for all ages and levels of fitness, and you can pick and choose which bits to do. B&Bs, campsites, converted huts and plenty of boutique heritage hotels line the route, so if you want to make a real trip of it, it's easy to plan overnight stays. Four days is the average time taken to complete the trail by bike, double by foot.

For those doing multi-day treks, booking ahead for accommodation is essential, and there are companies who will forward your luggage to your desired destination.

The historic hotels at Ranfurly, Omakau and Alexandra are particularly popular. For campers, there are several designated campgrounds along the way, with hot showers and power points. Other settlements along the Trail, like Kokonga, Tiroiti, Ida Valley and Auripo, however, do not have any facilities. Always check your map before setting off, to ensure that where you're headed has the amenities you need.

Most visitors to the Trail will take with them an official Rail Trail Passport. It acts not only as a souvenir of your visit, but contains valuable info, too. Each stop along the way has somewhere you can stamp your document, to trace your route (and prove you did it!). In addition, the passport contains a full map, and details of where to find hotels, restaurants and shelter sheds, so it's always a good idea to purchase one before you go.

Otago Rail Trail Tour Companies:

Off the Rails Cycle Tours offer fully supported cycling tours of the trail. Each tour includes pick-up and drop-off in Queenstown, Cromwell or Clyde, mountain bike, helmet, waterproof panniers, accommodation, breakfast and afternoon tea, and all transport. Trail Journeys provide the full range of bike hire options, including bike hire, transporting your luggage, booking your accommodation, shuttle services to the start of the trail and and from the end of the trail and from the trail and car storage.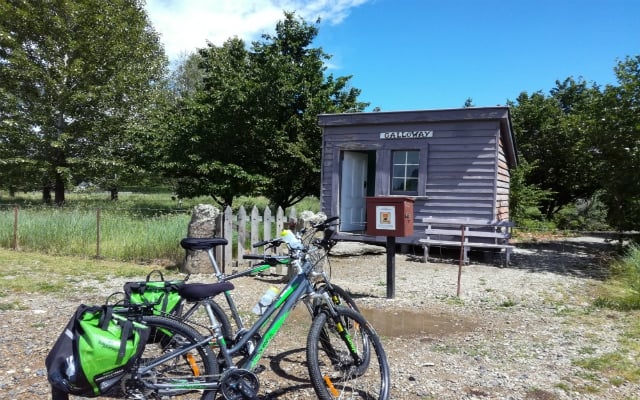 What To Expect:

Most stops along the way will have refreshment facilities and accommodation options, particularly the larger settlements of Alexandra, Ranfurly and Hyde. Be aware, though, that for much of the day, whether cycling or, especially, walking, you'll need to be self-sufficient. The Rail Trail is not made for cars, so you can't just order a cab or hitch a lift if you get too tired. You'll need to carefully plan your days and know exactly where you're headed before the sun sets.
Don't forget, this is largely desert country, with smatterings of open farmland and rocky outcrops. Although beautiful, it can be unforgiving if you're not prepared. The rewards, though, are obvious. Nowhere else in the country will you find as much living history quite like you will along the Rail Trail. Old sluices, abandoned shacks, the remnants of the historic gold mining towns, it's all here, and it's all free.

Distances between towns varies greatly. For day walkers, there are car parks at Middlemarch, Rock & Pillar, Hyde, Daisybank, Waipata, Ranfurly, Wedderburn, Oturehua, Lauder, Chatto Creek and Clyde.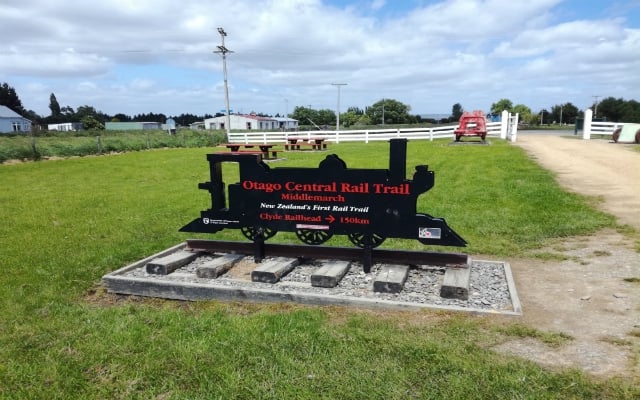 Official lnformation On The Rail Trail:
The official Otago Central Rail Trail website contains information on how and where to hire bikes, the many special excursions which take the hassle out of organising a multi-day trip, and also details the many highlights along the way. It will also provide you with invaluable tips on what to wear, what to take with you, and what to expect, as you explore this impressive, and very beautiful part of Otago.