Adventure Activities in Queenstown
Adventure Inspiration
Globe trotting brothers give their guide to adventure activities in Queenstown
New Zealand is one of the most naturally gorgeous countries on earth, moving from tropical rainforest, to glacial-cut fjords and snow-capped sierras in just a day's drive. But is a stand-out destination because it is also the birthplace of adrenaline sports. Many travel destinations claim to be the 'adrenaline capitals' of their country, but none have invented or perfected so many death-defying sports as Queenstown.
Start with the bungee jump, invented by A.J. Hackett just outside of Queenstown in the 1980s. What started as a 42 meter jump off the Kawarau Bridge has become a global phenomenon, but AJ Hackett has remained at the cutting edge of the sport. We decided to go for the biggest bungee we could find Nevis, a 132 meter jump out of a gondola suspended over a glacial-cut gorge. Scary as it was stunning; Nevis was a major bucket-list jump.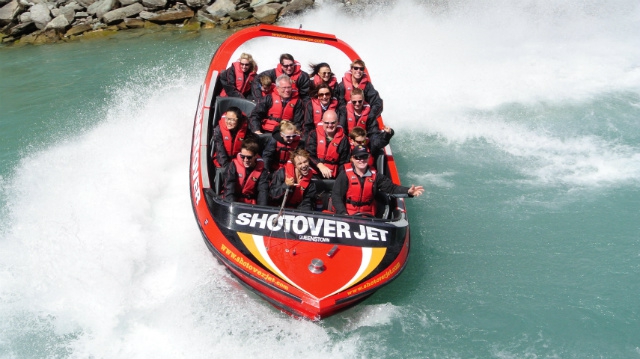 Jet boating is another Queenstown invention, beginning with Shotover Jet in the 1960s. The shallow-bottom boats rocket through narrow gorges at 85 km/hr in as little as 10 cm of water, pulling 360-degree spins and manoeuvers within inches of the cliff walls. There is no better way to take in the scenery of the Shotover River while sitting so exhilaratingly close to the edge.
Sky diving isn't from New Zealand, but if you're as nervous as I was about throwing yourself out of an airplane, you'll want a Kiwi to pack your parachute. We placed ourselves in the expert hands of NZONE Sky Dive, the best-rated operation in New Zealand, and they took us up to 15,000 feet and kicked us out the door with a professional diver strapped to our backs. For a full minute of free-fall, we rocketed towards one of the most gorgeous parts of New Zealand at terminal velocity of 200 km/hr.
Next, we rode up the Skyline Gondola to admire the scenery and have fun racing down their luge track.
Let's just say it was an eventful week!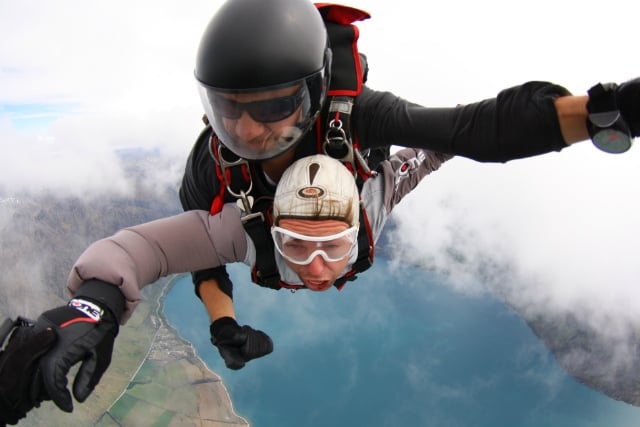 Nevertheless, not everything was as action-packed. We spent our afternoons relaxing in a lakefront luxury apartment at the Villa Del Lago villas. Superb views of Lake Wakatipu and the Remarkables Mountains and excellent hospitality from their wonderful owners, Nik and Charlotte!
Then we flew up and over the Remarkables in a scenic helicopter tour with Glacier Southern Lakes Helicopters, who brought us right along the most dramatic ridges and valleys of the Southern Alps, giving us the most incredible photos and videos we could ask for. After a brief landing atop one of the glaciers, we returned back to Queenstown for our next adventure.
Before adrenaline sports, the Otago region was home to gold-miners and sheep stations and we spent a day exploring both legacies. First, we went to the gold-mining town of Arrowtown, where we learned about the history of early Chinese miners and enjoyed dinner in the renovated frontier-style town that remains a charming complement to Queenstown.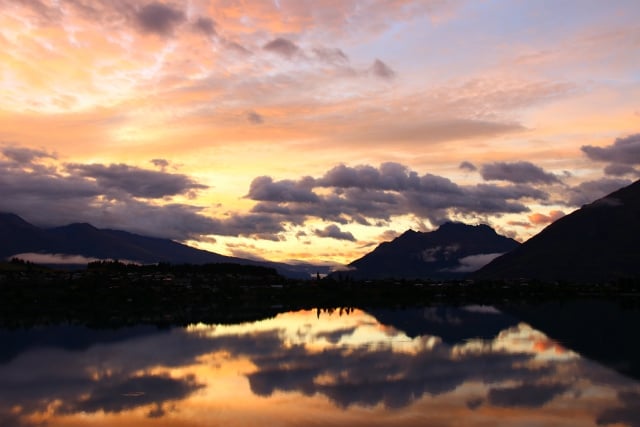 The next day, we met up with Southern Discoveries Cruises, who took us across Lake Wakatipu on the 'Spirit of Queenstown' to Mt. Nicholas Station, a historic, family-run sheep station that continues to function today. It's one of the primary suppliers of ultra-high quality merino wool and provided great insight into New Zealand's traditional export economy.
A newer Kiwi export is found just down the valley in the Gibbston wine region, the southernmost wine region in the world. We dropped by the Amisfield winery, where we tried some of their famous pinot noirs and pinot grigio's, paired with a selection of kiwi cheeses.
The week proved to be the perfect combination of activities, from jet-boating past rock walls at 85 km/hr, jumping out of planes at terminal velocity, sheering sheep and sipping fine wines.
New Zealand is an incredibly diverse country with plenty of different tourist attractions, but nowhere offers so much in such gorgeous surroundings as Queenstown. Though we just ticked off our bucket list for the city, we know we'll be back again soon.