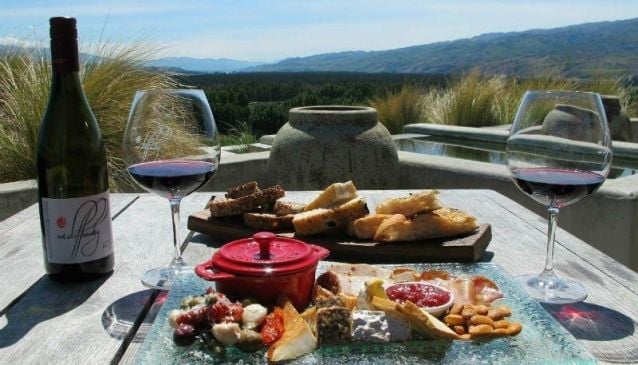 A Taste of Queenstown Wine
Editorial Food & Drink
Our guide to exploring the wineries in Central Otago
Queenstown loudly and proudly flies its 'adventure capital' banner high but there is another, somewhat more laid-back, world-class feature to the town and its region - wine.
And we're not talking about the partying element's capacity to down a glass or three but the fact that Central Otago is in fact one of the most respected wine-growing and wine-producing regions on the planet. In short, this means a wealth of wine-focused opportunities for visitors.
Based in Queenstown, the wine-devoted or simply the wine-curious have a vast variety of choice with the closest of the Queenstown wineries on Lake Hayes, just 15 minutes away and the furthest - in Alexandra - only 75 minutes away. Wine tasting, wine tours and even the opportunity for learning how to make your own wine are all possible. What's more, many of the wineries have restaurants attached - regularly of the award-winning variety - offering casual to fine dining intended to enhance the wine experience. Thanks to the glittering lakes, majestic mountains and numerous tumbling rivers which typify this region you're almost certain of one more bonus - views to die for.
A Stuttering Start:
Queenstown and its wider region is today a place of pilgrimage for the wine cognoscente of the world and the focus of wine critics globally. Pinot noir is the region's flagship and most awarded and lauded wine but the Queenstown wineries produce a variety of wines which could be described as high-class.
The pinot noir is in fact where the modern story of Central Otago's wine production began in the 1980s but you'll need to look as far back as 1864 to see the true beginnings. A certain John Desire Feraud, with French wine-making blood in his veins, and originally in town for the gold-rush, planted the region's first grapes.
The wine he produced from his 1200 vines was sold locally and an exhibit of his wares in Sydney even earned him a third-class merit. It was perhaps a little too early in the time-line of New Zealand history for the sheep and cattle farmers to make the jump from hops to vine and once Feraud departed in 1882 so did the wine production. The predominant crop became pip and stone-fruit.
A brief mention in the history books might have been the whole story for Central Otago and wine but for a few enterprising individuals. 1972 saw a trial by the Department of Scientific and Industrial Research near Alexandra and by 1987, Alan Brady of Gibbston Valley Winery was commercially producing wine - a pinot noir - in the region for the first time in more than 100 years.
Brady was joined early in his pioneering path by other regional Queenstown wineries - Taramea, Blackridge, William Hill and Chard Farm. Almost instantly the wine commentators of the world, including the likes of such respected authorities as Jancis Robinson, sat up and took notice.
Suddenly on the world stage were pinot noirs not just full of the packed signature-note fruit of other New Zealand wines but with a whole new complexity of aromas and undertones more typically associated with burgundian wine. The meteoric rise of the Queenstown wineries had begun. And the pioneering vision of John Feraud has not been forgotten - annually the Central Otago wine industry hosts a Feraud Dinner in his honour.
Queenstown Region Wineries:
At a latitude of 45 degrees south the region of Central Otago - of which Queenstown is one of the principle towns - claims the southern-most point on the world's wine-growing map and also the greatest altitude of New Zealand wine-production. You could be forgiven for thinking that such extremes would keep production low and scattered but the reality might surprise you - there are around 200 vineyards within an hour and a quarter's drive of Queenstown, more than a third of which have cellar doors.
Right on the doorstep, just 15 minutes away on the shores of Lake Hayes are the closest of the Queenstown wineries. These are Stoneridge Estate with its cellar door art gallery and built from the reclaimed stone and timber of churches and the 200 hectare Amisfield - once a merino wool station and now known for its aromatic whites and pinot noir.
Gibbston
A 30 minute hop east along State Highway 6 brings you to Gibbston which boasts one fifth of all the region's vine plantings, typically found on steep terraces over the dramatic Kawarau Gorge. This is where you will find the excellent Gibbston Valley Winery with its pioneering history and atmospheric cave tour along with other A-list wineries such as the 100% organic Peregrine, Chard Farm which produces pinot noir, pinot gris and chardonnay and Waitiri Creek with its restored church and lovely café/restaurant.
Bannockburn and Cromwell
Another 15 minutes drive from Gibbston brings you to the Cromwell basin where the biggest chunk, 70% of the Central Otago vine plantings, is located. On the winery menu here is Mt Difficulty in Bannockburn with its outdoor restaurant terrace complete with majestic views and the Wooing Tree Vineyard of Cromwell. This vineyard and winery offers another al fresco lunch venue and of course, the eponymous wooing tree which has been silent witness to the antics of many a courting couple over the centuries.
Alexandra and Clyde
Forking off from State Highway 6 onto the 8 brings you to Alexandra, the furthest of the region's wineries from Queenstown - 75 minutes drive away. This region is home to the family run Black Ridge Vineyard of Alexandra which specialises in pinot noir, chardonnay, Riesling and Gewurztraminer
Wanaka
60 minutes north-east from Queenstown brings you to the Wanaka region where 3% of the region's plantings are found, mostly on lakeside vineyards.
Wine-Themed Experiences:
Wine Tours
- There are several
wine tour
options available for Queenstown winery tours with the
'Queenstown Wine Trai
l' heading the bunch. Opt for an afternoon experience which takes in four wineries with the 'Original' option or a shorter, lunch-included trip with the 'Summer Sampler'. If you want something a little more bespoke you can sign up for a private tour where you decide which wineries are on the itinerary and what is included in your day.
If you're more into pedal power than a bus trip you might like to tag along with the folk from 'Fat Tyre' vineyard tours which ride the Gibbston back roads on mountain bikes.
Independent Exploration - If your budget or time is a little more limited or you'd simply prefer to stay itinerary-free you can tour the vineyards under your own steam. With a multitude of cellar doors to choose from and with tours of their vineyards and wine-making processes offered by many vintners the world is your wine barrel. You could find yourself sampling an elegant wine at the roaring fireside of Gibbston Valley Winery in winter or taking a crisply chilled glass in the summer sunshine at Brennan Wines in Gibbston as the cherry blossom floats around you.
Adrenalin + Wine
- If you should find yourself in the impossible position of having to decide whether you opt into one of Queenstown's winery experiences or one of its famous adventures we may just have the solution. Should you be so inclined you can marry up the two -
Queenstown Wine Trail
, for example, offer some thrilling combos which pair up wine touring with jet-boating, helicopter rides and more.
If you have neither the means nor the inclination to leave Queenstown centre, then you can still sample the region's finest throughout the cafés,
bars
and
restaurants
spread liberally around town.