Queenstown Lakes
Our guide to the main lakes in the Queenstown region
The crowning jewel of the Queenstown area is the magnificent Lake Wakatipu, though there are many other lakes in Queenstown and the surrounding areas of Wanaka, Fiordland and Central Otago.

Each lake has its own defined character with a unique appeal. Activities on the lakes vary from the extreme to the sedate. All of the lakes in this guide are within easy driving distance from Queenstown and are listed in order from closest to furthest away.

Lake Wakatipu:

Wakatipu is the longest lake in New Zealand and winds its 80 kilometre serpentine shape through a glacial valley framed on either side by dramatic peaks and mountains. Opportunities to be active on the lake include parasailing, wakeboarding, jet boating, kayaking, fishing, and for the brave (given the icy temperatures), swimming.
Getting there: You can't miss the lake with the town centre nestled on the lake's edge. It's easily accessible on foot with limited parking options. Glenorchy is at the northerly tip of it and is accessed by Glenorchy Road. The charming and rustic township of Kingston lies at the southerly end of the lake - turn right at the Frankton roundabout, heading in the direction of Milford Sound.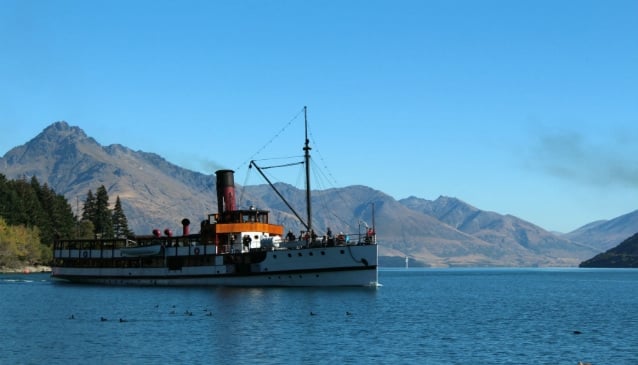 Lake Johnson:

A pretty, remote and little-known area, Lake Johnson is off the beaten track with no marked walking trails or activities on offer. This is more of a place to enjoy your own company and silence and explore one of the less touristed lakes in the Queenstown area.

Getting there: Signposted off the main road (SH6) at Frankton, and more or less opposite the Queenstown Events Centre, drive along the unsealed road for less than 1km. You will have to park the car, climb a gate and walk for a few hundred metres to see the lake.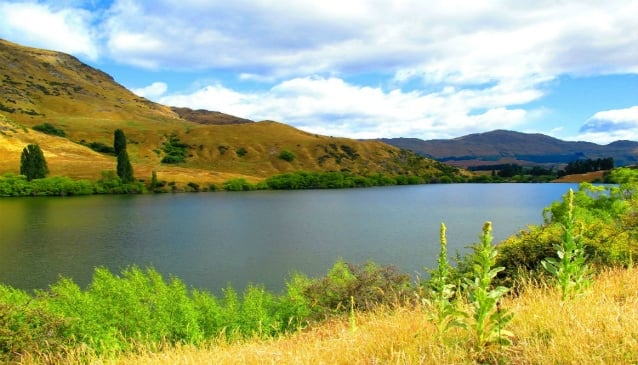 Moke Lake:

This is a great spot for walking, fishing, and on a hot day, the water is much more temperate than the unforgiving Lake Wakatipu, and perfect for a dip. The campsite here is run by Department of Conservation, has clean but basic facilities and is inexpensive.

Getting there: Somewhat of a local's secret, Moke Lake is reached by heading down the Glenorchy Road for approximately ten minutes from the centre of Queenstown (keep your eyes peeled for the turn off on the right for Moke Lake Road). You will turn onto a windy road then an unsealed gravel road for about 8 kilometres, so take care with your vehicle. You will pass Lake Kirkpatrick on your left, before arriving at Moke Lake.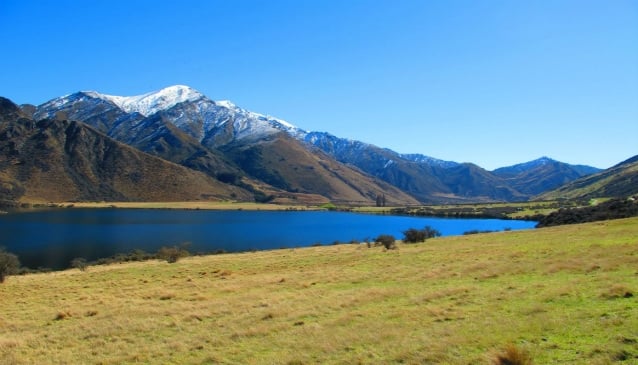 Lake Dispute:

It is not possible to drive directly to Lake Dispute, though you can reach it by bike on the track which is shared by both bikers and walkers. Lake Dispute is teeming with Brown Trout and is a popular fishing spot amongst locals.

Getting there: Drive down Glenorchy Road approx. 1.5 kilometres past the turn off for Wilson's Bay. You will see the Lake Dispute track signposted here. It is also possible to find Lake Dispute on the Mt Crichton walking track or to walk there from Moke Lake.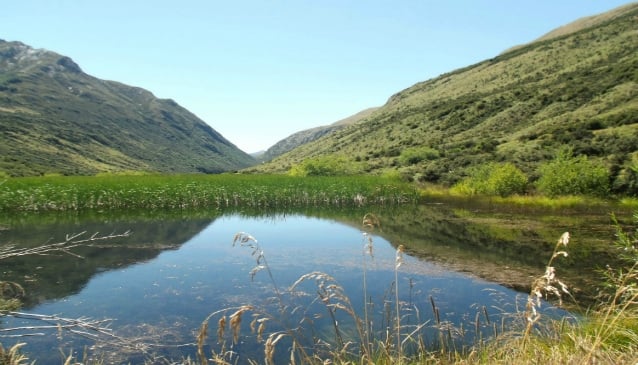 Lake Hayes:

Lake Hayes tends to be calm, mirror-flat and a great spot for swimming and picnics. Its location between Queenstown and Arrowtown means that it is a much more secluded spot than nearby Lake Wakatipu. The loop track around the lake is a fairly gentle circuit and can be either walked or biked. Amisfield Winery is close by and a welcome temptation after exertions on the lake.

Getting there: The drive takes approx. 15 minutes from Queenstown. Head out towards Frankton and down Highway 6. You will see Lake Hayes on your left. Look out for the Pavilion as a landmark.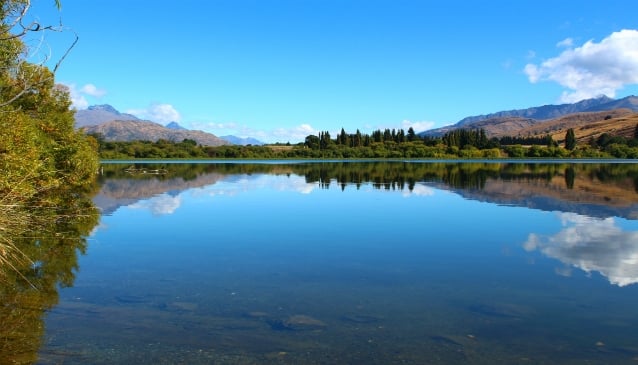 Lake Dunstan:

A rarity in these parts, Dunstan is a man-made lake, forged in1992 by the creation of the Clyde Dam. The usual activity suspects apply and this lake can be boated on, fished, cycled around and swum in. Lake Dunstan also has a quirky drawcard up its sleeve - it functions as a dive site. Dive Queenstown operates trips on the lake, the highlight of which is the now submerged Cromwell Bridge (built in 1864) which once belonged to the historical business district of Cromwell.

Getting there: Drive out to Frankton and take Highway 6. You will pass through the vineyards of the Gibbston Region before tackling the twists and turns of Kawarau Gorge and arriving in Cromwell. Driving time to Cromwell is approx. 45 minutes.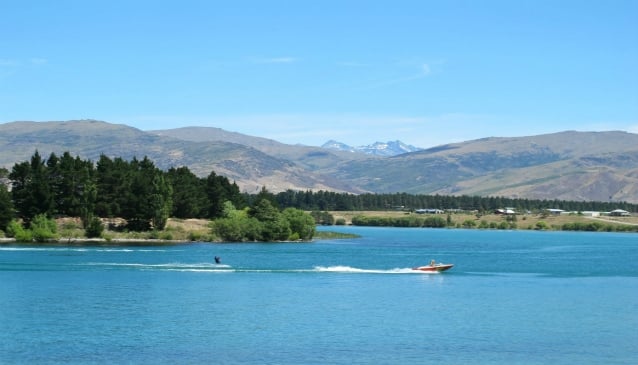 Lake Wanaka:

Similarly formed to Lake Wakatipu, Lake Wanaka lies in a 300 metre deep basin carved out by glaciers. Scenic cruises, jet boating and more watersports are on offer on the lake, with walking and biking tracks leading off in multiple directions. Lake Wanaka almost rivals Lake Wakatipu in the beauty stakes with mountains acting as a picture-postcard backdrop. The lake has a sweeping bay in the centre of Wanaka - a great place to sunbathe, swim from, or have a picnic.

Getting there: Driving to Wanaka from Queenstown takes approximately one hour. Head out towards Frankton and follow for Highway 6. About twenty minutes later you will get the option to turn off to the left and take the Crown Range Road, or stay on the highway. The Crown Range is slightly quicker, a lot windier and more elevated with plenty of photo opportunities. You will also pass the quaint and tiny township of Cardrona if you choose this option.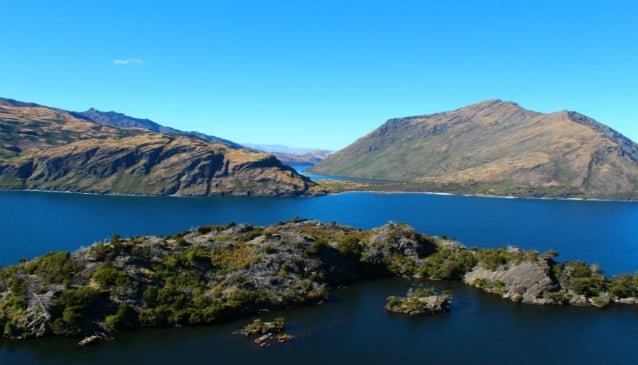 Lake Hawea:

On a calm weather day, Lake Hawea is a perfectly flat mirror, reflecting the peaks which frame it. As is the tradition with lakes in New Zealand, opportunities abound to be active with fishing, hiking, mountain biking and boating all on offer. Travellers can find places to camp in the Lake Hawea Holiday Park and in the Kidds Bush Campsite operated by the Department of Conservation.

Getting there: From the Crown Range Road head through Wanaka township, passing Stuart Landsborough's Puzzling World on your right, the turn off for Highway 6 signposted Hawea is approximately 1 kilometre on your left. Drive for ten minutes and you will reach Lake Hawea.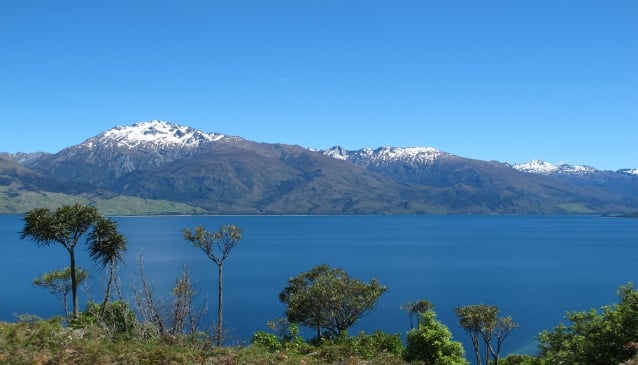 Lake Te Anau:

Lake Te Anau is the largest on the South Island, covering an area of 344 square kilometres. The Western side of the lake is the most spectacular in terms of scenery with three fiords branching out and mountain ranges Kepler and Murchison towering above at 1700 metres above sea level. As well as the standard lake activities (boating, kayaking, hiking) there are also opportunities to spot native New Zealand birdlife and take a tour of the glow worm caves.

Getting there: Lake Te Anau is in the Fiordland region and can be reached from Queenstown by heading south on Highway 6 (turn right at Frankton roundabout), follow the signs for Te Anau/Milford Sound. The drive takes approx. 3 hours from Queenstown and passes Kingston as well as other small townships.