Going For Gold
Arts & Culture Inspiration
Our guide to the gold mining activities in Queenstown
It's an often misconceived notion that as a comparativelyyoung country to the rest of the world, New Zealand is lacking in history. Queenstown, Arrowtown, and indeed the majority of Central Otago, are areas rich with history from the gold rush era.

Approximately 2 million ounces of gold was mined from Otago by 1867. The resulting infrastructure and settlements from the gold rush created most of the towns we see today in Central Otago and much of this history is lovingly preserved in the historic sites, mining relics, paraphernalia and artefacts still standing around this rugged region.
We have put together our own gold trail linking the significant features of this fascinating heritage. Each aspect can be experienced independently of one another, but you might want to make a day of it and join some together, making your own gold trail itinerary.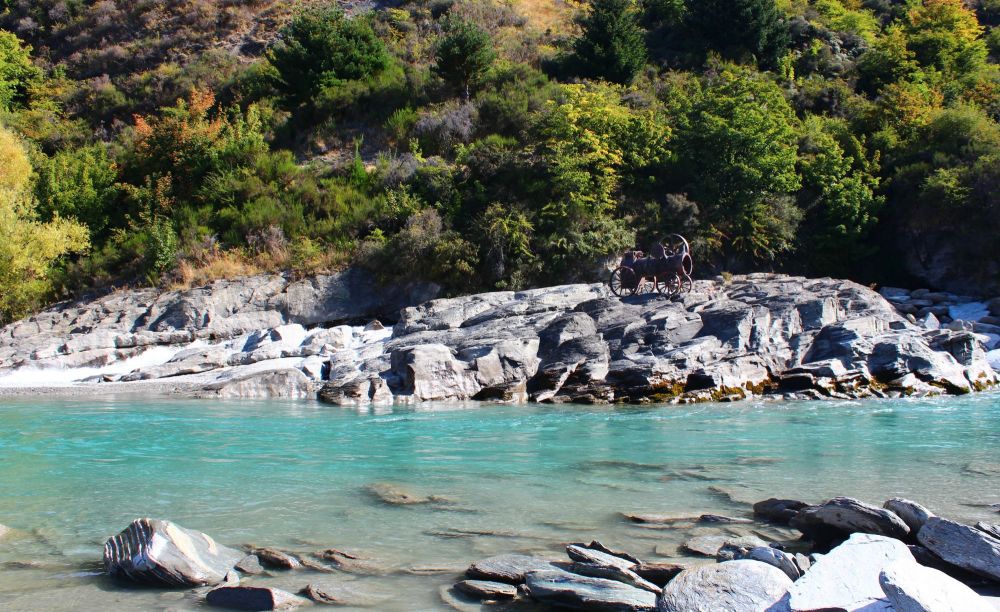 Rivers
The Kawarau, Shotover and Arrow rivers were the main arteries of the gold mining industry in the 19th century. Rich resources for natural gold, these bodies of water were the lifeblood of many entrepreneurial migrants for decades.
Today, these rivers exist under many guises and are major tourist attractions. Visitors can bungy jump over them, swing over them, raft on them, river surf on them and even, at certain crossings, drive through them. Some markers of the gold mining era still exist on the rivers today. The historic Kawarau Falls Bridge was initially installed as a dam with gates in 1926, in a bid to drain the water and leave the gold-rich river bed exposed, ripe for pickings. Two years later when the project was deemed a failure, the gates of the dam were lifted and its sole purpose became a bridge linking Otago to Southland.
Arrowtown
In its gold mining heyday, Arrowtown was alive with huge waves of prospecting migrants, many of whom were Chinese, intent on making a living in these new foreign lands. Remnants of the Chinese Settlement Village are still intact, some wholly, some partially, and this free attraction provides a fascinating insight into the lives of the Chinese miners.
Arrowtown's Lakes District Museum has comprehensive and compelling displays about the pioneering era of the gold rush, as well as an art gallery, bookshop, and archive/research facility. It is also possible to hire gold panning equipment from the museum and try your luck on the Arrow River.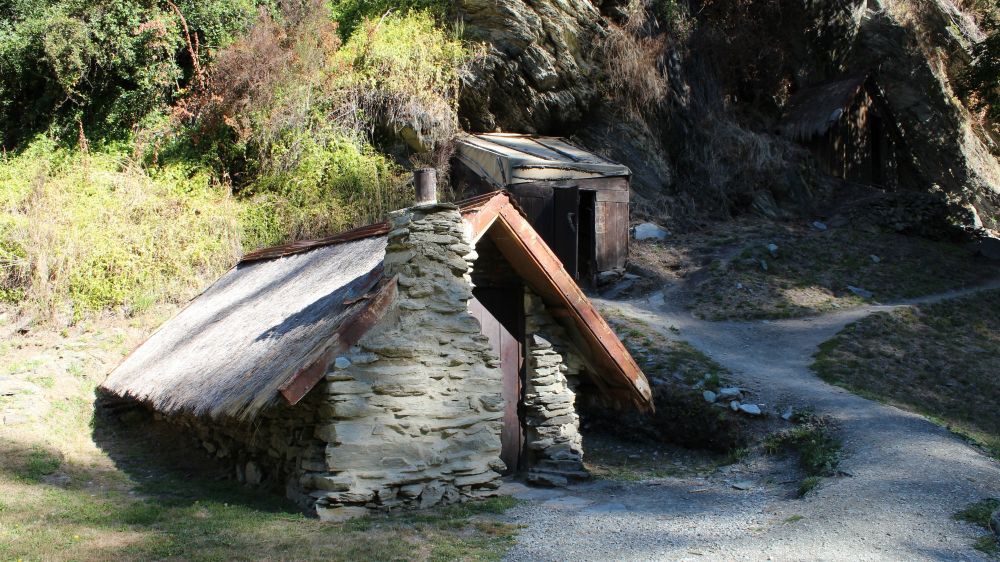 Goldfields Mining Centre
This heritage site is protected by the Department of Conservation and exists on the banks of the Kawarau Gorge. The centre provides a hands-on experience of gold mining history, and you can explore the paths leading to mine shafts, tunnels and marvel at the harsh conditions and sobering reality of mining life. Tours of the 25 hectare reserve are very affordable all of which culminate in a gold panning session from which you get to keep the findings!
Off Road Four Wheel Driving
Off Road operate trips out to the historic Macetown, a once thriving, now defunct, gold mining town. On the tour you will marvel at the ingenuity and commitment of hardworking miners as you see relics of the primitive machinery once used. This Macetown trip incorporates numerous river crossings through the Arrow River and is only accessible by 4WD vehicles. Off Road are passionate about four wheel driving and this preserved area of gold mining history.
Bannockburn
Bannockburn was originally settled in the 1860s, as a logistical stop on the gold mining route for transient workers. This constant stream and flow of people helped create a small infrastructure and it soon became a permanent settlement. The tiny population of Bannockburn sits at around 120 today, with many residents custodians of historic buildings and miners' cottages. It's worth trekking up to Stewart Town, an eerie ghost town of a bygone era around which are old tunnels, mud-brick buildings, and abandoned mine shafts.
For a taste of modern day Bannockburn, head to Mount Difficulty cellar door for world-class wines and sumptuous food. Grab a seat on the outdoor terrace with panoramic views of the semi-arid, rugged landscape.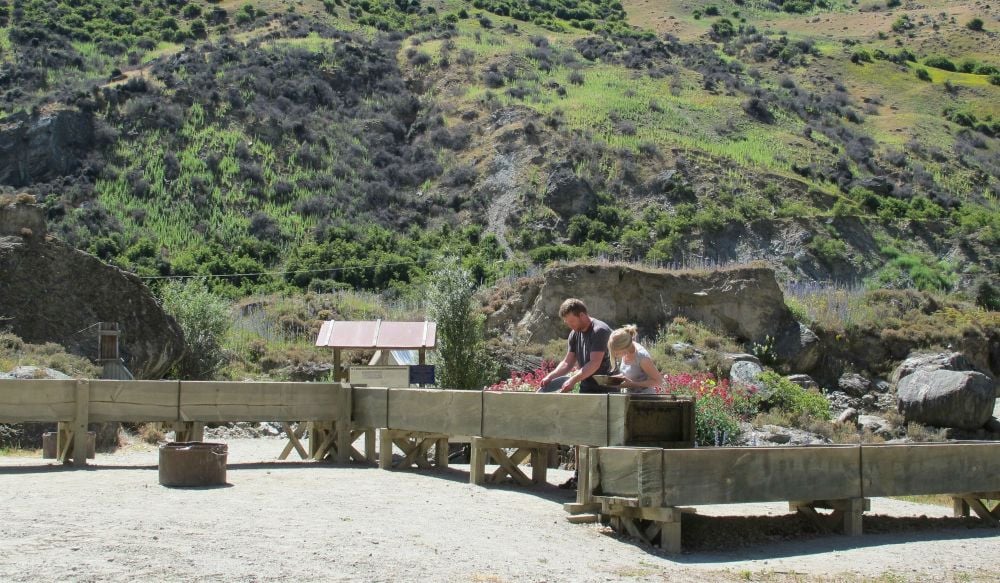 Bendigo Historic Reserve
A well-preserved Department of Conservation area, Bendigo Historic Reserve spans over 1000 hectares and comprises of vertical mine shafts and original foundations of battery sites. Curious visitors do need to pay attention and take care when wandering the reserve as though some shafts are covered, not all are, and this could present a danger. The track leading from the Thomson Gorge Road is only accessible by 4WD vehicles, and is not advisable in bad weather.
Clyde
Located between Alexandra and Cromwell, Clyde was once the most populated town in the whole of New Zealand due to its proximity to so many gold mining sites. These days Clyde is positioned as the head of the Otago Central Rail Trail, a popular cycling and walking track around Central Otago which follows the remnants of a historic railway, once intended for the mass transportation of gold. The historic part of Clyde centres around the northern end of Sunderland Street with impressive buildings such as the Masonic Lodge. The Clyde Museum also features some interesting displays on the area's gold mining history.
Alexandra
Another of Central Otago's gold mining towns, Alexandra is the second stop on the Otago Central Rail Trail. The Central Stories Museum hosts audio-visual displays about Alexandra's mining history with an emphasis on its role in the once innovative method of dredging.
Clutha River Cruises offer a tour from Alexandra through the Roxburgh Gorge, passing remnants of miners' huts and other gold workings that are nestled into the rocky banks of the gorge. Drifting down this river with very little modernity in sight can really transport you back to the gold mining era.