The Best Queenstown Day Trips
Hot List Inspiration
Our Guide To 5 Unmissable Day Trips From Queenstown
A trip to Queenstown should include time to expore beyond the surrounding region with many of New Zealand's most beautiful sights within a relatively short driving distance. To help you see more of the region, we've put together our guide to the '5 Unmissable Day Trips From Queenstown'. If you need to hire a car check our
My Guide Car Rental Comparison
Tool.
1. Wanaka
Lake Wanaka
is about an hour's drive from Queenstown and is a dramatic and steep
drive via the Crown Range
. The drive is worth the trip alone with amazing views and we'd suggest a stop at the iconic
Cardrona Hotel
about halfway to Wanaka.
Wanaka itself is a beautiful town framed by Lake Wanaka (New Zealand's fourth largest lake) and the dramatic Southern Alps. It really is a postcard view as you look out at the alpine scenery from the town. The area is a popular all-year-round resort with visitors drawn to the slopes of Treble Cone Ski resort in winter. While in the summer, walking, biking, lake activities and mountaineering are all specialities of the region.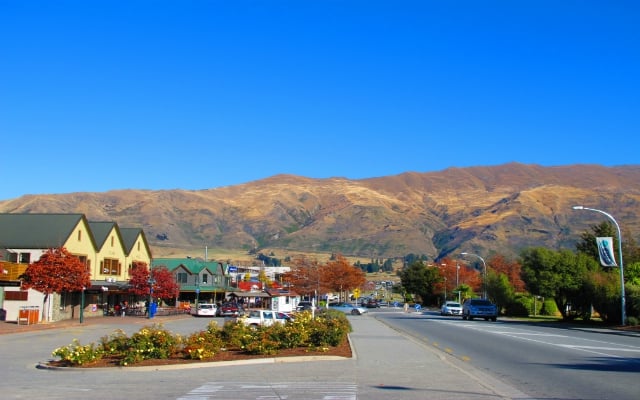 Puzzling World
is a fun family attraction, while a hike up Mount Iron is a great short walk that offers summit views of Lakes Wanaka and Hawea, the Cardrona and Upper Clutha Valleys and Mount Aspiring National Park. If you fancy a bit more sightseeing, it's a 15 minute drive from Wanaka to the beautiful
Lake Hawea
.
Hiring a bike and cycling the 15km Glendhu Bay Track is a great way to appreciate the landscape. Starting at Ruby Island Road Car Park, the welll formed walking and biking track follows the shoreline of Lake Wanaka offering spectacular lake and mountain views. It's a 2-4 hour return trip depending on your speed!
Suggested Things To Do:
Hire a bike and ride the Glendhu Track
Book a Lake and Island Scenic Cruise
Visit Puzzling World
Walk up Mount Iron
Go Skydiving
See our '
Things To Do In Wanaka
' section for more inspiration on what to do.
2. Arrowtown & Gibbston
A short 15 minute drive and 20km northwest of Queenstown,
Arrowtown
is a charming village at the base of the Arrow River. This former gold mining town resembles a wild west frontier town and is a real slice of New Zealand history.
The town is full of delightful whiteboard buildings, with pretty shop fronts, ornate cornicing and a real 'gold fever' feel. Browse the gift shops and boutique clothing stores and enjoy a stop at one of the quality cafés, restaurants or pubs. If you like to swing a club, you can visit Arrowtown Golf Club just outside of the town or, the world-class Millbrook resort which has been voted Best Golf Hotel at the World Golf Awards. Even if you don't want to play a round, there is a nice café open to the public and a few restaurants.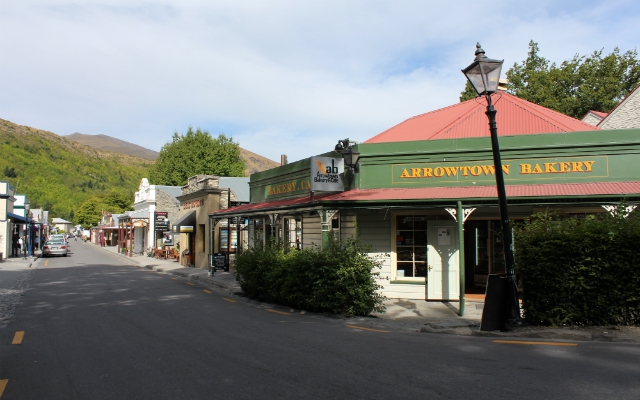 A great way to see the surrounding area is to hire a bike and ride along the
Arrow River Bridges Trail
that leads to the wine growing region of Gibbston.
Ride across suspension bridges, past river gorges and over the famous Karawau 'Bungy' bridge before enjoying a wine tasting in Gibbston and returning to Queenstown.
Around the Basin Bike Tours
offer mountain and electric bike hire on a fully supported tour.
A short drive on from Arrowtown along State Highway 6 takes you to
Gibbston
, the most famous wine region in the area and home to many award-winning wines. The Pinot Noir wines are often considered some of the finest in the country. There are plenty of cellar doors to stop into, sample the wines and purchase a bottle or two.
Gibbston Valley Winery
also has a cheesery onsite and a restaurant so a good place for lunch.
Suggested Things To Do:
Visit Arrowtown Chinese Settlement
Ride the Arrowtown to Gibbston trail
Enjoy lunch at one of the quality restaurants or cafes
Take an old fashioned costumed photograph
Sample wines an award-winning winery in Gibbston
See our '
Things To Do In Arrowtown
' section for more inspiration on what to do.
3. Bannockburn & Cromwell
It's a great drive along State Highway 6 as you pass through the wine growing region of Gibbston towards Bannockburn and Cromwell. Taking less than hour to get there,
Bannockburn
is a former gold mining town that's now a renowned wine growing region.
The town is a great place to explore cellar doors and the local art galleries. A trek up to the ghost town of
Stewart Town
gives a real sense of the past, and the trail has some spectacular panoramic views along the way.
Mt Difficulty Winery
is a great stop for lunch and wine tasting with panoramic views of Otago.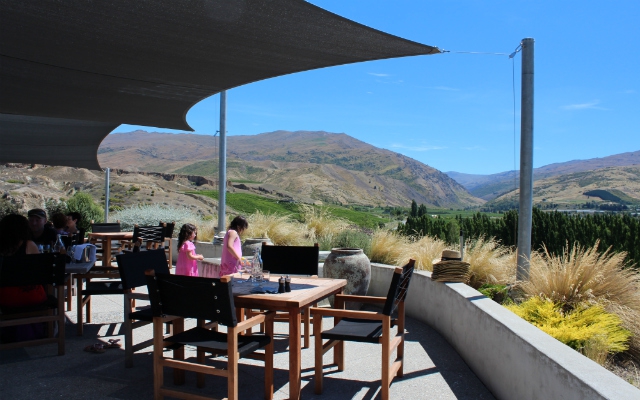 A few minutes' drive past Bannockburn, brings you to the fruit and wine growing region of
Cromwell
. The town is located by Lake Dunstan, a popular spot for boating and water based activities.
You can visit the re-constructed town of '
Old Cromwell
', complete with recreated buildings from the gold mining era, and a number of quaint shops and cafes overlooking Kawarau River.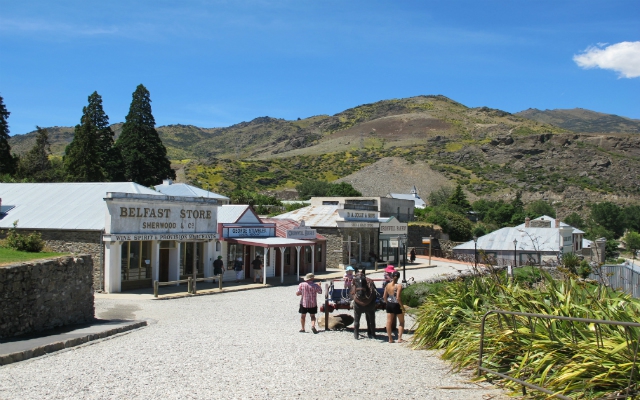 On the drive to Bannockburn, it's worth a stop at The Roaring Meg Lookout with stunning views of the power station and the Kawarau river. Further along is the Goldfields Mining Centre where guided tours show the site of the Chinese Village lived in by the Chinese miners who came to search for gold, and the site of the Goldfields Mine itself. There is also a jet boat ride, gift shop and restaurant.
Suggested Things To Do:
Visit Mt Difficulty Winery for wine tasting and lunch
Take a gold mining tour at Goldfields
Visit Old Cromwell
Visit a local art gallery
Walk to Stewart Town
See our '
Things To Do In Cromwell
' and '
T
hings to Do In Bannockburn
' sections for more inspiration.
4. Mount Aspiring National Park
Mount Aspiring National Park
is New Zealand's third-largest national park covering over 3,500 square kilometres. It's easily accessible from Wanaka which lies directly southeast of Mount Aspiring National Park, and acts as a centre for visitors to the area.
Within the park are spectacular waterfalls, over 100 glaciers and Mount Aspiring itself. Fans of Lord of The Rings will recognise the scenery which played a major role in the films. The park is a popular spot for mountaineers, Heli skiers, ice climbers and abseilers. Rivers offer jet skiing and jet boating, as well as canoeing and rafting. Scenic flights are common, and will take you places your legs can't.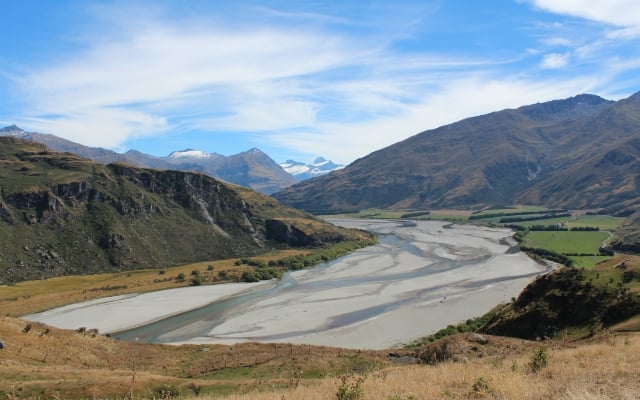 A good short walk is found at the Diamond Lake Reserve. The Rocky Mountain walk will take around 3 hours return with incredible views at the summit of Lake Wanaka, Mount Aspiring, Roy's Peak and Treble Cone ski fields. The track is found around 20 minutes' drive from Wanaka with a small car park located just off Mount Aspiring Road.
Suggested Things To Do:
Walk to the Rocky Mountain Summit
Book a scenic flight from Wanaka
Take a Jet boat Ride on Matukituki River
Go on a 4 Wheel Drive Safari
Book a Guided Heli-Hike Tour
See our '
Things To Do In Wanaka
' section which includes inspiration on exploring Mount Aspiring National Park.
5. Fiordland – Milford Sound & Doubtful Sounds
A world heritage site on the southwestern tip of the South Island,
Milford Sound's
scenery is truly breathtaking, inspiring writers like Rudyard Kipling and more recent beingly used as the 'planet' in the Alien Convenant movie.
There are three ways to get here. Drive yourself, book a guided coach trip or, go in style with a scenic flight. It's a long drive (5 hours) which is why many will choose to stay and depart from Te Anau, the main town a couple of hours away from Milford Sound. Or better still, sit back and let someone else drive with a guided coach trip from Queenstown. Both scenic flight and guided coach tours will include a cruise. Taking around two hours in total, the cruises cover the length of the sound, with opportunities to see towering waterfalls, dramatic mountain peaks and spot dolphins and fur seals.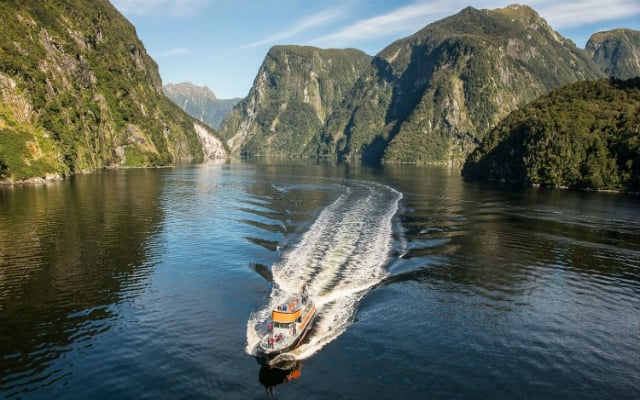 Doubtful Sound
is larger than its neighbour, though a little less accessible. Most areas can only be reached by boat (overnight cruises are an attractive option), but it's well worth a trip to the dramatic outcrops, gushing waterfalls and quite stunning setting. You'll also have opportunities to bottlenose dolphins, fur seals, blue penguins and the occasional killer whale. Cruise Tours only pick up from Te Anau.
Suggested Things To Do:
Book a coach & cruise to Milford Sound
Book a scenic flight & cruise to Milford Sound
Book a Milford Sound cruise & kayaking Combo trip
Visit The Milford Sound Centre & underwater Observatory
Book a cruise to Doubtful Sound.
See our '
Things To Do In Fiordland
' section to book a trip to Fiordland.
Queenstown Experiences:
For the best deals, check our '
Experiences Guide
' for a wide choice of activities and attractions to book and visit.