Exploring Milford Sound by Bus, Boat & Plane
Adventure Inspiration
Our guide to the different ways to explore Milford Sound
I've travelled overseas many times but somehow never got around to visiting Fiordland - particularly Milford Sound - despite repeatedly hearing rave reviews about its scenic beauty. With a trip to Queenstown on the cards I was determined to rectify matters.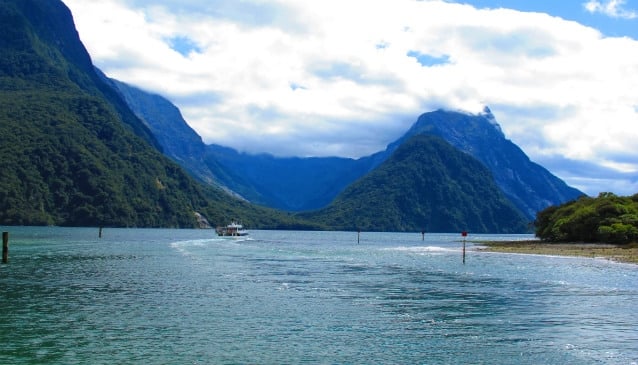 In Auckland I booked a one day bus tour from Queenstown to Milford Sound which incorporated a boat cruise and buffet lunch. Now all that remained was to keep constantly checking the weather forecast. On the day before I flew to Queenstown the weather gods smiled; cloud and rain for the rest of the country, a lone sun for Milford Sound. It was fate.
Bus

The first advantage of the organised bus tour was the hotel pickup at 7.10 am when it was dark and freezing cold outside. It was a lot easier than trying to get into town at that hour. We trundled through to other stops and other hotels slowly gathering tourists. At the final count it was 46 people, not including the driver Shayle and his lovely Japanese interpreter.

As we motored out of Queenstown towards Te Anau (an approximately two and a half hour journey) rosy sunlight was just touching the tops of the snow capped Remarkables. It was going to be a stunning day, I could feel it in my bones.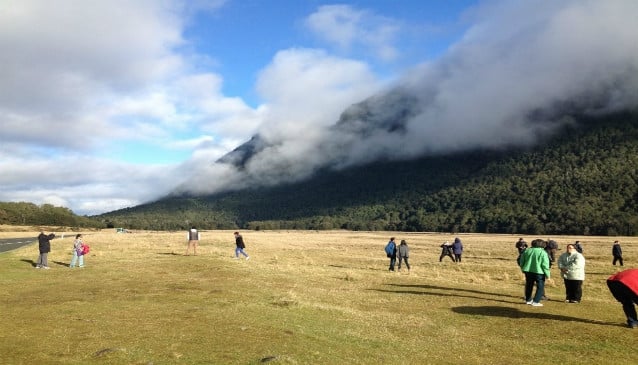 The first stretch of the trip hugged the shore of Lake Wakatipu on a somewhat winding road. To the right, across the lake, mountains with a fresh dusting of snow stood proud and majestic in the early morning gloom. I was beginning to see what people had been raving about for all these years.
Local born guide Shayle kept up a running commentary throughout the journey giving us nuggets of information. We learnt about how early gold miners starved to death in Kingston because there was nothing to eat. He told us about the dairy farming industry, the deer farming industry and interesting facts about the landscape which was changing with every passing half hour. From lush green and gold fields dotted with grazing sheep, to tussock plains with distant snow capped mountains peeking through the mist.

After a pit stop in Te Anau for the coffee drinkers to receive their caffeine fix, we were off to Milford Sound, another hour and 45 minutes away. We plunged into thick sub-antarctic beech forest which had been there for millions of years. Apparently the trees spread out their roots to get moisture from the mosses which grow around their base. But when the southwester weather bombs hit they are easily uprooted because there's nothing to anchor them to the ground. I found this fascinating.

Along with red, silver and mountain beech, there were also manuka trees and cabbage trees, the roots of which the Maori people used to boil up and eat.

We continued on, stopping briefly in Eglinton Valley and the Mirror Lakes and again at Knob's Flat for a quick toilet break; from here on in there were no facilities until we reached Milford Sound. Shayle kept a tight ship, ensuring that comfort stops were quick so that we had plenty of time for photo opportunities.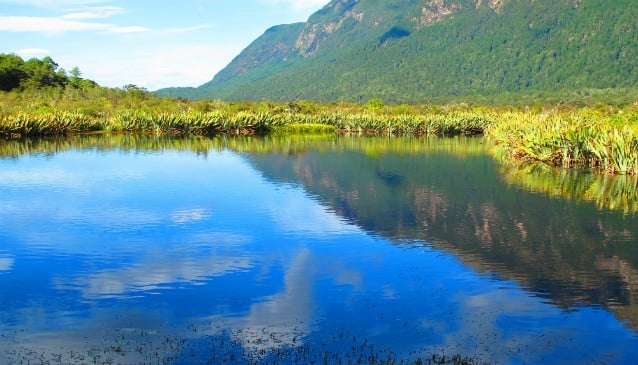 We drove on into the sunshine. Fiordland generally receives a lot of rain (around 200 days a year) but this was just the third fine day Shayle had had in the month, so he was pretty happy. The scenery was changing again, through the beech forest I glimpsed the sparkling waters of Lake Gunn and then to the right the smaller Lake Fergus. The bus had big windows and a glass roof so it was easy to see everything.

Shayle said we were heading towards the Divide, and from there on in the scenery was about to step it up a notch. He wasn't kidding. The Hollyford Valley took my breath away. I usually hate the word jaw dropping but it did seriously induce my jaw to drop. We stopped by a small stream further on where there was a volley of selfies (not by me might I add) and camera snapping in an effort to capture the sheer beauty of the place.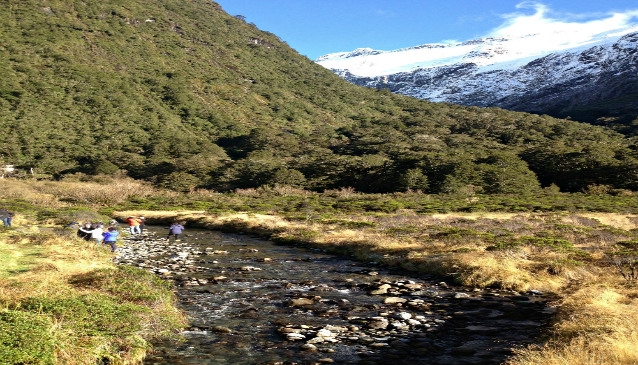 The last stage of the journey winds up through the Avalanche zone to the Homer Tunnel, with the grand mountains: Mt Christina, Mt Crosscut, Mt Talbot all around, and then out through the other side to be greeted with what Shayle considered the best view in the world. We stopped for more selfies before driving down towards Milford Sound to catch the boat for lunch
Boat

Upon reaching the harbour we boarded The Pride of Milford for an hour's scenic boat cruise into Milford Sound. But first we grabbed some lunch from the buffet station which consisted of salads, pasta, noodles, fish, oysters and roasted meat, plus a small tub of vanilla ice-cream.

I ate pretty quickly as the boat moved off and I wanted to see the scenery. On the upper deck it was empty apart from me and an English guy who had also eaten quickly and rushed upstairs to take photos. I asked him if, like me, it was his first time to Milford Sound, he said it was and that he was blown away by the scenery. At least he had the excuse of being English, as a kiwi I had no such excuse.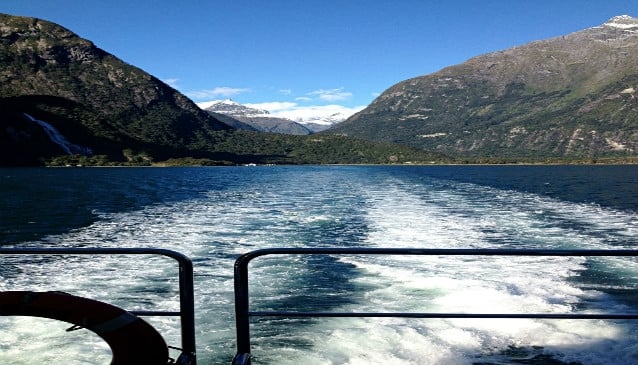 We received an onboard commentary as we moved out into the sound, which wasn't technically a sound they said but a fjord. Whatever it was it was hard not to be impressed by the crags of rock rising steeply out deep blue waters with their gushing waterfalls. The only thing to make it perfect would have been dolphins leaping by the bow of the boat but they didn't appear. As it was such a great day the captain took us quite a way out into the Tasman Sea which had the boat dipping and lurching causing some screaming from the passengers who were by now all out on the deck.
Afterwards we circled around and headed back to shore. Continually passing overhead was the low hum of a light aircraft, which reminded me of what was coming next.

Plane

During the bus trip into Milford Sound Shayle had mentioned that there were flight options back to Queenstown; a small plane and a helicopter ride. On the spur of the moment I had opted for the plane ride based on the fact that it was a sublime day and I didn't fancy the 4 ½ hour trip back to Queenstown on the bus.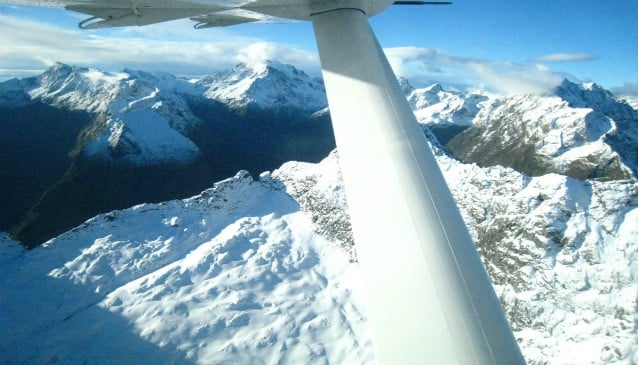 The bus dropped a bunch of us off at the small airport and we were split into two groups. One group would fly in an older style plane and the other in the more modern looking plane. Not being a confident flyer I was somewhat relieved to find myself being herded towards the shiny modern machine.

The return trip back to Queenstown took just 35 minutes but was worth every second. We flew up the sound and then turned and headed over the tops of the snowy mountains and along Lake Wakatipu. It got a bit bumpy in parts as the bad weather was coming in from the south but the pilot reassured us it was normal and I forgot about it. All too soon we were landing in Queenstown - a fitting end to a lovely day filled with scenic highs. Fiordland definitely surpassed my expectations on all levels and I hope my first trip won't be my last.

Written By: Angela Pearse