Guide to Queenstown Mountain Biking
The essential info for biking in Queenstown
Because it's New Zealand's self-proclaimed 'Adventure Capital', it makes sense that you'll find some decent mountain biking in Queenstown. Occupying one of the most scenic positions in the South Island, there are trails for all abilities, from family-friendly, soft downhillers, to freestyling, rocky, altitude-defying drops.
Bike Parks:
A big attraction is the purpose-built Queenstown Bike Park, accessed via the country's only gondola-assisted bike lift. Here, you'll find tracks from the Grade 2 (Easy) "Hammy's Track", and Grade 3 (intermediate) "Vertigo", to the serious Grade 5 (Expert) "Armageddon" and Grade 6 (Extreme) "Grundy".
It's a great place for beginners who prefer to know that the track has been specially constructed for them, with no nasty surprises waiting around the corner. Equally, advanced riders know that they won't encounter any novices on the harder trails, as is often the case with unsupervised bike trails.
For families, head up to the Jardines Mountain Bike Park in Kelvin Heights – mostly easy tracks but with some great bumps and undulations that are enough to excite the kids without scaring them.
For a quick thrill, try the Wynyard Express, which will take you hurtling down some flowing tracks, with a great jump park to stop off at and try some freestyling. Gorge Road Jump Park, on the north road out of Queenstown, has some great dirt tracks and well-built parks in which to watch, or perform, all your favourite stunts.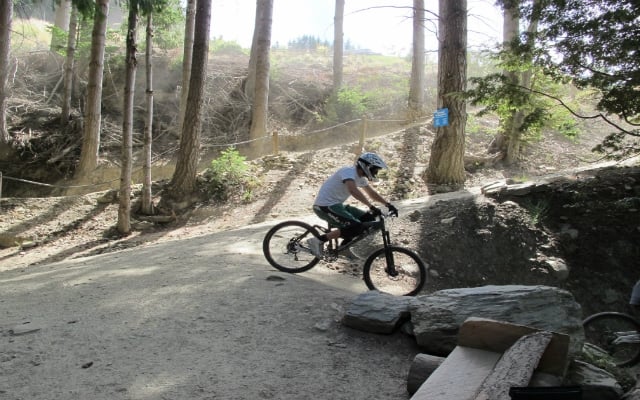 100km+ Biking Trails:
Queenstown also kicks off the Around The Mountains Trail, a Grade 2, 175 kilometre cycling route that actually starts onboard the paddlesteamer TSS Earnslaw, across Lake Wakatipu to Walter Peak Station. Riders will cycle through fields, across sheep stations, up very steep hills, and along some stunning lakeside scenery in the Von Valley.
The 100km Queenstown Trail, includes a number of distinct sub-sections so you can ride parts, or all of the trail, dependign on your requirements. The trail offers a chance to stop off at award-winning wineries, view art by local artists, visit the historic gold mining settlement of Arrowtown and enjoy non-stop beautiful views.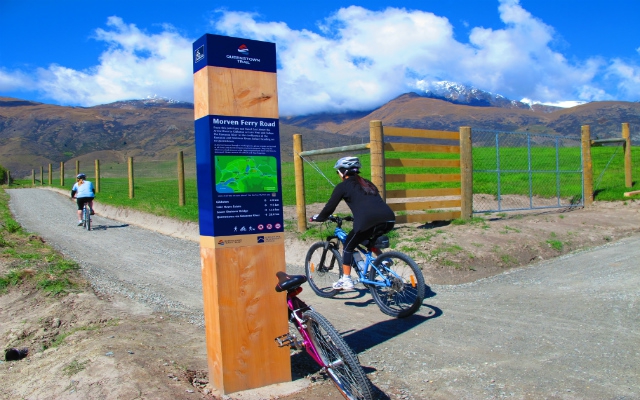 Lake Tracks:
Back down shoreside, there are loads of gentle biking trails around Moke Lake and Lake Hayes, the latter having an 8km track that suits both children and adults. Seven-Mile Track has been developed by Queenstown Mountain Biking Club, who also maintain it, and runs from Seven Mile out to Wilson Bay, and suits beginners to intermediates.
The Twelve Mile Delta is another popular track, starting 10km from Queenstown, and running an intermediate track, underneath the Glenorchy Road, ending at Bob's Cove. It suits elder children and fit adults.
Arrowtown:
For the more adventurous, get out to Arrowtown and try the 4WD track to Macetown. Lots of steep climbs, drops and river crossings, but the track is quite wide, so many bikers like to ride the 90 minutes there, and hop in the Land Rover to come back.
Guided Tours:
There are also plenty of guided bike tours, from companies like Fat Tyre, who'll take the hassle out of deciding which is the best trail to try – they know them all, so all you have to do is tell them what you want, and they'll take care of it; anything from jaw-dropping, theme-park style trails, to sedate vineyard tours (with some cellar door tastings thrown in...) and road riding.
Queenstown Bike Festival:
If you're a real mountain bike nut, make sure you're in Queenstown for the city's Bike Festival, usually held in the first week of April. The festival holds several events and guided rides around the most popular trails, as well as the three main competitions – the DirtMasters Downhill, the New World Tour de Wakatipu, and Super D Enduro.