Guide to Queenstown Mountain Biking
The essential info for biking in Queenstown
Because it's New Zealand's self-proclaimed 'Adventure Capital', it makes sense that you'll find some decent mountain biking in Queenstown. Occupying one of the most scenic positions in the South Island, there are trails for all abilities, from family-friendly, soft downhillers, to freestyling, rocky, altitude-defying drops.

Ski Resort Summer Biking:

In the summer season months from December to April, a couple of the main ski resorts open up their bike trails, set among the stunning alpine terrain. Accessed by Gondola, day passes, bike rentals and equipment hire can all be purchased.

Coronet Peak - Located a short 16km / 20-minute drive from Queenstown, Coronet Peak is accessed via an easy sealed road although there is also a daily shuttle to the resort to make life easier. The Coronet Cross Country trail is rated an intermediate Grade 3, while the Coronet Downhill trail is for the more experienced rated at expert grade 5. You can also access gain access to Slip Saddle (grade 6) and Upper and Lower Rude Rock (grade 4). More Info.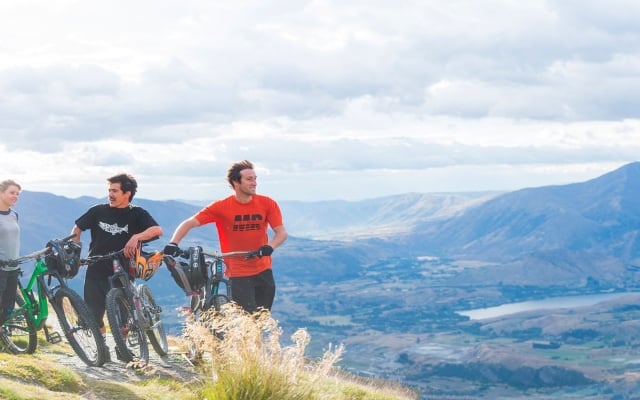 Cardrona Alpine Resort - Situated half-way between Queenstown and Wanaka, Cardrona Alpine Resort is home to New Zealand's highest mountain bike park. The Bike Park offers lift-accessed downhill mountain bike trails for all levels of riders, with experienced bike instructors to help you get in the zone. There's also walking trails and the chance to ride three-wheeled mountain carts. More Info.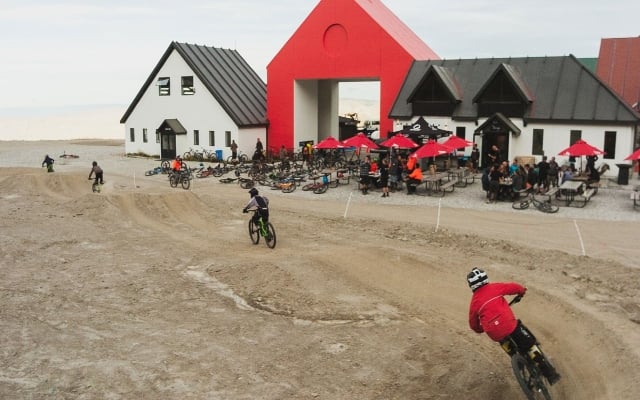 Queenstown Trail:
The 130km Queenstown Trail, includes a number of distinct sub-sections you can ride parts, or all of the trail, depending on your requirements. The trail offers a chance to stop off at award-winning wineries, view art by local artists, visit the historic gold mining settlement of Arrowtown and enjoy non-stop beautiful views. Half and day rides include:

Frankton Track & Kelvin Peninsula Trail
Queenstown to Jack's Point Trail
Twin Rivers Trail
Arrowtown to Gibbston Trail
Lake Hayes Trail
Queenstown Countryside Trail
Coronet Loop

More Info.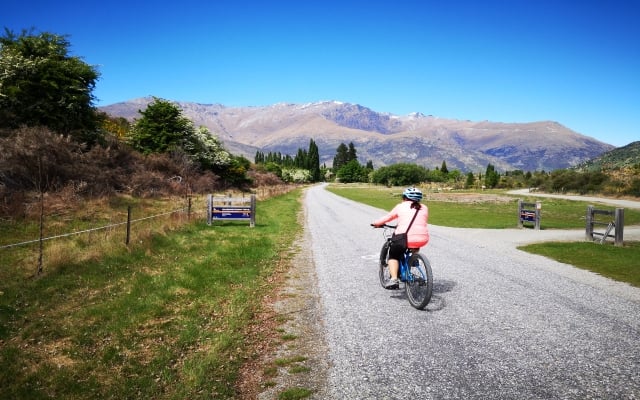 Bike Parks:
A big attraction is the purpose-built Queenstown Bike Park, accessed via the country's only gondola-assisted bike lift. Here, you'll find tracks from the Grade 2 (Easy) "Hammy's Track", and Grade 3 (intermediate) "Vertigo", to the serious Grade 5 (Expert) "Armageddon" and Grade 6 (Extreme) "Grundy".
It's a great place for beginners who prefer to know that the track has been specially constructed for them, with no nasty surprises waiting around the corner. Equally, advanced riders know that they won't encounter any novices on the harder trails, as is often the case with unsupervised bike trails. For families, head up to the Jardines Mountain Bike Park in Kelvin Heights - mostly easy tracks but with some great bumps and undulations that are enough to excite the kids without scaring them.

Gorge Road Jump Park, on the north road out of Queenstown, has some great dirt tracks and well-built parks in which to watch, or perform, all your favourite stunts.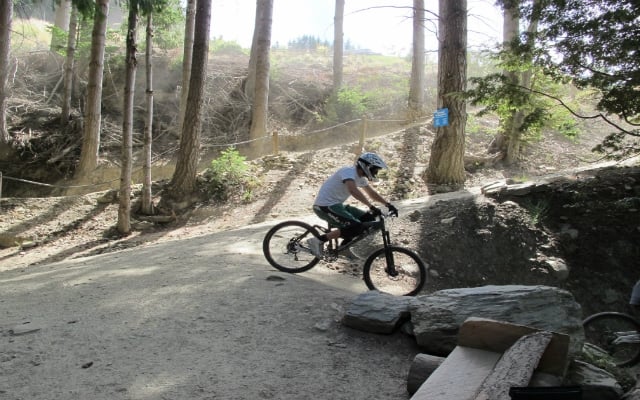 Lake Tracks:
Seven-Mile Track has been developed by Queenstown Mountain Biking Club, who also maintain it, and runs from Seven Mile out to Wilson Bay, and suits beginners to intermediates.
The Twelve Mile Delta is another popular track, starting 10km from Queenstown, and running an intermediate track, underneath the Glenorchy Road, ending at Bob's Cove. It suits elder children and fit adults.

Back down shoreside, there are loads of gentle biking trails around Moke Lake and Lake Hayes, the latter having an 8km track that suits both children and adults.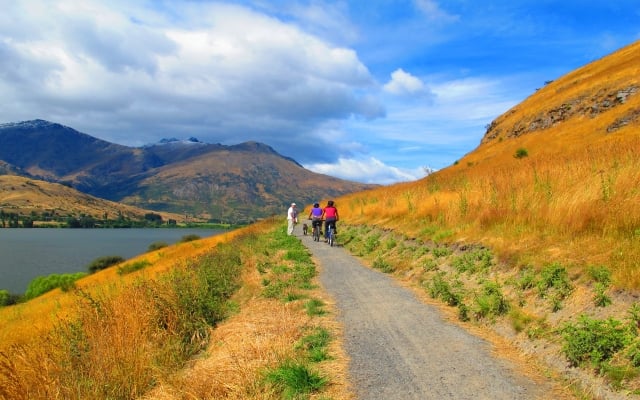 Arrowtown:
The most popular ride is the 16km Arrowtown to Gibbston Wineries ride which takes betwwen 2 and 3 hours one way. Along with a series of swing bridges to cross and some of the most captivating scenery, the trail is a great way to take in the region's wine, food and historic landmarks. More info in our Arrowtown Bike Trail article.

For the more adventurous, get out to Arrowtown and try the 7.5km (one way) 4WD track to Macetown. Lots of steep climbs, drops and river crossings, but the track is quite wide, so many bikers like to ride the 90 minutes there, and hop in the Land Rover to come back.

For an esier ride, try the 4.5km Arrowtown River Trail. It's a lovely loop track and a tranquil ride as you pass through willow trees while enjoying the sound sound of the Arrow River along the trail edge.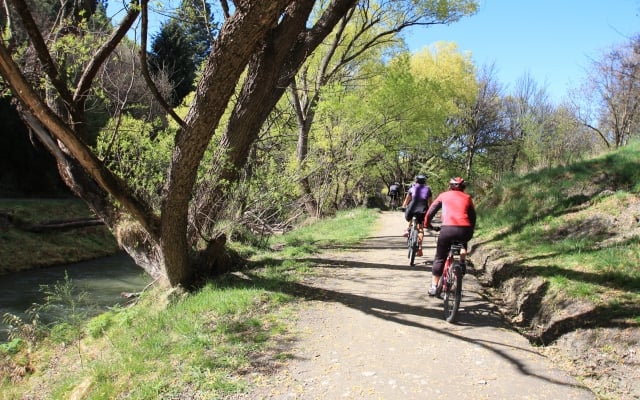 Guided Tours & Rentals:
There are also plenty of guided bike tours including Going Blue and Around The Basin, who'll take the hassle out of deciding which is the best trail to try – anything from jaw-dropping, theme-park style trails, to sedate vineyard tours (with some cellar door tastings thrown in...) and road riding. There are also a number of bike rentals companies if you want to navigate the trail by yourself. Check our 'Biking Guide' for details on the best tour and rental operators.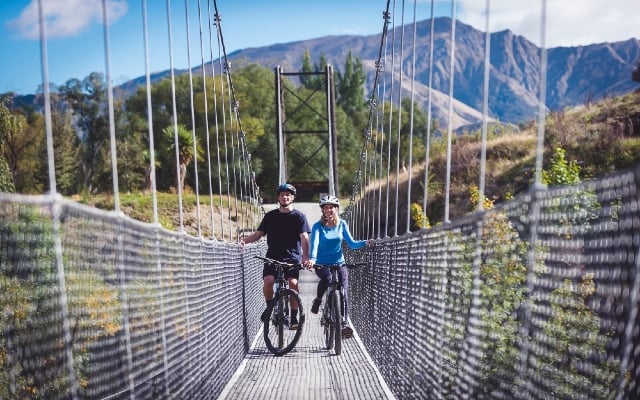 Queenstown Bike Festival:
If you're a real mountain bike nut, make sure you're in town for the Queenstown Bike Festival. Currently held in January (check current dates on their website), the festival holds several events and guided rides around the most popular trails over the course of nine days.

Our Top 5 Queenstown Bike Trails

For more biking inspiration, we've put together our 5 favorite trails that are big on scenic thrills rather than challenging rides. More Info.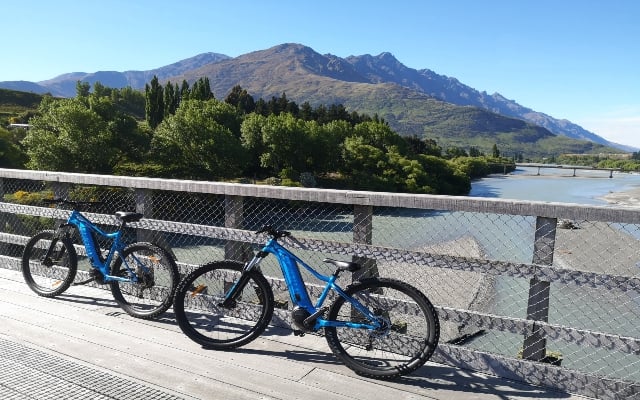 Beyond Queenstown Bike Trails

Just over an hour's drive away from Queenstown, you can gain access to a series of thrilling biking trails. The 'Big 4' Otago bike trails offer the chance over multiple days to discover eye-catching landscapes and learn of the region's gold mining and Maori history.
Lake Dunstan Trail - 42km Lakeside Track from Cromwell To Clyde (Either Way). 4 - 6 hours riding.
Clutha Gold Trail - 73km from Roxburgh to Lawrence. 2 days riding.
Roxburgh Gorge Trail - 34km from Clyde - Roxburgh Hydro (Either Way). Half-Day - 1 day riding.
Otago Rail Trail - 152m from Clyde - Middlemarch (Either Way). 3 - 5 days riding.
Read more in our '
T
op 4 Otago Bike Trails
' article.