Top 4 Otago Bike Trails
Adventure Hot List Inspiration Mini Break Sports
The Best Biking Trails in Otago To Ride
Otago offers a series of thrilling biking trails in New Zealand. The 'Big 4' bike trails offer the chance over multiple days to discover eye-catching landscapes and learn of the region's gold mining and Maori history.
1. Lake Dunstan Trail
42km Lakeside Track
Cromwell To Clyde (Either Way)
4 - 6 Hours
The Lake Dunstan Trail connects the towns Cromwell and Clyde and can be cycled in either direction. The most popular way is to start from Cromwell. Here, you can spend a bit of time looking around the
Cromwell Historical Precinct
which is also a handy stop for coffee and food.
The 42km trail offers cyclists and walkers a moderately challenging journey across beautiful landscapes so characteristic of
Central Otago
as it winds along Lake Dunstan, the Kawarau River and the Clutha River Mata-au.
Soon after
Cromwell
you'll ride through vineyards of
Bannockburn
which form part of the world-renowned wine growing region of Central Otago. The trail is close enough for a spot of wine tasting at Carrick Winery. It's then onto a winding track that hugs the lake for a memorable ride. Enjoy a pitstop at Coffee Afloat, a coffee and snack boat docked halfway along the trail between the Cromwell Heritage Precinct and
Clyde Historic Village
.
As you near Clyde, make time to stop at the
Clyde Dam
before crossing the much photographed Clyde Bridge and into the historical precinct of Clyde. The region's pioneering and Maori historical stories are presented along the way, some of which are brought to life in the Clyde and Cromwell Historical Precincts. There are a number of accommodation and food establishments to enjoy in both Clyde and Cromwell.
Read more in our
Lake Dunstan Trail
article.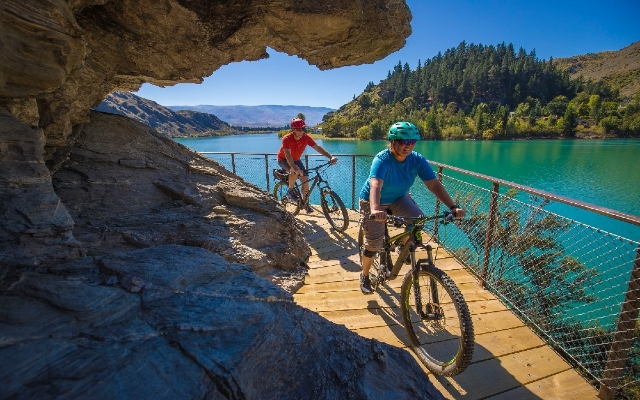 2. Clutha Gold Trail
73km
Roxburgh to Lawrence
2 Days
Cycling on the Clutha Gold Trail is a gentle ride alongside the mighty Clutha / Mata-au river and through a major fruit growing region of New Zealand. The relatively gentle terrain alongside the gorgeous turquoise waters of the Clutha Mata-au River offers a relaxing ride as you pass through a fertile valley, secluded gorge, lush green farmland accompanied by continuous views of this gorgeous river.
The trail takes you through four settlements of Roxburgh, Millers Flat, Beaumont and Lawrence. A popular place to stay overnight is Millers Flat given it's roughly the half-way point on the trail. There are a few accommodation options and a good local pub. The Clutha Gold is often combined with the Roxburgh Gorge Trail to provide for a slightly longer cycling option that spans two to three days.
Read more in our
Clutha Gold Trail
article.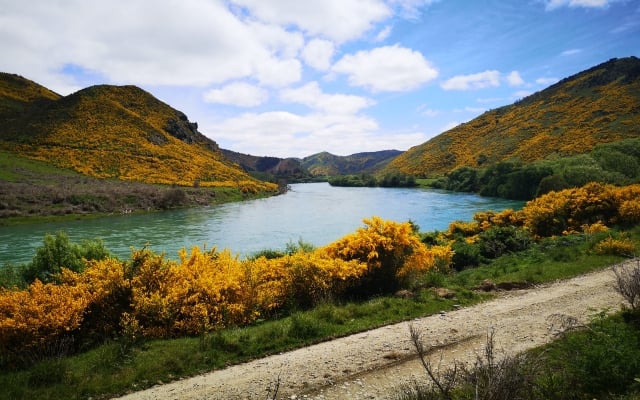 3. Roxburgh Gorge Trail
34km
Clyde - Roxburgh Hydro (Either Way)
Half-Day - 1 Day
With 21km of cycling and a 13km boat ride in the centre to join up the two sections, discover the remote and stunning Roxburgh Gorge.
The first half of the trail from
Alexandra
to Doctors Point is relatively easy riding. The centre 13 km section of the trail must be passed by boat as the trail is not yet complete. The second cycling section from Shingle Creek has a solid climb and then descent.
For many cyclists, The Roxburgh Gorge trail often forms the first leg of the Clutha Gold Trail to create a two to three day riding experience.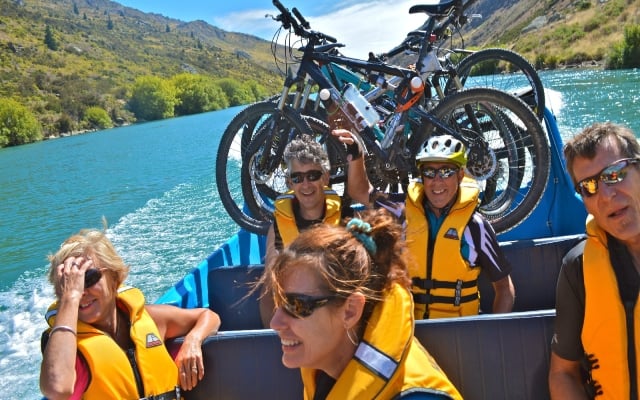 4. Otago Rail Trail
152m
3 - 5 Days
Clyde - Middlemarch (Either Way)
The Otago Central Rail Trail is New Zealands most famous cycling trail. The multi-day trip passes through the stunning Central Otago landscape and is a well serviced trail.
The bike trail follows the old railway that was built on the back of the gold mining and freight industry that boomed here in the 19th century. The rail line, a vital trade link between Central Otago and Dunedin, was operating until 1990. After it closed, the rail line was transformed into the tourist trail of today.
Cycling along the trail and stopping off for lunch, you will see first-hand the biking rush hour in pubs with cyclists stopping to refuel with drinks and food. Today, more than 12,000 visitors a year cycle the whole trail, with another 80,000 day-tripping to individual parts.
Typically the trail is done over 3 days (2 nights) but there are plenty of options to spend longer or, shorter on the trail. There are also great options to just cycle a section over 1 day.
Read more in our
Cycling The Otago Rail Trail
article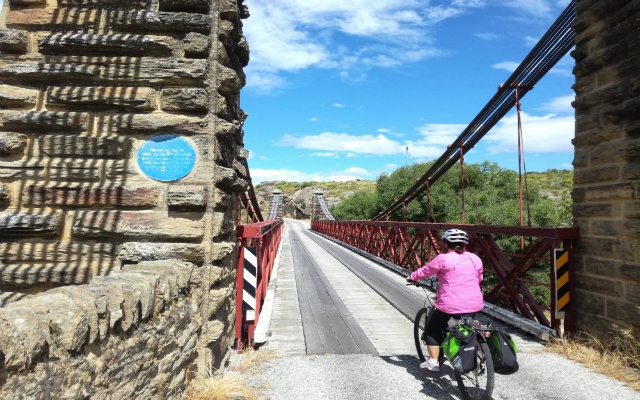 Otago Bike Trail Support
SheBikesHeBikes
- All 4 Trails Bike hire and transport.
BikeItNow
- All 4 Trails Bike Hire and Transport.
Wanaka Bike Tours
- Lake Dunstan Trail bike hire and transport if you are staying in Wanaka.
Trail Journeys
- All 4 Trails Bike hire and transport.
Queenstown Bike Trails
We have heaps on information on cycling in Queenstown. Check these articles to get started.
Top 5 Queenstown Bike Trails
The Queenstown Trail
E-Bike Hire In Queenstown
Arrowtown Bike Trail
Car Hire:
If you need to hire a car to reach any of the trails, check our
My Guide Car Rental Comparison
Tool for the best deals on the market.