Getting To Queenstown
Our guide to the transport options getting to Queenstown
Flying to Queenstown:

Queenstown Airport is 10 kilometres from the town centre, welcoming flights from New Zealand's major airport hubs and several Australian airports.  There are daily direct domestic connections from New Zealand's main centres of Auckland, Wellington and Christchurch. 
The flying time from Auckland is 1 hour 45 minutes, 1 hour 45 minutes from Wellington and 1 hour flying time from Christchurch.

From The Airport:

There are taxis, a shared shuttle bus and local bus options to transfer from the airport into the town centre.  As soon as you walk out of the airport you'll see the taxi rank on the right and the shared passenger service on your right.  Walk straight ahead and across the road and you'll see the bus stop.  The buses run on a regular basis and are only a few dollars to get into the town centre.  Read our Queenstown Airport Guide for more details.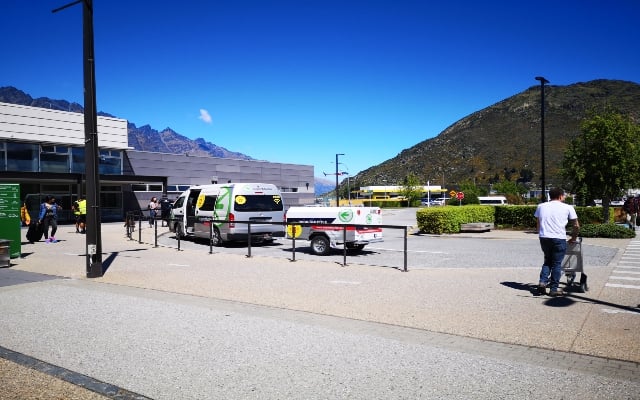 Driving to Queenstown:

Queenstown is easy to get to by road from just about anywhere in the South Island, whether by car, motorhome or by bus.  Check our Driving Distances Table to view driving times from all the major areas of the South Island.
The shortest and most scenic route from Christchurch is a 6 hour drive via Ashburton, Geraldine and Lake Tekapo and Pukaki.  Just past Lake Tekapo there is a turn off to Mount Cook National Park.
Or, you can drive the coastal route past Omaru and the Moeraki Boulders, taking Highway 81 inland via Alexandra.  Dunedin is a three hour drive away from Queenstown, while Wanaka is less than an hour away.

Bus to Queenstown:
The Ritchies bus service runs 5 times a day between Queenstown and Wanaka and travels over the scenic Crown Range via Cardrona.  The Wanaka to Queenstown service departs from 8.00am until 4.30pm.  The transfer time is approximately 2 hours and includes pick up and drop-off at Queenstown Airport.

Getting Around Queenstown:

The 'Bee Card' is a smartcard that offers passengers cheaper fares (than cash) in nine regions around New Zealand, including the Queenstown and Otago region.  Adults can travel anywhere within the Queentown bus network for just $2 with the Bee Card while it's $1.20 for children.  Learn more in our 'Queenstown Buses' guide.