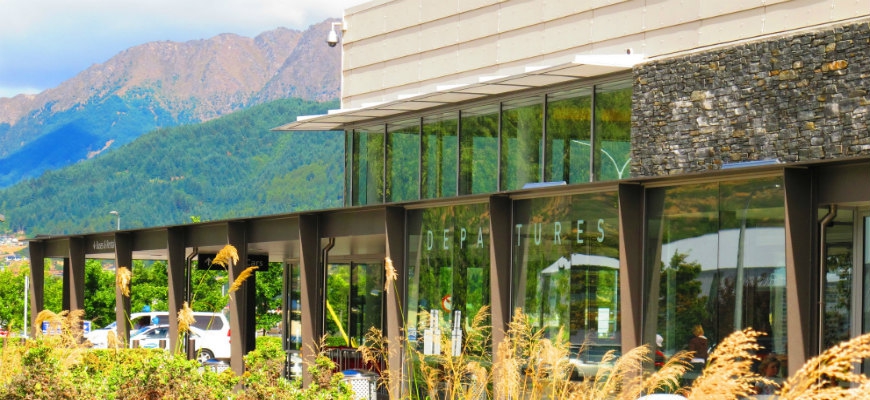 Queenstown Airport
Queenstown Airport is located in Frankton, 10 kilometres, or a 10 minute drive, from the town centre. The airport services the major airports of Auckland, Christchurch and Wellington along with direct flights to Brisbane, Melbourne and Sydney. With the backdrop of the Remarkables mountains, it's no surprise the airport was named in the top 10 most stunning approaches in the world, by travellers from around the world.

Car Rentals
All the major rental companies are situated at the airport terminal including JUCY, Hertz, Avis, Thrifty and Europcar. As you exit the airport, most of the rental car collection car parks are to your right.
Parking
Parking is free for the first 20 minutes. Thereafter, it's $2 for every 20 minutes up to 2 hours. 20-40 minutes will cost you a $4, 40-60 minutes $8 and so on. 1 day costs $25 while 2 days is $50. The Parking Machines are located outside on the pathway to the departures and arrivals area and accept eftpos, credit cards and cash. Check the aiport parking page for latest pricing and news.
Park and Ride

The Airport Park and Ride offers a pay-to-park, free-to-ride service that operates every 30 minutes on the half hour and the hour, all year round. You just need to pick any available spot in the Park and Ride car park and collect a receipt at the pay station which covers the outbound and return trip from the airport

The 11 seater shuttle and luggage trailer is located at Brookes Road, Frankton (just behind Mitre 10 and Pak'NSAVE) and has 150 car park spaces. Look out for the orange signs. The start and finish times of the shuttle service will co-ordinate with the airlines' timetables. View the shuttle timetable.

Taxis
The taxi rank can be found just outside the main terminal entrance and will set you back about $35 for a trip into town.

Airport Shuttle
The Super Shuttle is a shared passenger service, holding up to 11 passengers. The price is fixed and works out as $25 (for a couple) from the airport to your hotel.
Internet Access / Wi-Fi
The airport has an internet lounge with a number of PC's. Head to the Airport Help Desk to purchase vouchers to access the internet on a time basis. They can also help out with printing at a cost per page. The airport offers 60 minutes of free Wi-Fi throughout the airport for every 4 hours you're in the terminal building. Additional WiFi access can be purchased with a Surfspot Card.
Luggage Storage
Head to the main Baggage Claim area for storage lockers. The Airport Help Desk can help with oversized items for a modest cost a day (per item). Key drop services are also provided by the Airport Help Desk. Storage services are available during normal terminal hours (An hour before and an hour after scheduled flights).
Lost & Found
Contact the airport help desk for lost items in the terminal.
Tel: +64 3 450 9031 / email: admin@queenstownairport.com. Postal: PO Box 2641, Queenstown, 9349, New Zealand

Food and Shopping

The main cafe is the Airspresso which overlooks the runway. There's also a juice bar and pizza place. Shops include the 'Remarkables Sweet Shop', 'Kapa' souvenir shop, Global Culture (a kiwi clothing shop), a pharmacy and a newspaper shop.