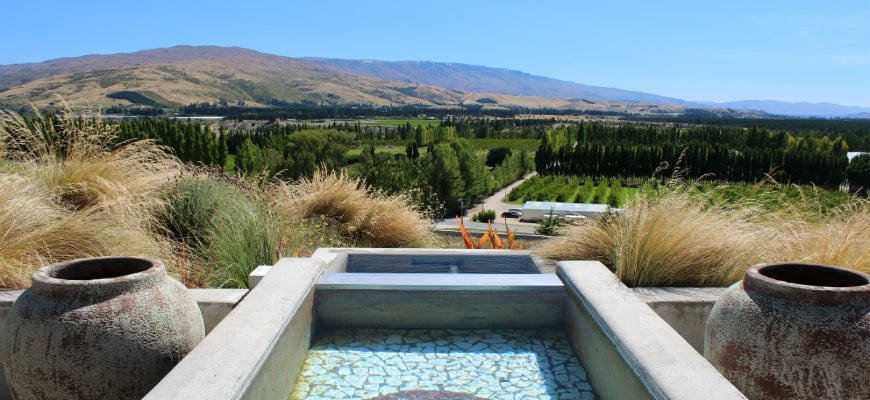 Guide To Queenstown Wine Regions
Our guide to the wine regions less than an hour's drive from Queenstown
Enjoying a unique landscape of cold winters and balmy hot summers, thanks to the ring of mountains and deep river gorges characteristic of the area, Central Otago is one of the country's premier wine-growing regions. In particular the hills and valleys around Gibbston, 30km due east of Queenstown, seem to benefit from this climate concentration.
A short drive out of Queenstown along State Highway 6, offers visitors a chance to sample award-winning wines from the wineries that are dotted among the Gibbston, Bannockburn and Cromwell wine growing regions.

Gibbston:
Even though grapes were first planted here way back in the 1860s (by a Frenchman, suitably enough), it wasn't until the early 1980s that the area's 'master' of wine, Alan Brady, began planting vines around Gibbston, an area previously thought of as too extreme in seasons to sustain grapes of any real quality.
Proving everyone wrong, Brady launched the first commercial wine to come from Gibbston, a Pinot Noir from his Gibbston Valley Winery, in 1987, and the rest, as they say, is history.
Pinot Noir continues to excel here, along with some superb Sauvignon Blancs, very decent Rieslings, and the up-and-coming Chardonnays. The harvests here typically occur up to a month later than the rest of the country, but it's always worth waiting for and, since Brady planted that first vine 25 years ago, over a dozen premier wineries have sprung up in the area, including Peregrine Winery, Wentworth Estates, Waitiri Creek, and another Alan Brady venture, Mount Edward.
Most of the wineries in Gibbston conduct wine tastings at their cellar doors, and some will even ship wine orders home for you. Some have restaurants or cafes attached, so you can enjoy a meal out in the sunshine as you try out which vintages you want to take back with you.

Cromwell & Bannockburn:
East, in the Cromwell Basin, vineyards at Bannockburn, Lowburn and Bendigo enjoy a slightly milder climate than Gibbston, but the same high quality of wine.
Over 65% of the region's vines are located here, so it's a vital cog in the Central Otago wine wheel, and the creation of Lake Dunstan meant that the Basin now enjoys a landscape of warm, sweeping slopes that the vines seem to like very much.
Wanaka:
A little further north, Wanaka is beginning to garner a bit of a reputation for some solid wines, too, despite only housing 3% of the region's vines. The Rippon Vineyard, and Mount Maude, in particular, can boast some prize-winning Pinots, with new grape varieties being planted all the time.
Wine Tours:
Tour operators run vineyard tours in an air-conditioned mini bus, for a half-day, or full-day of tasting and wine education, and will pick you up from your Queenstown accommodation - ideal for those who don't want to inhibit their Gibbston wine experience by having to drive.

Another great way to see the region is on bike. Gibbston Valley Cycling hire out bikes and electric bikes to follow the trails through the Gibbston valley including pick up and drop-off from Queenstown.
Wineries:
Visit our 'Queenstown Wineries Guide' for information on which wineries to visit, all within an hour's drive of Queenstown.