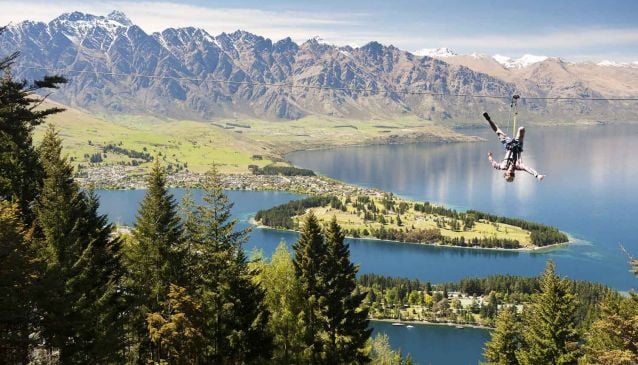 Ziplining in Queenstown
Adventure Family Fun
Our writer visits and shares her experience of ziplining in Queenstown
Eco-tourism is a word that has been cropping up more recently in tourist destinations around the world. So what does it mean? And when it comes to eco-tourism adventure, as Queenstown's Ziptrek Ecotours provide, how do the two concepts work alongside each other? Well, the answer turns out to be in surprising harmony.
I spoke with Ziptrek Ecotours Director, Trent Yeo, who explained the path of origin for such a pioneering brand of tourism. "Ziptrek Ecotours comes from a history and background of understanding the romantic notions of ziplining from tree to tree but taking it to a further level, because what we are here to do is to deliver a sustainable story and that is the ethos of why Ziptrek was created."
Open for business since December 2009
Ziptrek Ecotours
has logged over a mighty 250,000 'zips' and is currently the largest zipline operator in the world by volume (in conjunction with sister company in Whistler, Canada). Trent explained that ziplining as a commercial activity, really begun in Costa Rica, Central America, and since then through innovation on the part of major players like Ziptrek, has really evolved from a simple, singular idea of ziplining from tree to tree, into a fully interactive experience for guests.
As Trent puts it, "It's more than an activity; it's a sense of place, it's the story and the people. We're mixing up the story from environment to historic, to cultural and Maori ways of knowing and we also have a pretty succinct and specific sustainability story, and it's not environmentalism, it's actually sustainability."
With such an overt emphasis on sustainability, people might be expecting laborious diatribes from their guides, but there is not a single degree of sanctimony, or dense layers of detail in the dialogue. Rather the message Ziptrek aims to get across is neatly wrapped up in the whole adventure.
First and foremost, Ziptrek create a fun experience, something they believe fits in with exactly why people come to
Queenstown
in the first place. Guests can choose from two tours depending on their required level of adrenalin. The 4 line tour, the Moa, is great for those who are not so confident with heights, but still provides enough of a challenge with each line getting progressively steeper.
The guides are well-versed in reassuring hesitant or nervous guests. Two guides accompany every tour, with one ready to receive the 'zippers' and one to harness securely and help launch the 'zippers'. Ziptrek is rightly proud of its flawless 100% safety record and patented braking system.
Although the element of adventure is not intended to be shocking or extreme like some of Ziptrek's Queenstown counterparts, the guides still actively encourage guests to try something new and exciting, like zipping upside down. The guides find that their "low and slow" tactic tends to work at easing guests into the first zipline, with many guests building the confidence to really go for it and approaching their last line with the gusto of a ziplining veteran. Indeed, the peaceful silence of the forest is often punctuated with whoops of exhilaration as zippers fly through the Beech and Douglas Fir Pine trees.
The Kea, the 6 line tour, ramps the adventure level up a notch with its piece de resistance – the steepest tree to tree zipline in the world. Thrill-seekers zip through the forest at a hair-raising pace for around a kilometre, the equivalent of 10 rugby pitches!
It might be unsurprising that guest feedback is nothing less than complimentary. Guests remember guides' names, and vice-versa. The carefully cultivated ethos of inclusivity doesn't just end at the sustainability message, and guests tend to come away from the experience having bonded with their guides, fellow zippers and the beautiful forest through which they zip.
I spoke with lead guide, Brad originally from Pittsburgh, Pennsylvania on what it is that drew him to work for Ziptrek and get through the selection process that is highly competitive and tough. "The culture, the message that we pass along to people that come on board and they take our product with them, I think that they really take something home and they feel good about themselves, and they can pass that on to their family and friends as well."
There is a tangible sense of pride in each of the Ziptrek employees I come into contact with. They work for a unique, special company and they know it. The prevailing ethos of Ziptrek seems to be about involvement and each member of staff is engaged in some way within the local community. Whether it be playing team sports, organising a TedX conference, being part of the Ambassador Programme, and much more.
Trent refers to it as a concept of "legacy", being conscious of one's own impact and what one can leave behind. This identifiable spirit of awareness and passion for life brings the Ziptrek team together making them close-knit, and above all, open and genuinely friendly with their guests. As Brad says, "It's really rewarding for both the guide and the guest if you have a small personal tour. You pass on that message and at the same time you really get to know people as well."
Ziptrek's Sales Executive, Will, asserts that in the feedback they receive from guests it is abundantly clear that the guides often "make the trip" for people. When I ask Brad about why he moved to Queenstown in the first place, I realise it is enthusiasm like this that must resonate with the guests when they take a Ziptrek tour. "I originally came here on a 5 day holiday and I did something different every day. Whether it was climbing, learning how to roll a kayak, mountain biking, every single day it was something different. I can do it all here. I love living here it's fantastic."