Top 7 Adrenaline Activities in Queenstown
Adventure Hot List Inspiration
Our guide to the best Queenstown activities for thrillseekers
Queenstown has rightfully earned its reputation for adventure with the sheer number of exhilerating
activities
on offer across land, water and sky.
For adrenaline seekers coming to
Queenstown
, it takes a certain type of activity to really get the blood racing and it can be an equally daunting trying to pick the right ones to tick off your bucket list. For that reason, we've chosen out our favourite high-octane experiences.
Our Top Seven Adrenaline Activities....

1. Nevis Bungy Jump
AJ Hackett operate the original bungy jump at Kawarau Bridge, the ledge jump at the top of the Skyline Gondola and the biggest of them all -
The Nevis Bungy
. The Nevis Bungy stands 134m above the rugged Nevis River and is a mind-blowing 8.5 seconds of falling and ground rush like no other.
The 30 minute scenic journey from Queenstown builds up the expectation and excitement. You then cross to the middle of the canyon by a high wire cable car, from where you'll jump. This is the ultimate test for bungy fans, it doesn't get higher, harder, faster or more intense than this
Departures are from the Queenstown Bungy Centre (Corner of Shotover and Camp Street): 9.20am, 10.00am, 10.40am, 11.20am, 12.00pm, 12.40pm, 1.20pm, 2.00pm and 2.40pm.
Prices start from NZD$275.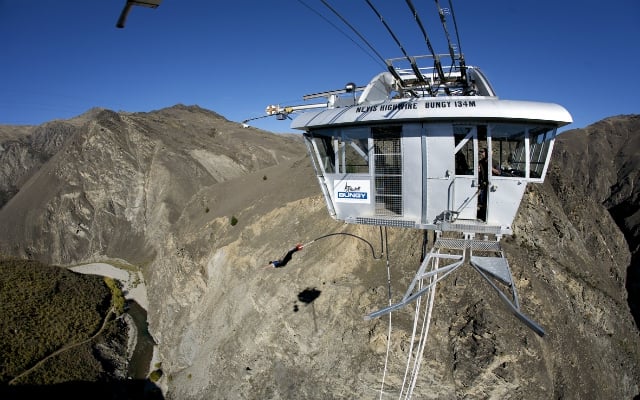 2. Queenstown Nevis Catapult
Take a ride on the biggest and most extreme catapult in the world. Experience being propelled 150m up and out across the Nevis Valley, taking in 3Gs of force as you hit speeds of almost 100kms an hour in 1.5 seconds flat. A hair-raising drop will have your adrenaline pumping and you'll soon be after another hit!
Departures are from the Queenstown Bungy Centre (Corner of Shotover and Camp Street): 9.20am, 10.00am, 10.40am, 11.20am, 12.00pm, 12.40pm, 1.20pm, 2.00pm and 2.40pm.
Prices start from NZD$255.
3. Canyon Swing
Take a giant swing from a platform 109 metres above a deep canyon below. Either take the jump yourself or, be released from the platform by the staff at
Shotover Canyon Swing
, who can offer guidance on over 70 different jump styles to experience the ultimate thrill.
You'll be fitted into a chest & seat harness and attached onto a twin rope swinging system. Then be prepared to freefall 60 metres down into the canyon, before the rope swings you through a huge 200 metre swing. A 4WD vehicle will transport you 15 minutes from Queenstown, through a short bush walk and onto a purpose built, cliff mounted platform high above the iconic Shotover River.
Departures are from 34 Shotover Street.
Prices start from NZD$249.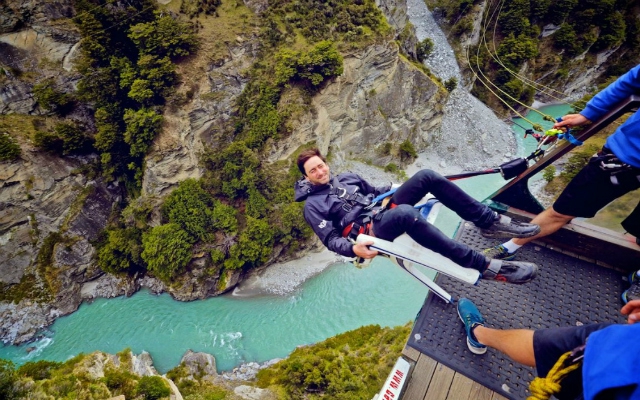 4. Skydive
Freefalling for 60 seconds from 15,000 feet at 200kph is the ultimate adrenalin rush. This skydive gives you an unrivalled view of the spectacular Remarkables Mountain Range and Lake Wakatipu scenery.
Meeting at the
NZONE
HQ in central Queenstown, you'll be able to choose your photo and video options before being shuttled out to the Dropzone at NZONE's private airstrip. This is where you'll receive full safety training and instruction. You'll then hop into the plane in the safe and secure company of your Tandem Master, before leaping from up to 15,000ft and freefalling for between 25 and 60 seconds as you reach speeds of 200kph.
Your parachute will then billow open and give you a gentle, serene ride back to earth, with at least five minutes 'flying time' to make sure you get the most of those amazing landscape around you.
Departures are every half hour from 7:00am until 3:00pm in Winter, or 6:00am until 4:00pm in Summer. Trips are subject to availability and are weather dependent.
Prices start at NZD$299 for a 9000 foot jump.
5. JetBoat
Queenstown is the home of Jetboating with a number of operators offering thrilling experiences in different locations in Queenstown. Experience high speeds and 360 spins in little over a few centimetres of water!
K-Jet - The bright yellow Jet boats offer an hour-long white knuckle ride across Lake Wakatipu and the Kawarau River before heading into the fast-flowing Shotover River, where things really feel like they're taking off. Hold on tight as your driver jets you across 45km of waterways at speeds of nearly 95kph. Prices from NZD$135.
Go Orange Thunder Jet – The orange Thunder Jets race down the Kawarau River, dart past the Shotover River and pack plenty of 360 spins for either 25 minutes or 60 minutes trips. Twin V8 engines accelerate down the Kawarau River at speeds of up to 90km/h. Jet Boats leave every half an hour on the 25-minute trip boasting cheapest ride at NZD$69 per person.
Shotover Jet –The iconic red Shotover Jets are the only ones allowed to operate through the dramatic Shotover River Canyons. Carved out of stone by tonnes of water over the course of thousands of years, the steep walls of the canyon add to the sense of adventure as 'Big Red' speeds through the canyon, getting incredibly close to the canyon walls, with plenty of 360 spins thrown in for good measure. Prices from NZD155.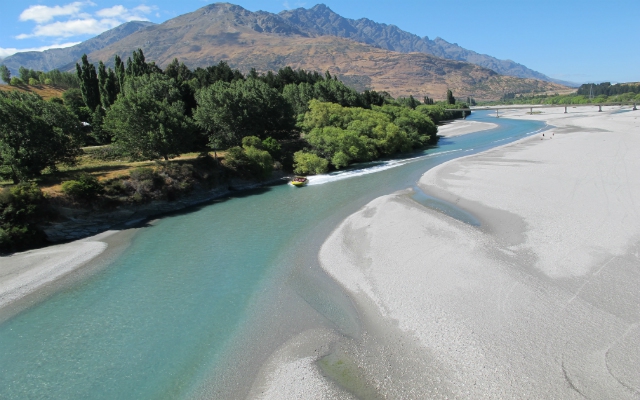 6. Hydro Attack
This water based activity sees you hitting speeds of 80 kph on the water and 40 kph diving underneath the water, Hydro Attack is a unique adrenaline ride.
Strapped inside a cross between a fighter jet and a torpedo, you'll skim across the top of the lake at 80kph, before diving under the water. Next, your pilot points the shark vessel at the sky as it blasts back out again and straight up into the air before shattering the lake on a screaming re-entry. Hydro Attack is the world's first commercial operator of these unique semi-submersible machines.
Departures are from The Lapsley Butson Wharf on the Queenstown Lakefront. Check in at the kiosk in front of Patagonia Chocolates by Earnslaw Park.
Prices start from NZD$154. Early Bird specials (from 9.30am) are available at a discounted rate.
7. Paragliding
There are two options in Queenstown:
Launching from the highest commercial take off point in Queenstown, in both summer and winter, the experience offered by Coronet Peak Tandems is unforgettable. During your thrilling flight, you'll have an unrivalled view of the surrounding mountain ranges and lakes as you glide high above the ground below. Pricing from $205.
G-Force Paragliding has been offering flights from the top of the Skyline Gondola since the early 90s. Launching from an incredible setting, descend from the iconic Skyline Gondola with Queenstown underneath and a birds-eye view of Lake Wakatipu and the Remarkables mountain range. Pricing from NZD$239. Early Bird specials available for NZD$219.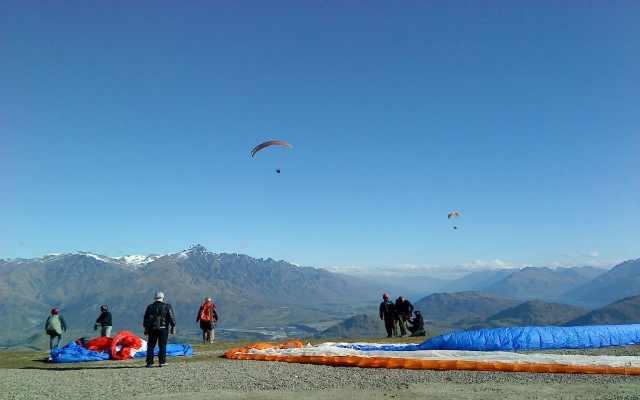 Queenstown Experiences:
For the best deals, check our '
Experiences Guide
' for a wide choice of activities and attractions to book and visit.