Doubtful Sound Cruise
Adventure Inspiration Retreats & Relaxation
Our guide to exploring Doubtful Sound by boat
If you have dreamed of seeing one of the world's forgotten treasures, where breathtaking cliffs meet expansive wilderness and far-reaching mountains, a Doubtful Sound cruise must be on your wish list.

Doubtful Sound is one of those corners of the world that has to be seen to be believed, and the only way to see it is by boat. Whether you choose from a number of overnight cruises, or Go Orange's exceptional three hour cruise, you will feel as though you've been transported back in time to an era when dinosaurs roamed the earth.

Breathtakingly steep cliffs towering higher than skyscrapers meet pristine clear water where some of the world's most unique marine life survive in peace, far from any human settlement. As your cruise nears the opening where it meets the Tasman Sea, you are sure to see at least one of the local residents below.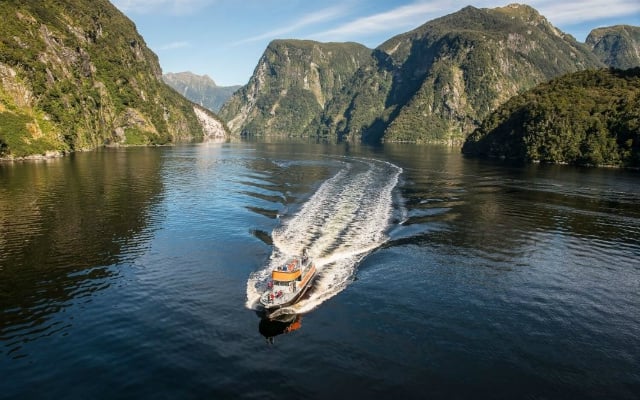 Dolphins, Penguins and Birds of Doubtful Sound:

Doubtful Sound is one of the only places in the world where the wildlife is truly unchanged by time; where ancient creatures still exist. As you gaze into the crystal clear water below the Go Orange boat and peer through your binoculars at the astonishing landscape, you are sure to spy one of the creatures below:

Bottlenose dolphins are some of the smartest mammals on the planet, Bottlenose dolphins love playing in the wake and below the nose of the Doubtful Sound boats.
Penguins are permanent residents of Doubtful Sound, and you are almost guaranteed to see at least one. You will likely see the Yellow-eyebrowed Fiord-land crested penguin and laugh as their little families congregate on many of the rocks that poke through the sound's waters.
Wood Pigeons may not sound exceptionally endearing, but the New Zealand Wood Pigeon is something special. They are both beautiful, and large and you are sure to see some soar over the nearby peaks that frame the sound.
Kea are known as the mischievous mountain parrot. These Kiwi natives are known for their naughtiness. Luckily for you, the Kea in Doubtful Sound will stick to the shores, so you can enjoy watching their antics through your binoculars.
Black coral trees and brachiopods may not sound thrilling, but the species of black coral trees are up to 200 years old, and the clam-like animals (brachiopods) have remained unchanged by evolution, surviving 300 million years. They are Doubtful Sound's own monsters of the deep!
Getting To Doubtful Sound:
If you are coming from
Queenstown
, our top tip is to hire a car and make the two hour trip to Manapouri the day before your cruise. Make a day of it, and stop off in
Kingston
on the way and have lunch at the Kingston pub. After lunch, continue the drive to Manapouri, a small town on Lake Manapouri, the gateway to the Southern Sounds.
Book your accommodation in Manapouri before you arrive, as options are limited. Our top tip for those looking for a B&B is to stay at Murrells Grand View House, or book an Air BnB ahead of time. Settle in for the night and get your day trip bag ready for your cruise on Doubtful Sound.
What to bring:
An overnight bag for your stay in Manapouri
Sunglasses
Sunscreen
A sun hat
Beanie
Sweater
Snow/padded jacket
Warm socks
Clean change of clothes
Camera
Gloves
The weather in Doubtful Sound can change in an instant as it's very low latitude. Pack very warm weather gear as it can be incredibly cold, even in summer. The wind in Doubtful Sound can be powerful, so rug up with wind-proof outerwear including a warm sweater layered under a puffer or ski jacket.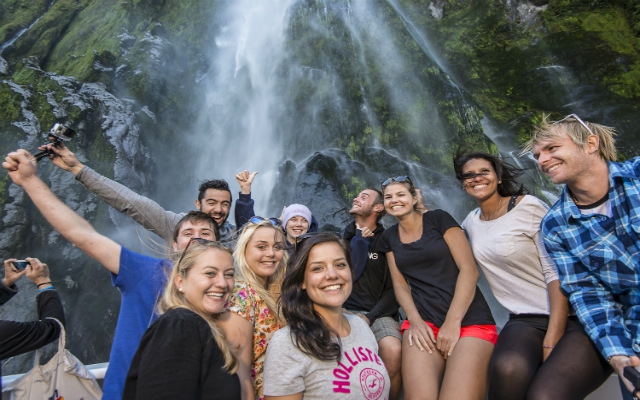 Doubtful Sound Cruise:
Wake up in beautiful, remote Manapouri and prepare to hop on the coach of your chosen tour group. We recommend
Go Orange
. Their coach will pick you up at 7:15 or 10am from Manapouri for their three hour cruise.
Go Orange offers a more intimate experience than other companies, with only 45 passengers being allowed on board the boat at once. Plus! the cruise lasts only three hours, enabling you to enjoy the pristine Doubtful Sounds while leaving you time to enjoy the other areas of the Southern Lakes. Go Orange offers a range of rustic picnic meals to keep you nourished while you take in the sights, with everything from a Ploughman's set to a Vegetarian set.
Top tip: Get your camera and binoculars ready, as you are sure to get some of the best photos of your life in the exceptional remote fiord.
Returning to Queenstown:
As your boat makes its way back to the mouth of the Sounds, get ready to jump back on the coach. This time though, enjoy the trip back to Manapouri and pick up your hire car. Instead of staying in Manapouri, drive to Te Anau for another different lakeside experience. Stay the night here, and enjoy the country pub which has a great selection of local beer and great Kiwi wine.
Top tip: Book your accommodation in Te Anau ahead of time. If you need to get back, no worries! Go Orange offers transfer straight to, and from Queenstown.
Photos Credit:
Go Orange