New Zealand Campervan Tips
Adventure
A couple share their tips and experiences of campervan living while visiting New Zealand
New Zealand is an outdoor playground, crammed full of mountains to hike, waves to surf, calm waters to kayak, and forests to explore. My husband and I wanted to see it all while we spent a year in New Zealand, and after some research we learned the best way to get around would be to have our own vehicle. We looked into things a bit further and decided that traveling in a camper van would be ideal. Our plans were made: we would come to New Zealand, buy a van, and to live for the year.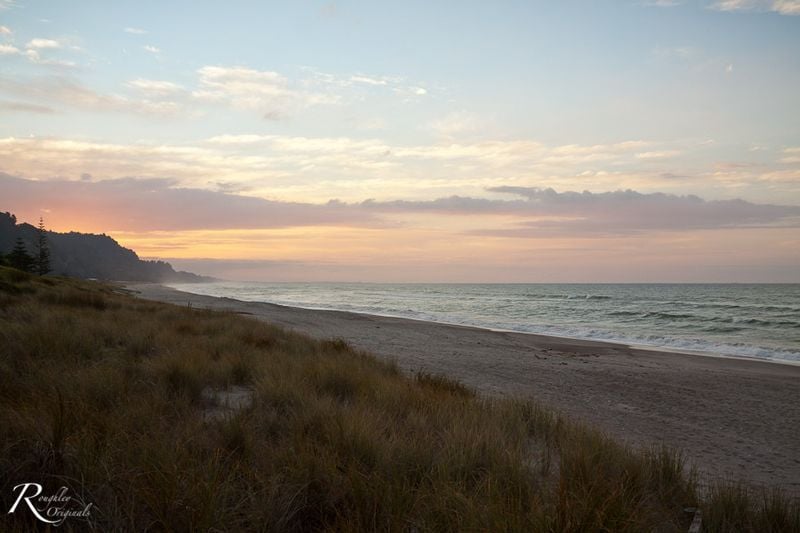 Once you own a van, you pay attention to who has one, where they are for sale, and how much they are. There is a website that everyone in New Zealand posts things for sale called Trade Me. Looking on this website we found that Auckland is the most expensive place to buy a van - Wellington was substantially cheaper. We were in a rush though, so we bought our van up north and paid more for it than it was worth. Our first lesson: a year is a long time, so don't rush. Research, look around, choose carefully.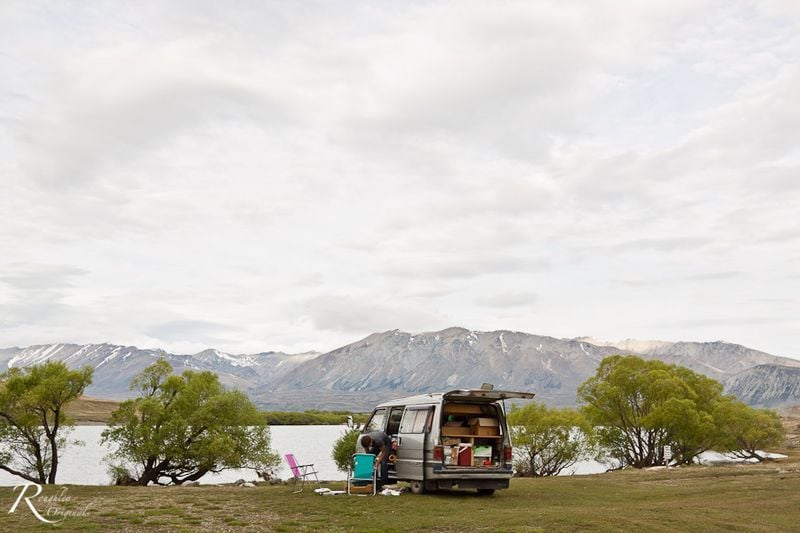 Once we bought our Mazda Bongo we settled into van living. It was a big adjustment. All of our living space was about the size of a double bed, so we had to be organized. My husband Gareth eventually pulled out the back seats, giving us much more room for storage underneath our bed - lesson number two, always make sure there is ample storage in the van.
Not long after the purchase, the van broke down and needed repairs, which set us back in both time and money. We took in that life lesson: always, always have the vehicle checked by a mechanic before you buy. If we had done this we would have known the van needed work.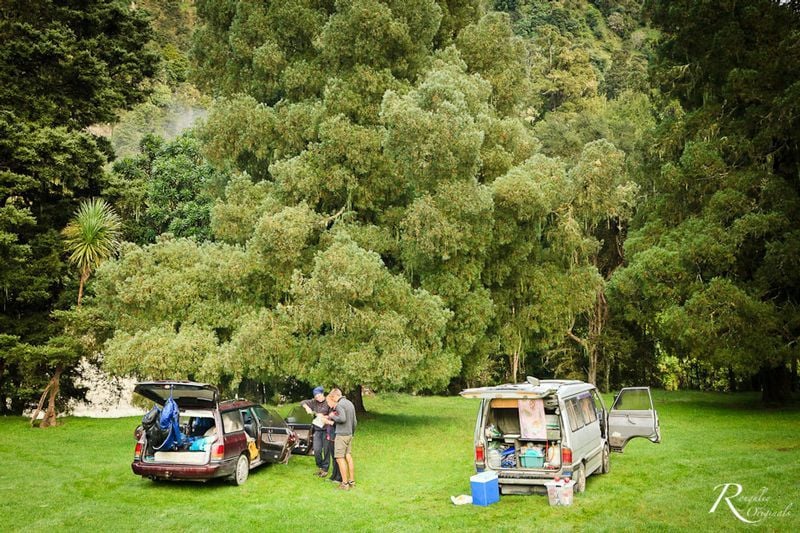 Once we bought the van we needed places to park for the night, and we found that holiday parks are expensive. The average we found was $20 per person per night. When we added in the cost of the van, it seemed that we weren't saving much. Luckily we met a couple who told us about the DOC campsites. The Department of Conservation (DOC) is a government organization that maintains the many hikes, huts, and basic campsites around the country.

No one in any of the Information Centers ever told us about these campsites, so thank goodness that couple did; they have saved us a fortune. They range from being free to $14 per person, depending on the location and the facilities available. They all have toilets, some have drinking water, and some have showers, some with hot water, some with only cold.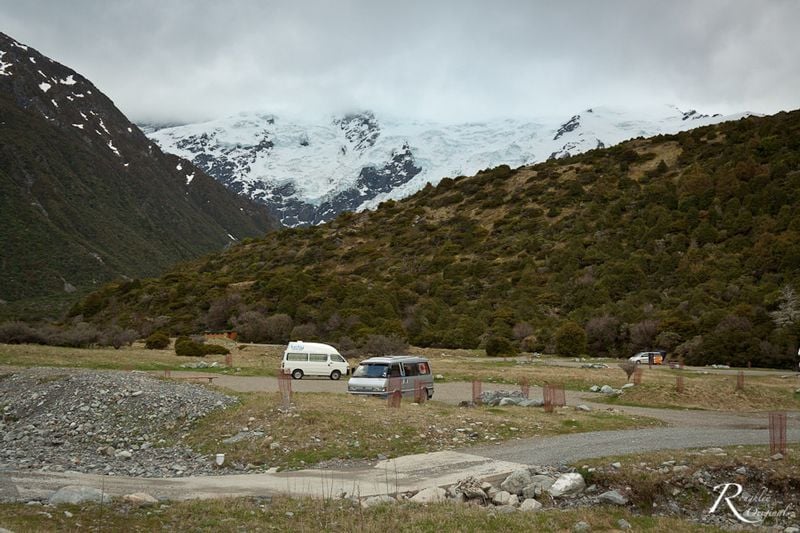 There are booklets in the Information Centers with all of the DOC campsites listed; you just have to know to ask for one. They are split up into regions and have little maps at the front which always helped us figure out where we would stay for the evening. Many of the campsites are in beautiful locations, and some have walks that start right from them. There are sites that take a bit of driving to reach, but they were always pretty drives, plus it was cheaper paying for the petrol to get there than a fee in a campground.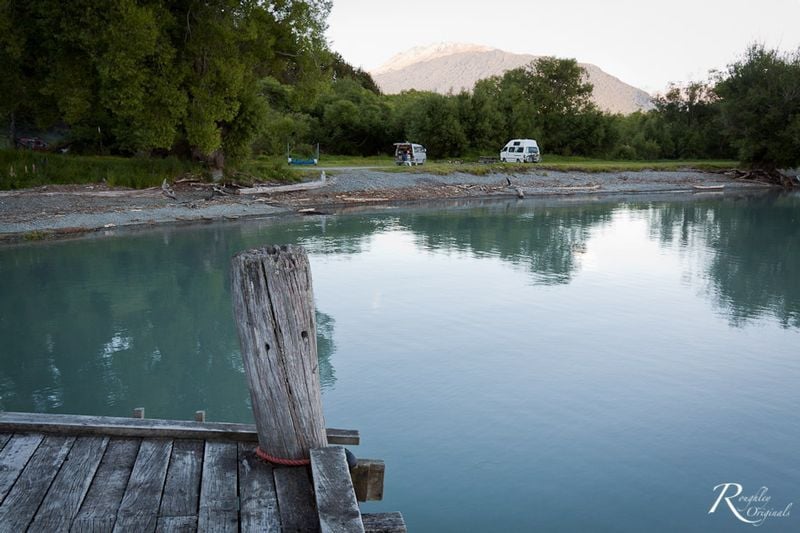 Staying at the DOC sites means we needed to be self sufficient. We needed a gas stove to cook our food with, we always carried enough drinking water for a few days, and we used our torches at night as there was no power.
Our biggest obstacles with living in the van were keeping our phones and various batteries charged, and showering. In the summertime we utilised the cold showers in the DOC campsites as they were a good way to wash off the salt water, sunscreen, bug spray and sweat from the day. When it became colder, and when there were no cold showers, a quick sponge bath worked wonders. We met some travelers who went into the leisure centers and community pools and paid the small fee to shower there. As for power, we got into the routine of staying in a holiday park every four or five days, which allowed us to shower, recharge, do laundry, and check emails. It worked perfectly.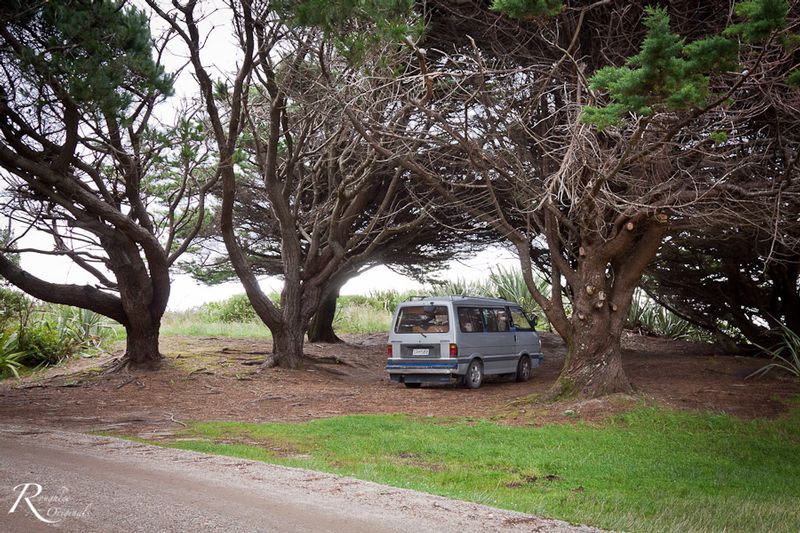 There is no other way I would want to travel New Zealand. Living in a van meant we were always ready for new opportunities and experiences. We took back roads, saw sites off the beaten path, and saw a side of New Zealand we wouldn't have known exists if we were seeing it from a tour bus. The facilities in New Zealand make camping easy, so if you're interested in seeing the natural wonders of this beautiful country, camping is definitely the way to go.