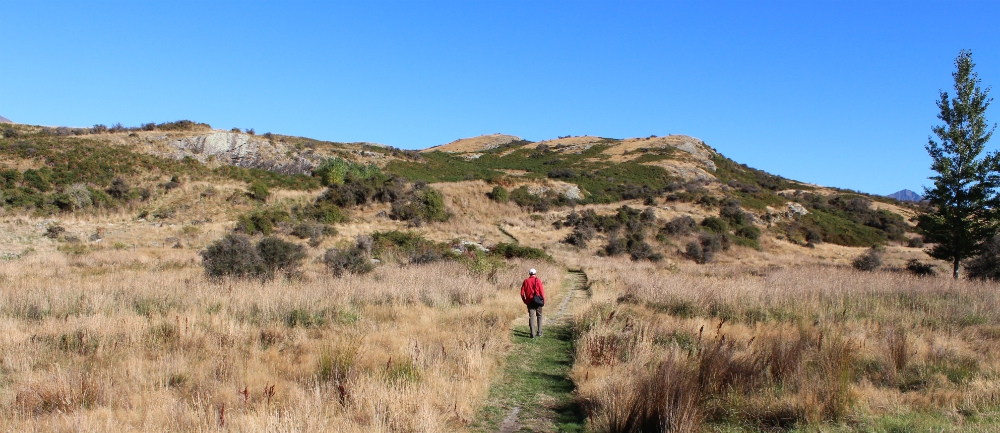 Queenstown Walks
Our guide to the best short walks around Queenstown
Queenstown has postcard views at every turn and the wide range of trails are a great way to appreciate the scenery. Our selection of walks don't include the most challenging that can take days to complete, but those walks that are within easy reach of Queenstown centre and ideal for shorter stays.
Bob's Cove Track: 1 Hour
Relaxed and easy walk around a forest and scenic cove to a lookout that rewards you with gorgeous views of Lake Wakatipu and the Remarkables. It's a 10 minute drive from Queenstown towards Glenorchy. Along the trail you can also pick up the Historic Bridle Trail, and the 12 Mile Delta. Start/Finish: 14 km from Queenstown on the Glenorchy Rd. View walk photos

Glenorchy Walkway: 1 Hour
The Glenorchy Walkway is a one hour loop walk that offers some of the most spectacular views in New Zealand. A boardwalk takes you over wetlands to view black swans and various birdlife with the backdrop of pristine mountain peaks. Start/Finish: A 45 minute drive from Queenstown in the centre of Glenorchy town. View walk photos
One Mile Creek Walk: 1 Hour 30 Minutes

This is a steep walk that takes you through beech forest right up to the Gondola Station. Beech forest, creeks, waterfalls and various species of birdlife (including bellbird/korimakocan tui, fantail/piwakwaka) can be spotted as you climb up this trail. Start: One Mile Roundabout at the bottom of Fernhill Road. View walk photos
Kelvin Peninsula Trail: 1 Hour 30 Minutes
This gentle and enjoyable loop walk, tracks the edge of Lake Wakatipu and Kelvin Heights Golf Course. You gain some of the best views of the Remarkables and Lake Wakatipu, and will pass by the yacht club, through the golf course and enjoys views of Queenstown, Queentown Hill and the Gondola Station. Start/Finish: Kelvin Heights at the golf course entrance. View walk photos

Lake Alta Track: 1 hour 30 minutes
The 45 minute walk to this pretty glacier lake in the Remarkables, begins from behind the ski base station. It's a fairly steep climb over rocky terrain so suitable shoes are a requirement. You will pass over wetlands and follow a marked trail leading to the sight of the lake - approximately 500 metres by 250 metres.

To reach the Remarkables Ski base station, turn off the road heading towards Kingston and drive carefully up the unsealed 14km road. 4WD and non-rental vehicles are advised!


Jack's Point: 2 hours
Leaving Queenstown, drive towards Kingston and on the right you'll see Jack's Point Golf Course. This track takes you through open grassland by the award winning golf course, over to sweeping views of Lake Wakatipu. The view of the towering Remarkables are a constant reminder that you are indeed in the 'great outdoors'. Start/Finish: Jack's Point Clubhouse. View walk photos

Lake Hayes Walkway: 2 - 3 Hours
Popular with locals, Lake Hayes is a loop walk around the beautiful Lake. The pathway hugs the lake with mountain scenery always on hand to admire. The walk is also popular with cyclists and runners. Start/Finish: Lake Hayes Pavillion. View walk photos

Mt Crichton Loop Track: 2 - 3 Hours
This short 10 minute drive from Queenstown is situated in Mt Crichton Scenic Reserve. The walk takes you along a creek, waterfalls and through mountain beech and mānuka forest. On route, you'll also pass by Sam Summers Hut, built in 1930's and a reminder of life in gold prospecting days. Start: Glenorchy Road, 10 km from Queenstown. View walk photos

Queenstown Hill Walk: 3 Hours
Accessbile from the town centre, this steep walk is a great (and convenient) way to see magnificent views of Lake Wakatipu, Coronet Peak, Lake Hayes and the Crown Range. Start: Belfast Street in Queenstown. View walk photos


Ben Lomond Saddle: 3 - 4 Hours
Walking from the Gondola Station, this walk twists and turns through grasslands up to the the Ben Lomond Saddle. With views of Ben Lomond in front and Lake Wakatipu behind, there's a choice to make at the top - continue to the summit, pick up the Arthurs' Point Track or return. Start: Top of the Gondola, halfway up Skyline Access Road. View walk photos

Ben Lomond Summit: 6 - 8 Hours
Continuing from Ben Lomond Saddle, it's a further 3 hour return journey meaning a 6 – 8 hour return hike from the Gondola Station. The summit rewards you with fantastic 360 views of Lake Wakatipu and the Remarkables. It's a steep track so be prepared with suitable footware and layered clothing. Start/Finish: The Gondola station, halfway up Skyline Access Road. View walk photos

Moke Lake Loop Walk: 2 - 2.5 Hours
Take a 10 minute drive from Queenstown, heading towards Glenorchy, and take the right turn that's signposted to Moke Lake. It's then a 8km drive along a unsealed road past Lake Kirpatrick and onto the breathtaking views presented by Moke Lake and the surrounding moutain terrain. The Moke Lake Loop Walk takes just over 2 hours at a moderate pace and hugs the lake for a continuous stream of eye-catching moments. View video

Beyond Queenstown: Gibbston River Trail: +50 minutes
Approximately 30 minutes from Queenstown takes you to the Wentworth Loop Walk in Gibbston. The loop walk provides you with views of the stunning Kawarau River on one side and world-class wineries on the other side. The walk includes numerous purpose built bridges to enable you to appreciate the stunning setting. After the walk, treat yourself to some wine tasting in one of the many cellar doors close by. View walk photos

Beyond Queenstown: Bannockburn: +1.5 Hours
Approximately 45 minutes to the wine growing region of Bannockburn, is a delightful 50 minute walk that will conjure up images of those old classic American westerns. With spectacular cliffs and rock pinncacles that were shaped by alluvial mining, it's a walk into the past. Relics of a former blacksmith's shop and miner's houses are reminders of past conditions during the gold mining days. View walk photos