Top 5 Queenstown Walks
Adventure Inspiration
Queenstown is a region blessed with truly spectacular scenery. Surrounded by the Southern Alps and The Remarkables mountains, a regular backdrop in the Lord of the Rings movies, the town of
Queenstown
is nestled on the captivating Lake Wakatipu - home to many cruise trips.
Get beyond the town centre and you'll soon discover why it's called the
Queenstown Lakes
region. All this adds up to, is a landscape built for walking. So, we've picked out our Top 5 Queenstown Walks that can mostly be done in a few hours - meaning you'll much more likely to actually try them for yourself.
1. Kelvin Peninsula Trail: 1 Hour 30 Minutes
This is a relaxing and enjoyable loop walk that winds around the edge of Lake Wakatipu and Queenstown Golf Course. It's pretty much flat all the way so no fancy walking shoes are needed. Along the way you'll enjoy some of the best views of the Remarkables and Lake Wakatipu, the
Queenstown Gondola
and the town itself.
The trail leads you pass the yacht club and some interesting sculptures to appreciate (look out for the sheep). Towards the end, the trail leads you alongside the fiarways of Queenstown Golf Club, surely one of the most picturesque golf courses in the world.
Start: Kelvin Heights Peninsula Road Beach.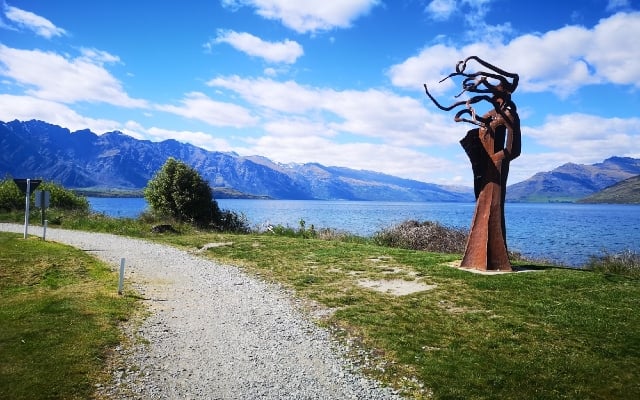 2. Moke Lake: 2 Hours
You'll need to hop in the car for this walk but it's not far from the centre of Queenstown. Take a 10 to 15 minute drive on SH6 heading towards
Glenorchy
, and take the right turn that's signposted to
Moke Lake
. You'll then have a 8km drive along a unsealed road past Lake Kirpatrick and onto the breath-taking views of Moke Lake and the surrounding mountain terrain.
This unspoilt and relatively unknown spot if a favourite with locals. The Moke Lake Loop Walk takes just over 2 hours at a moderate pace and hugs the lake for a continuous stream of eye-catching moments. Take some food with you and enjoy lunch during or after your walk and take in the postcard views.
Start: Moke Lake Reserve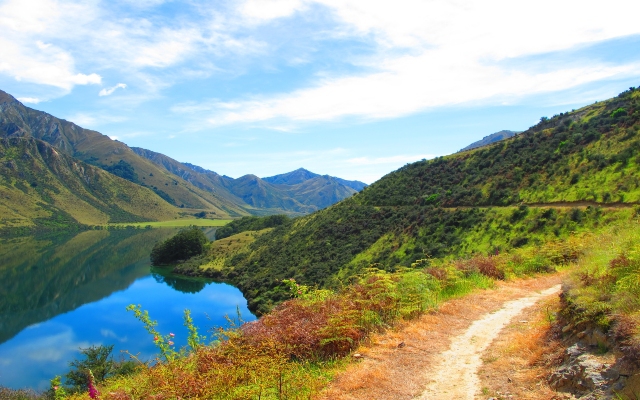 3. Mt Crichton Loop Track: 2 - 3 Hours
Further along SH6 heading towards Glenorchy, is Mt Crichton Scenic Reserve. This is a more adventurous walk taking you along a creek, waterfalls and through mountain beech and manuka forest. On the way round, you'll also pass by Sam Summers Hut which was built in 1930's and is a reminder of life in gold prospecting days.
Start: Mt Crichton Reserve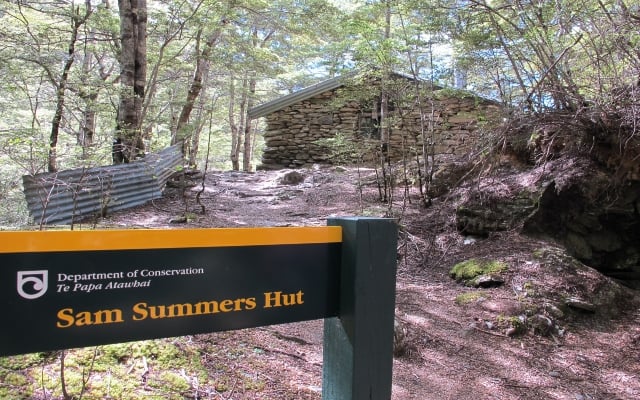 4. Queenstown Hill: 3 Hours
This walk is easily accessible from Queenstown town centre. Initially, it's a steep walk from the town centre to the start of the trail on Belfast Street but don't let that put you off. Although the walk to the summit is fairly steep, the winding trail has lots of switchbacks so it's never that steep.
All the way up you'll enjoy amazing views of Queenstown and Lake Wakatipu just like you've seen of those Instagram pics. The canopy of the forest offers welcome shade on those warmer days as you burn the calories off. At the top is the 'Basket of Dreams', a popular 'selfie spot' with a sculpture positioned in front of the panoramic mountain and lake views. However, carry on up for approximately another 20 minutes and you'll reach the actual summit!
Start: Belfast Street in Queenstown.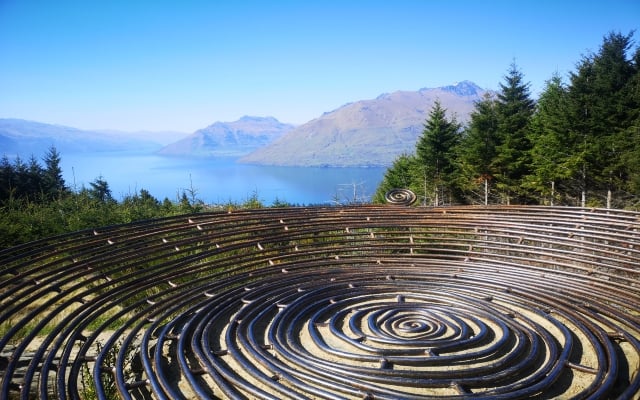 5. Ben Lomond Saddle & Summit: 3 & 6 Hours Option
The hardest walk on the list but a popular one especially with backpackers. Head up to the top of the
Skyline Gondola
. Walking from the Gondola Station, this walk twists and turns through grasslands up to the Ben Lomond Saddle. With views of Ben Lomond in front and Lake Wakatipu behind, there's a choice to make at the top - continue to the summit or return.
If you continue upwards, it's an additional 3 hour return journey meaning a total of 6 to 8 hours return hike from the Gondola Station. The Ben Lomond Summit rewards you with the most incredible 360 views of Lake Wakatipu and the Remarkables. It's a steep track so be prepared with suitable footwear and layered clothing
Start: Top of the Gondola Station accessed on Brecon Street.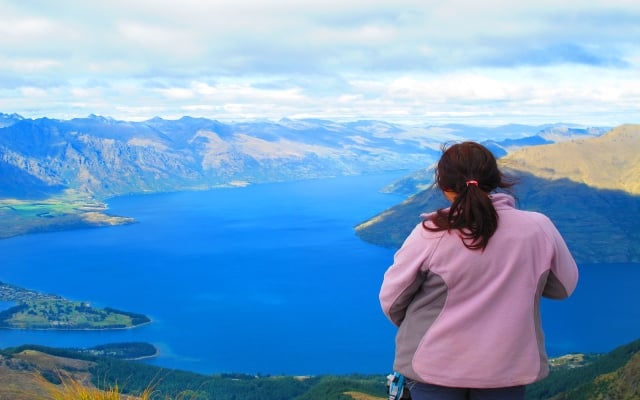 More Photos
:
View more photos of these walks in our gallery below.
More Walks:
Discover more walks to try in our
Queenstown Walks
article.
Renting A Car:
If you need to rent a car while in Queenstown, you can use our
My Guide Car Booking Tool
to find the best deals on car rentals. Search, Compare, and Save up to 70%!