Snowboarding In Queenstown
Adventure Sports
Our guide to snowboarding in Queenstown and Wanaka
The Queenstown Lakes region has a formidable and well-deserved reputation as one of the world's leading destinations for snowboarding. A combination of premier events, festivals, nightlife, world-class competitions, ski fields, snow parks, and ample opportunities for heli-skiing/boarding make Queenstown, Wanaka and the surrounding alpine region a snowboarder's paradise.
It all started way back in 1947 at Coronet Peak when the only way people could get down the mountain was on a pair of skis, and the only way to get up the mountain was by means of a rudimentary 'lift' - more of a medieval rope pulley system. During winter seasons in the 50s and then 60s the town became regularly populated by skiers from all around New Zealand, and further afield, looking for fresh snow and good times.

As Queenstown's popularity increased, so began its incarnation as a lively apres-ski town with buzzing nightlife. Entrepreneurs recognised a heady potential in Queenstown and began investing in ski fields and as the new wave of winter sports spread around the world, Queenstown became home to a steady stream of snowboarders.
Nobody could predict what snowboarding would do for the revival and injection of new blood into the worldwide winter sports scene. Queenstown responded with vigour and raised its game by diversifying terrain on its ski fields, opening up jumps, rails, boxes and parks for snowboarders to practise their tricks on.

The last ten years in particular have seen Queenstown and Wanaka become a utopia for snowboarders. If you're keen to ride steep n' deep, 50/50 a box or pull off a 180 on a kicker, you will find everything you dreamed of in Queenstown and Wanaka.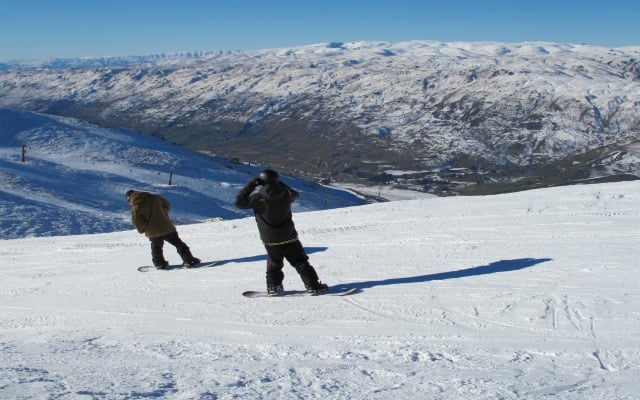 Coronet Peak:
The closest, and therefore busiest, ski field to Queenstown with a transport time of only 20 minutes, Coronet Peak comprises of all-round terrain suiting beginners right through to advanced riders. The high speed chairlifts give you more riding time and night skiing is popular for young snowboarders who enjoy riding at night with big beats on the deck providing the soundtrack. The Back Bowls and Exchange Drop offer steep riding on expert-only black runs and thrill-seekers will find themselves gravitating towards these trails.
Snow-based activities at Winter Festival and parts of the Winter Games are regularly hosted here at Coronet, making it a drawcard for admirers of big airs and death-defying snow-stunts.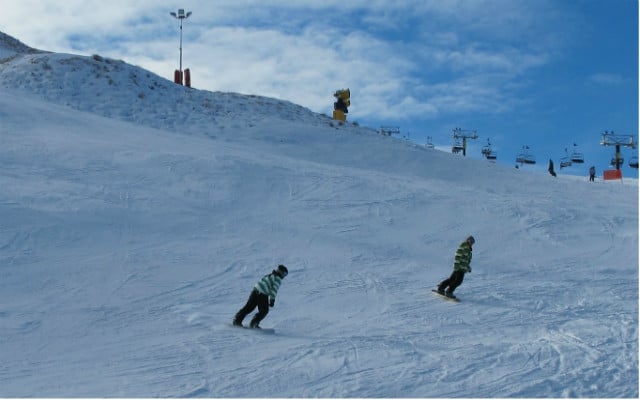 Remarkables:
The Remarkables ski field takes approximately 45 minutes to get to from Queenstown. is more elevated, and therefore has more dramatic scenery than Coronet Peak. Beginners should feel comfortable here on the green runs with wide sweeping slopes providing plenty of space to find your way and practise those turns.

Snowboarders looking for fun and games will find them in the freestyle arena, a unique concept dreamt up by the master of snowboards himself, Jake Burton, aimed at creating freestyle terrain in a natural environment. The Parklife half-pipe, Dirty Dog Terrain Park and Beginner Park are all popular gathering places for snowboarders to grow and progress in the freestyle arena.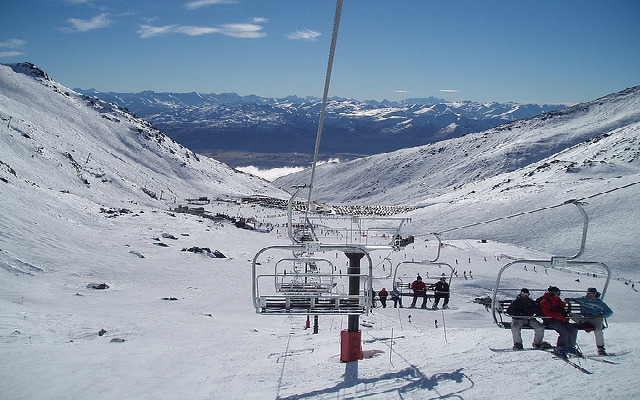 Cardrona:
Some snowboarders claim Wanaka ski field Cardrona is unbeatable in the region for its playtime options. Starting from baby boxes submerged in the snow on green runs to enormous, intimidating-looking jumps, downhill rails and huge boxes in the park, Cardrona caters for the full scope of progression in freestyle riding. Some of the snowboarders in the park display breathtaking fearlessness so it's worth stopping by to see the aerial show even if you're not feeling as courageous yourself.
There are not one but two half-pipes at Cardrona from 12ft walls ranging to the Olympic Superpipe with 22ft walls. Most runs are nice and wide providing plenty of space for nervous beginners practising turns and equally as fun for advanced riders who want to make the most of their riding time by traversing and using natural features.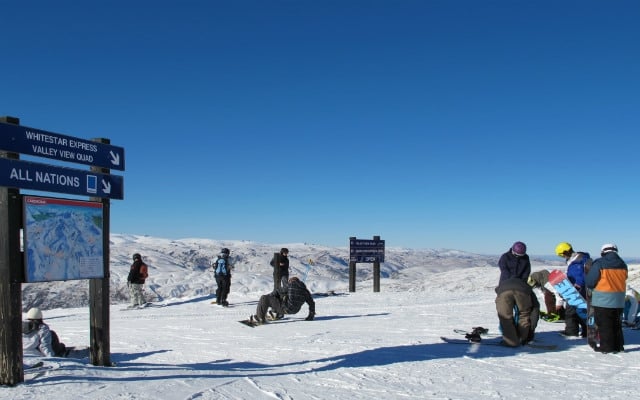 Treble Cone:
Less attractive for beginners and extremely appealing to intermediate and advanced riders, Treble Cone is the largest ski resort in the South Island with over 550 hectares of terrain. It also takes the crown of the longest ski resort in the Queenstown Southern Lakes District with its 700 metre vertical rise.
As might be expected then, the opportunities to power down the mountain on steep, deep terrain are plentiful. There are even parts of the mountain reserved exclusively for experts only and this might seem a little discriminatory but it really is for all riders' safety. The chutes, powdery bowls and drops are as dramatic and serious as they sound.
The Jazz Intermediate Fun Park is a hotspot for eager snowboarders to develop freestyle skills and tricks. The table top jumps, fun boxes and down boxes will provide your dose of parklife fun, while the natural super pipe is its crowning glory.

Heli-boarding:
Carving out fresh lines on big mountains is perhaps the ultimate in snowboarding experiences. Local operators include Southern Lakes Heliski, The Helicopter Line and Harris Mountains Heli-Ski. These companies specialise in taking you to untouched mountains where you and your group will be riding in silence with no chairlifts or other people crowding the slopes. You will be riding in soft powder, picking out your own lines and making that mountain your own. Packages usually include lunch and an average of five runs. The very advanced riders among you can even opt for tackling Mount Cook, the highest peak in all of Australasia.