The Best Craft Beer In Queenstown
Food & Drink Hot List
Explore New Zealand's best craft beers at these Queenstown watering holes you might never discover on your own.
Queenstown
is growing up, and as it becomes more sophisticated, craft beer has slowly infiltrated the infamous
Queenstown bar
scene. Some of the best local beers from around New Zealand, plus some brews created right in Queenstown are available at many local pubs.
So ditch the tourist spots, and explore New Zealand best craft beers at these Queenstown watering holes you might never discover on your own.
Atlas Beer Cafe - Altitude Brewing
Atlas is a locals' favourite as much for its ever-evolving list of craft beers as its $20 steak, chips and salad dinner and kumera and salmon hash bowl. Right on the lake next to Steamers Wharf where the Earnslaw docks, you can enjoy the stunning scenery, sit in the sun and sip your favourite beer.
A local favourite is the Altitude Gold Panners profit (Golden Lager) with light malty flavours, ideal for easy drinking. Created by Queenstown's Altitude Brewery, Gold Panners is brewed right in the Southern Alps. This Queenstown craft beer is world class, and matches perfectly with Atlas's unbeatable, affordable food.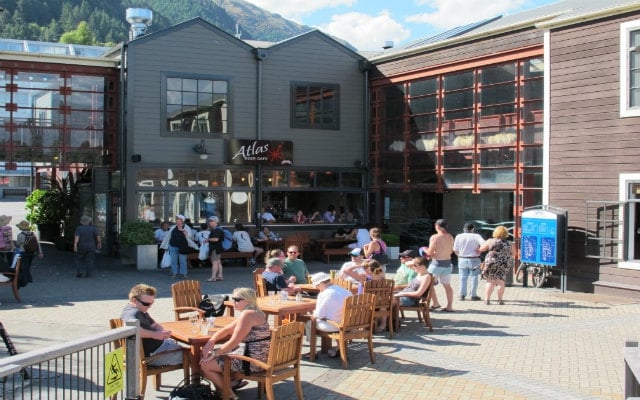 Cardona Pub - Emersons Pilsner
Cardrona Pub is a 45 minute drive from Queenstown, up and over the
Crown Range
, which is a windy drive, but well worth it. One of the most iconic pubs in the Queenstown Lakes region also has one of the South Island's most iconic craft beers on tap. The Emersons Pilsner has fruity undertones and heralds from the Emersons Brewery in Dunedin, just four hours from Queenstown.
The
Cardrona
Pub is the ideal spot to enjoy this crowd favourite; with its historic interior, and huge sprawling beer garden. Sit outside on bean bags and soak in the sun, or nestle by the numerous fires and fire pits on cold days. The outdoor area makes this pub ideal for families too, as it has a swing set and giant connect four game to keep the little ones occupied while you sip your Emersons. There's also plenty of parking across the road from the pub, even on the busiest days!
They have incredible food too, from loaded wedges and nachos to beautiful main dishes like lamb rump. The Emersons Pilsner is by far the most popular beer at the Cardrona Pub, and works perfectly with the beer battered Blue Cod and hand cut fries.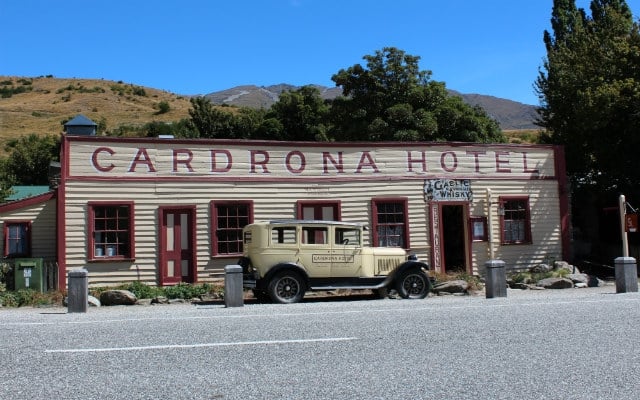 Madam Woo Hallertau #2 Statesman Pale Ale
This Malaysian-fusion eatery has one of New Zealand's best pale ale craft beers; the Hallertau #2 Statesman Pale Ale. Brewed in a craft brewery in
Auckland
, Hallertau beers can be hard to find but are exceptional to taste. The pale ale is perfect for the Asian-fusion food at Madam Woos where you can sit out the back in the little courtyard. Try the duck salad, it's amazing.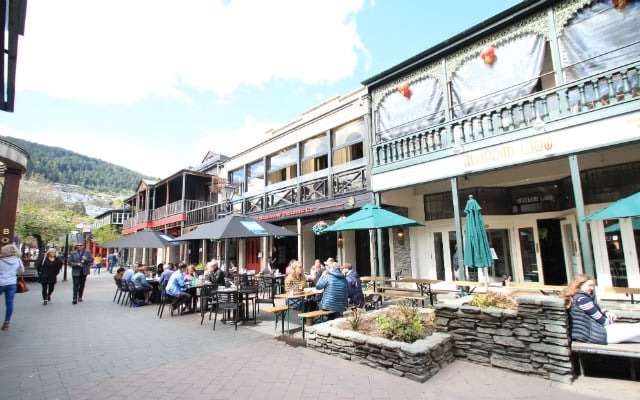 Smiths Craft Beer House - Cargo Brewery IPA (if you're lucky)
A fairly new addition to Queenstown, Smith Craft Beer House has now settled into the Queenstown landscape and is known for its every-changing beers and great burgers. The top local favourite at the moment (beers run on tap until the kegs run out) is Cargo Brewery's Indian Pale Ale; a bright, full-bodied beer that's just happens to be the new Queenstown-based brand's best seller. Pair it with the hefty Smiths burger, the loaded fries or for a healthier meal, the beetroot and mouth-watering haloumi salad.
Smiths can be hard to find, as it's right down the end of the main street, Shotover street, just before Steamers Wharf where the Earnslaw docks. If you can't find it, look for the huge Base Backpackers building almost opposite Fergberger, and walk about twenty metres ahead. You will see the sign if you look up. It's up a set of stairs on the right, one floor under Queenstown Gym.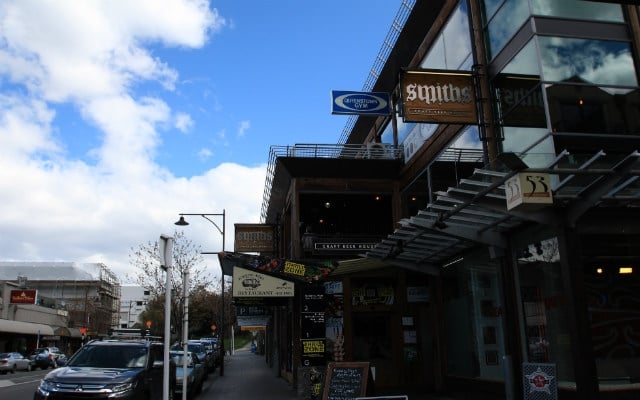 Fork & Tap - Apa Pilsner by Sidewinder Brewery
Arrowtown
is just a fifteen minute drive from Queenstown, and it's well worth the trip if you stop by the Fork and Tap for an Apa. With a huge beer garden and plenty of outdoor seating and tables, the Fork and Tap is ideal for summer afternoons, plus their burger with special recipe onion recipe which works perfectly with Apa Pilsner on tap. This tasty beer is a New Zealand-style Pilsner with a slight floral scent but tasty malty flavour. If you're more of a pizza or Asian food lover, this beer works with those too. On a Sunday afternoon or Wednesday night (Irish night) get to Fork and Tap early as seats fill up quickly!
To find Fork and tap, head towards Arrowtown the back way, via Arthur's Point (it's a nicer drive than going through Frankton). Once you pass Millbrook Resort on your right, you will get to an intersection and turn left, then drive down the hill and take the last right. Drive passed all the parked cars until the end and you see the pub!
Queenstown's craft beers are truly remarkable, and they are found in special places you might not find in your guidebook. Savour each beer while you gaze at the breathtaking mountains and other-worldly landscape of this special corner of the world.