Jet Boat Fun In Queenstown
Adventure
Jet boating has become one of New Zealand's most popular adventure activities
Sitting on the Bay at Lake Wakatipu, Queenstown has a long history of watersport activities. The wild and wonderful Shotover and Kawarau Rivers, are ideal for kayaking, canyoning and rafting. But it's the jet boating that brings thousands of people to Queenstown, year on year.

Here, they'll experience the thrill of zooming across turquoise shallow waters, weaving in and out of spectacular canyon gorges, at speeds of up to 90kph. Jet boating has become one of New Zealand's most popular adventure activities, and Queenstown is arguably the capital.
When a Kiwi called Bill Hamilton invented a series of water jet engines in the late 1950s, the commercial possibilities for high speed shallow water travel, were obvious. The country's first commercial jet boat operator, Shotover Jet, was then established in Queenstown, in 1970, and has since entertained over 3 million adventurers. As the activity grew in popularity, so did the number of operators pursuing a licence. But regulations are strict and, today, there are still just a handful of trusted jet boat companies, waiting to give you the ride of your life.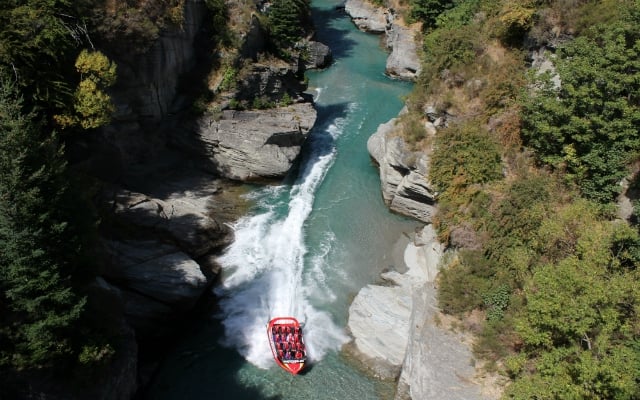 The Perfect Playground
The Queenstown landscape is a natural adventure playground, ideal for jet boating. As the name suggests, the Shotover River is fast-flowing, with great rapid sections and some stunning scenery (it was originally named 'Overshot River', such was the speed of the water). Home to Shotover Jet and K-Jet, it flows north to south, through the Shotover Canyons and Skippers Canyon (the latter exclusive to Skipper's Canyon Jet Boat), before merging with the west-to-east Kawarau River.
K-Jet and Go Orange Jet Boat operate on the Kawarau River, which is also the site of another adventure milestone. It was here that the world's first commercial bungy jump was established, over the Kawarau Bridge, in 1988.
Further west, jet boaters can also find adventure around the Dart River and its braided river system, at Glenorchy. A group of shallow-watered rivers and streams, visitors can combine a thrilling jet boat ride with wilderness walks and nature trails, with Dart River Wilderness Jet. In the north, towards Wanaka, the Matukituki River also offers perfect jet boating opportunities. Nestled inside Mount Aspiring National Park, you can explore creeks, valleys and many Lord of the Rings locations, courtesy of Wanaka River Journeys.
Choosing Your Jet Boat
There are numerous Jet Boat operators in the Queenstown area, each offering their own, unique brand of adventure.
1. Go Orange Jet Bot
Offering hour-long trips between the Kawarau River and Lake Wakatipu. 50 years combined staff experience, using state of the art boats that can do 360 degree turns and offer unparalleled views for everyone on board. Leaves from Frankton Marina or Queenstown Bay. More info.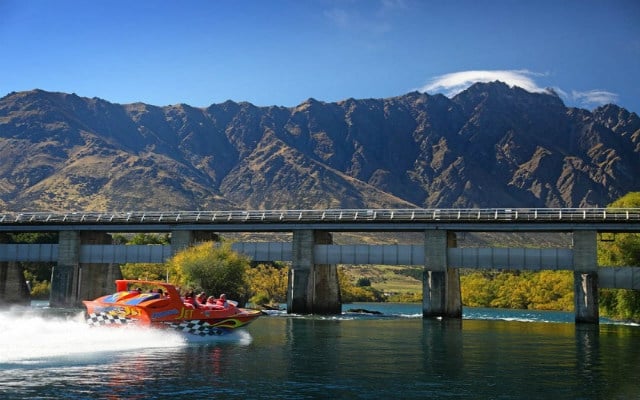 2. Shotover Jet
The country's original jet boat operators. Trips take in the dramatic Shotover Canyons, reaching speeds of up to 85kph, in water as shallow as 10cm deep. Leaves from the Shotover Jet base on Gorge Road, Arthur's Point. Free shuttles to and from Queenstown. More info.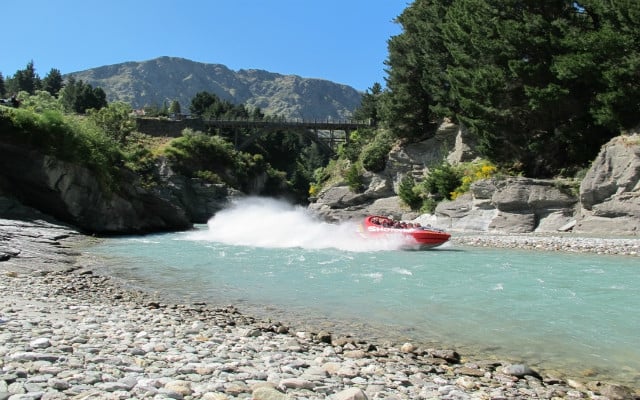 3. K-Jet
Hour-long adventures taking in both the Kawarau and Shotover Rivers, plus Lake Wakatipu. 43km of waterways and speeds of up to 85kph. Price includes the entry to the Underwater Observatory, where visitors can feed the fish. Leaves from Main Pier. More Info.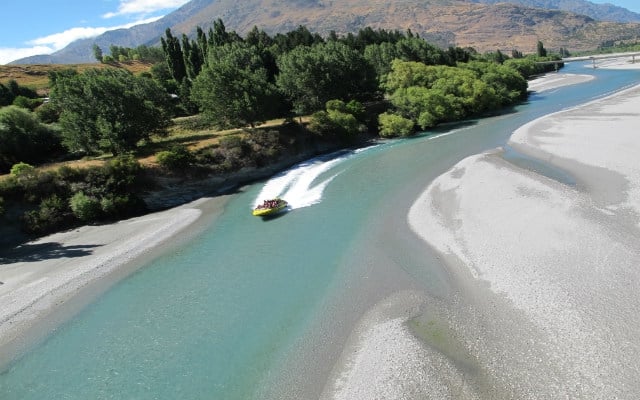 4. Dart River Wildneress Jet
Very scenic jet boat trip along the Dart River and surrounding river system. Combines fascinating wilderness walks in the World Heritage area around Glenorchy. Very shallow waters, upping the exhilaration, but calmed by a subsequent stroll through ancient forest, and a 4WD trip through the back country. Leaves from Dart Visitor Centre, Glenorchy. Free pick up from Queenstown. More info.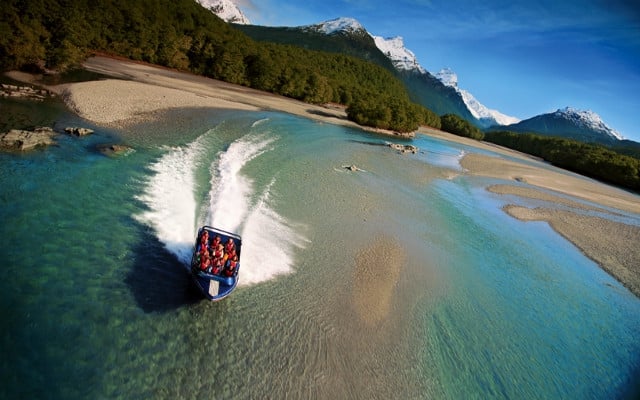 5. Wanaka River Journeys
Exploring the beautiful Matukituki River inside Mount Aspiring National Park. Wanaka River Journey is the only jet boat company to offer hanging glaciers, waterfalls and mountains. Stop off for a wilderness walk, and see where many scenes from the Lord of the Rings trilogy were filmed. Leaves from Wanaka town. More info.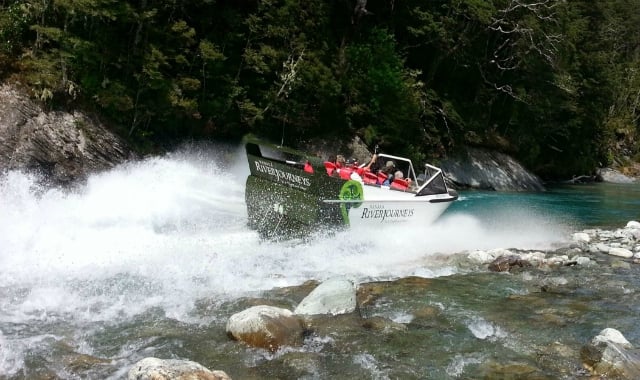 6. Skipper's Canyon Jet
Exclusive access to Skipper's Canyon. 30 min jet boat tours. Combo options available. Pick ups from Queenstown.
Get On Board
Jet Boating can be enjoyed at any time. Different seasons offer different experiences. Landscapes change, the water changes, the adventure changes. So whenever you're here, jet boating is one of the few activities you can get involved in all year round.
Nowhere in the world will you find scenery as spectacular as this. Gorges, canyons, valleys, ancient forests and hidden beaches. Zooming through this beautiful wonderland of crystal clear waters, cavernous gorges, glacial plateaux and centuries-old forest, you'll wonder why it took you so long to get here. And once you are, you'll find it impossible to leave.

Book A Ride

Check our Jet Boating Operators section to book your ride.