Queenstown Camping
Our guide to the camping options in Queenstown
In a region of such outstanding natural beauty it is unsurprising that opportunities to camp in and near to Queenstown are plentiful. Options vary from Department of Conservation campsites which can be very basic (but in remote and interesting locations), to the higher end of the camping spectrum with power showers, TV rooms and children's playgrounds.

Department of Conservation Campsites:

The DOC operates nine campsites in Queenstown and Wanaka with several more available in outer lying areas of Central Otago. Some of the campsites are located in areas many tourists will not see unless they choose to go and camp there and so DOC sites are often an attraction in their own right, allowing travellers to get off the beaten track. DOC campsites are very cheap, often $6 or less per person and sometimes even free.

The best way is to visit the Queenstown Visitor Centre who can give you advice on all the different types of camping site available, walking and biking tracks, along with useful tips. You can search all of the DOC campsite options in Queenstown and New Zealand on the DOC website.

A few examples include of DOC campsites in the area include: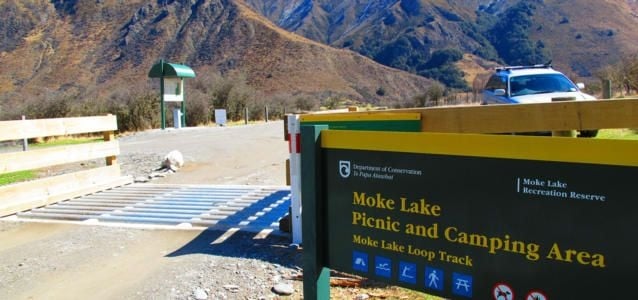 Skippers Campsite is located in Skippers Canyon off Coronet Peak Road. The access road is steep, narrow and gravelly and it is recommended that only 4WD vehicles drive here. The campsite itself is located deep in the canyon, one of the key sites of Queenstown's bygone gold rush era. There are hiking and cycling opportunities and a preserved school from the nineteenth century, which visitors are able to look around.

Macetown Campsite is in another historic gold rush area. For those curious about the history of the region interpretative panels are dotted around the area. Four-Wheel driving is a popular activity in Macetown with locals while adventure companies also offer guided 4WD tours here. The campsite is ultra-basic and free to all. The only running/drinking water is in the stream. Access to the campsite is up the Arrow River from Arrowtown. This requires river crossings and 4WD vehicles are recommended.

Moke Lake Campsite is located just 10 minutes from Queenstown. It's a right turn off Glenorchy Road onto Moke Lake Road and up a steep, windy road before you continue on an unsealed road for 8km. It's a peaceful, hidden gem that's situated in a picture postcard setting by the lake and surrounded by mountains. There are fishing, swimming, mountain biking oppotunities. Tap water and toilet facilities are on site.
View our Moke Lake video to appreciate the setting.
See the DOC website for a complete list of other DOC operated campsites in and near Queenstown. DOC also operates campsites in Wanaka and Kinloch, just past Glenorchy, as well as more rural locations such as Mount Aspiring National Park and the Lindis Pass.

Top 10 Holiday Parks:

On your travels around New Zealand you will see the logo for Top 10 Holiday Parks in most touristed spots, marking the locations of campsites and holiday parks that comply to a standard of excellent value for money and clean facilities in a family-friendly park setting. Top 10 Holiday Parks tend to have powered and non-powered sites as well as motel rooms and self-contained units and are usually somewhat higher up on the budget scale than smaller operations. Powered sites usually hover around the $40 mark with non-powered sites only a few dollars cheaper.
Creeksyde Top 10 Holiday Park
Just a few minutess walk from the centre of Queenstown, Creeksyde gets its name from Horne Creek which flows alongside the park. Creeksyde achieved the status of the worldâ's first environmentally friendly holiday park and was also awarded platinum certification by EarthCheck for its commitment to world-class green initiatives.
Powered sites are available for motorhomes and campervans, as are tent sites and non-powered sites for the more basic campervan. Motel apartments and self-contained units are available for those seeking more space and higher spec facilities. Communal facilities in the grounds include shared kitchen, BBQ areas, picnic benches and cosy TV rooms. Creeksyde also has a touch of quirkiness; funky murals adorn the walls and creative art sculptures made from recyclable materials decorate the communal spaces and gardens.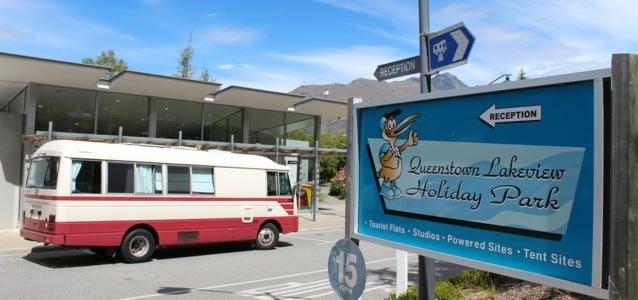 Shotover Top 10 Holiday Park
Head out from Queenstown in the direction of Coronet Peak and you will find Shotover Top 10 Holiday Park in Arthurs Point. Facilities at Shotover are much the same as Creeksyde only with an additional children's playground and climbing wall and a traditional Hangi (earth oven pit) for those who would like to try their hand at the ancient Maori art of cooking.
Top 10 Holiday Parks are also located in Wanaka, Arrowtown and Cromwell.
Other Holiday Parks in Queenstown:
Lakeview Holiday Park
Just a short stroll from Lake Wakatipu and the town centre, Lakeview is Queenstown's biggest holiday park and is nestled at the foot of the gondola. Lakeview has beautiful views of the Remarkables mountains and guests can choose between hundreds of powered and non-powered sites as well as large self-contained flats, motel rooms and cabins. Amenities are modern and spacious with the playground a real plus for families.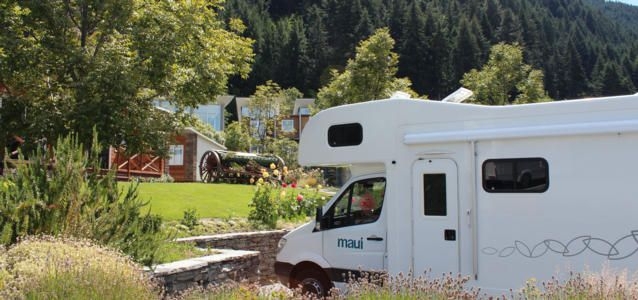 Qbox Holiday Park
Tucked away by Bowen Brooke on Bowen Street off Gorge Road, Qbox is a smaller holiday park than Lakeview and Shotover with powered and non-powered sites but no motels, units or flats. All buildings in the park are made from recycled shipping containers and have quirky, modern interiors. The hub is the place to be social if people want to, with a fire pit in the courtyard providing warmth for those wishing to enjoy the outdoors in the evening. A bridge crosses over the creek on the grounds and leads into the forest reserve to three hidden waterfalls. This is a real bonus for travellers looking to combine a fairly central location with nature.
Campervan & Motorhome Parking

There are a number of parking spaces set aside for large campervans in the Boundary Street Carpark. These are for large campervans/motorhomes that often struggle to fit into a normal car park. Large campervans are not allowed to park in Queenstown town centre with fines of $40-60.00 if parked incorrectly. However, smaller campervans (e.g. JUCY, Wicked) are allowed to park in the centre as they are of similar size to a car.

Dump Station Locations:
BP Service Station, Frankton Road, State Highway 6, Queenstown
Lakeview Holiday Park, 6 Cemetery Road, Central Queenstown
Arrowtown - Corner of Wiltshire Street and Ramshaw Lane
Wanaka Showgrounds, corner of Brownston and McDougall Street, Wanaka

Freedom Camping
A contentious debate was raised in Queenstown in direct response to the negative impacts of freedom camping. The 2007-2011 surge in popularity of freedom camping all around New Zealand prompted many local councils, including Queenstown, to impose bylaws restricting freedom camping in the area.
It is illegal to freedom camp within the city limits and residential areas of Queenstown. You will see a sign on Frankton Road as you drive into Queenstown informing you of the law and it is sensible to take heed of it.
Fines are issued on the spot to any freedom campers found flouting the law and local residents have been known to notify police and the council in a bid to stamp illegal freedom camping out. This zero tolerance approach may seem heavy-handed but many Queenstown locals were affronted and dismayed by pop-up unregulated campsites in the centre of town and the neglectful way in which many freedom campers were treating local beauty spots.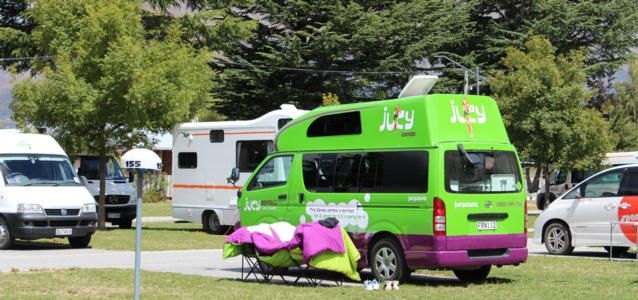 The Rules
Even in areas where freedom camping is permitted, it is advisable and respectful to learn the rules. For example, it is only permitted for self-contained (own toilet on board) vehicles to engage in freedom camping in designated areas. All waste and litter must be removed from the area and many freedom camping spots restrict the number of nights stay. There is a dump station at the BP garage for freedom campers to use.
The Department of Conservation has a section on their website with a comprehensive rundown of areas where freedom camping is strictly prohibited, many of these are in and near Queenstown so if in doubt, consult the list here.
In general when looking for a camping spot, pay attention to signs and if uncertain, check with the nearby tourist information centre, local council or check the Department of Conservation website.