White Water Rafting In Queenstown
Adventure Sports
Our guide to rafting for both newbie and hard-core rafter
White water rafting, an activity which makes repeated appearances on bucket-lists the world over, isn't just possible in Queenstown but a must do experience for any visit here.

In fact, this might just be rafting wonderland thanks to a quirk of nature - or perhaps a deliberate ploy by generous travel gods, which has blessed it with two very different rivers; the wild and thrillingly tumultuous Shotover River and the playful, grandiose Kawarau River. White water exists on both but in different guises and that means, whether you're total newbie or hard-core rafter, everyone gets to play. 
Venture a little further north from Queenstown and you'll find the remote Landsborough Valley - an outdoor-lovers idyll complete with untouched wilderness, glorious glaciers and spectacularly unspoiled scenery of bush, river and mountain. The Landsborough River, classified as grade 3-4+, is just about as off-the-beaten-path as it gets for rafters but can be accessed for a hiking/rafting/camping experience such as the Brodrick and Landsborough Wilderness Experience with Queenstown Rafting.
White water rafting is by no means a new-kid-on-the-block among Queenstown's fun stuff to do. On the town's time-line of its many adventure activities, rafting was in there almost from the start, or the 1970s to be precise. This is when Kon Tiki Rafts began to offer the public a taste of the thrills and spills of white water rafting with the opening of the country's first commercial rafting venture. This pioneering company, through a series of morphs and amalgamations became Queenstown Rafting.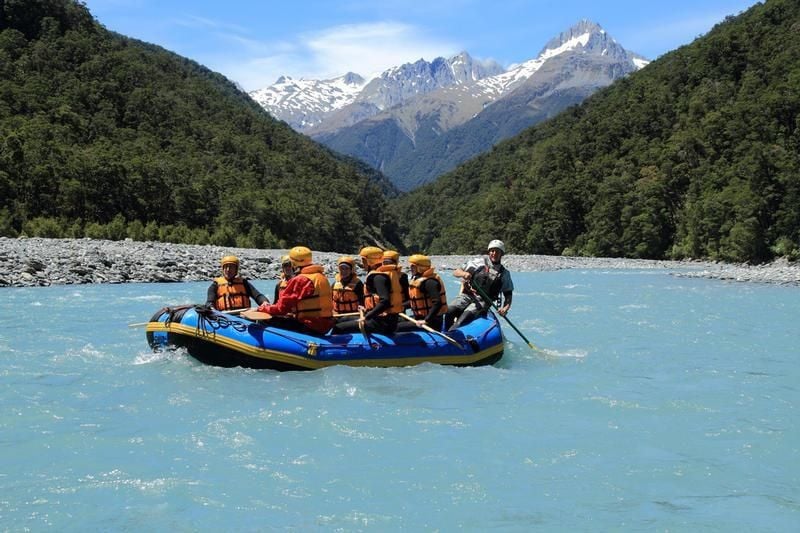 Two Rivers - Two Very Different Types of Fun
1. The Kawarau River is big and deep, sprinkled liberally with scenery guaranteed to leave you with jaw agape and boasting a counter-guise as the 'River Anduin' in 'The Lord of the Rings' film trilogy, the Kawarau River is all about fun for everyone. 
The rapids here, graded 2-3 with occasional 2-4 ranking when water levels are high. They are suited to first-timers, families with children, groups of mixed abilities or anyone who personally ranks fun and relaxation higher than a non-stop white-knuckle ride. 
Here, you will almost certainly be glad of the flatter and peaceful river sections because they mean you can re-direct your attention from holding on for dear life or paddling furiously to sitting back and gazing around you in awe at dramatic cliffs, blue waters, imposing 'Middle Earth' grandeur and the beauty of the Gibbston Valley wine region. High-spirited water fights or races with other rafts and serene swimming are all part of the rafting experience on the Kawarau where cliff jumping and rapids swimming might also be on offer.
At the end of the Kawarau River rafting trip you'll be introduced to the grade 3/4 categorised Dog Leg Rapid - at 400 metres long this is New Zealand's longest commercially rafted rapid.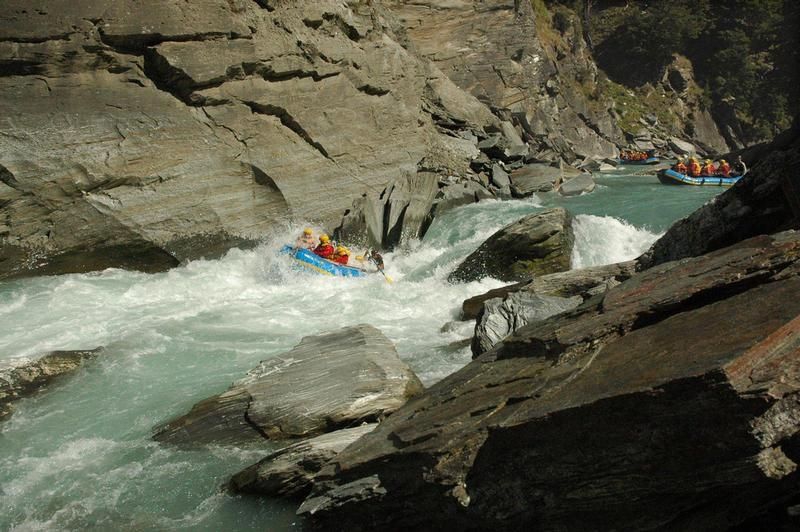 2. The Shotover River is wild, fast-flowing and arrived at via the incredible Skippers Canyon, the ramped-up rapids of the 75 km long Shotover River earn it a grading of 3-5 and, just in case you didn't know, grade 5 is the highest you can go with commercial rafting experiences. 
All of this adds up to an exciting white water ride, jam-packed with serious action for adrenalin seekers and which includes a 170 metre section which shoots, bumps and flings you through the Oxenbridge tunnel. There are a few quieter sections in which you can go for a swim or just simply catch your breath while taking in the ruggedly beautiful scenery that's steeped in gold-mining history.
The drive in to the Shotover River launch location takes you through the spectacular Skippers Canyon via narrow unsealed roads complete with gut-wrenching sheer cliff drops and views of the ice-blue river you'll soon be bouncing along.........far, far below you.
This historic canyon, the exciting nature of which means adventure starts before you even get in the water, is inaccessible during the winter months of June to September. Some operators, including Queenstown Rafting and Challenge Rafting, offer heli-rafting options instead during this time which means swapping a road drive for a helicopter flight.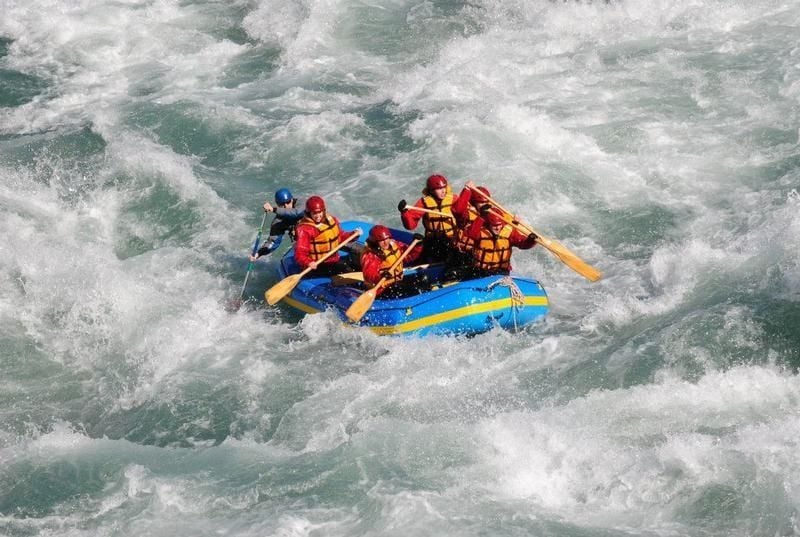 Rafting in Queenstown - Practical Info:
The Where - The launch site for the Kawarau River, east of Queenstown, is located 25 minutes driving away and reached via historic Arrowtown while the Shotover launch is a 40 minute drive north from Queenstown through Skippers Canyon. 
The Who - There are several highly experienced companies that offer white water adventures in Queenstown but the main operators are the long-established and previously mentioned Queenstown Rafting and the highly rated Challenge Rafting who each offer both Shotover and Kawarau River experiences. Queenstown Rafting, holders of a Qualmark 'green' Enviro bronze award and a commitment to conservation issues, also offer multi-day options to the Landsborough Valley.
The When - Most of the companies operate on a year-round basis but experiences differ depending on the time of year. For example, spring time typically sees the highest water levels after winter melt in the mountains which transmutes to higher graded rapids and extra thrills, while winter rafting on the Shotover River is only possible with a helicopter flight in because of inaccessible roads. 
What's included? There are slight differences from company to company but typically, along with the actual rafting, you will be provided with: wetsuits, life-jackets and all safety equipment; transport to and from your launch site from Queenstown; comprehensive safety briefing and sauna and hot showers after your rafting. 
Several of the companies also offer an optional extra of professional photos and video footage of your rafting adventure to buy afterwards. You are of course free to take your own camera but be aware it will get wet at the very least and disappear somewhere watery and irretrievable at worst.
Going Combo
If the Queenstown menu of ultimate fun and adventure activities has you in a spin and struggling to decide which to pick you might like to know that several companies offer combos with just about every composition possible, starting at combining two activities to throwing several in the mix.
More Information:
For more details on Rafting, please visit our Queenstown Rafting Guide.
Photo Credits: Queenstown Rafting & Challenge Rafting