The Lake Dunstan Trail
Adventure Inspiration Sports
Cycling The Stunning Lakeside Track from Cromwell To Clyde
The Lake Dunstan Trail connects the towns Cromwell and Clyde and takes between 4 to 5 hours to complete by bike. It's less than an hour's drive from Queenstown if you are starting your ride at Cromwell.

The 42km trail offers cyclists and walkers a moderately challenging journey across beautiful landscapes so characteristic of Central Otago as it winds alongside Lake Dunstan, the Kawarau River and the Clutha River Mata-au.

The region's pioneering and Maori historical stories are presented along the way, some of which are brought to life in the Clyde and Cromwell Historical Precincts. Before starting the trail at Cromwell, we'd recommend taking the time to look around the Cromwell Historical Precinct which is also a handy stop for coffee and food.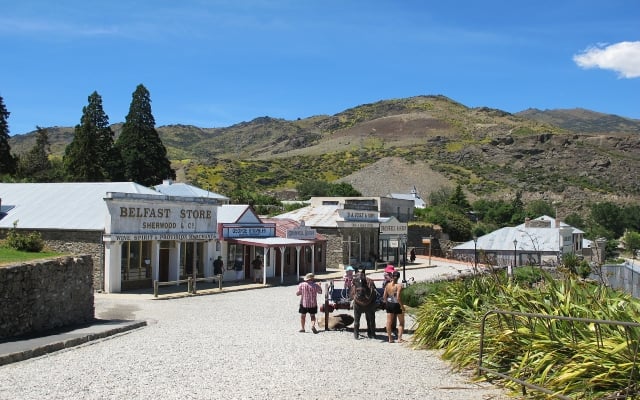 Soon after Cromwell you will pass through vineyards of Bannockburn which form part of the world-renowned wine growing region of Central Otago. The trail travels right outside Carrick Winery Here, you can stop for coffee and snack food from the food station outside or, venture into the winery itself for a spot of wine tasting.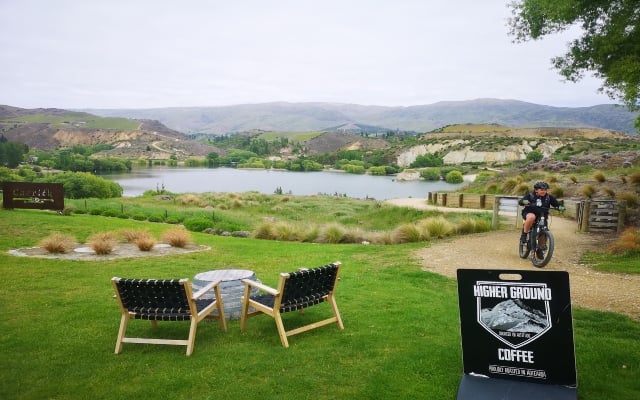 It's then onto a winding track that hugs the lake for a memorable ride. The track is narrow in places so riders have to be aware of incoming traffic as the track can be cycled both ways.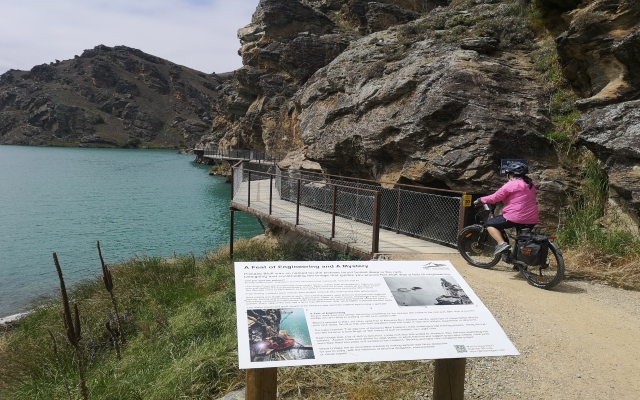 Coffee Afloat is a coffee and snack boat docked halfway along the trail between the Cromwell Heritage Precinct and Clyde Historic Village. What better place to enjoy one of the most remote coffees you will ever have. Barista coffee, cold drinks, ice creams, burgers, bacon rolls, fresh baking and snacks are on hand.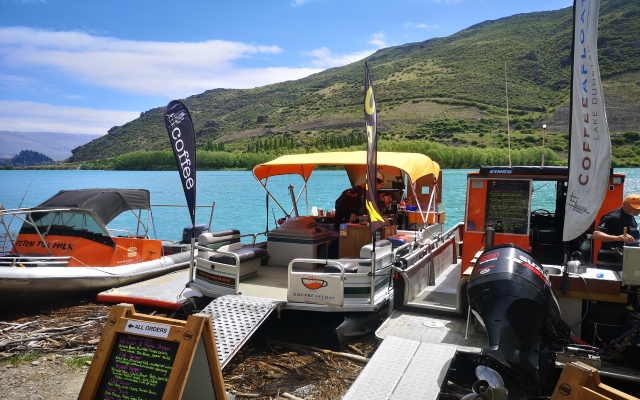 Straight after, you'lll be faced with Cairnmuir Gully and the most challenging part of the trail, with a ride up steep switchbacks to the summit and highest point of the day. On E-Bikes, this is the time to put on full power!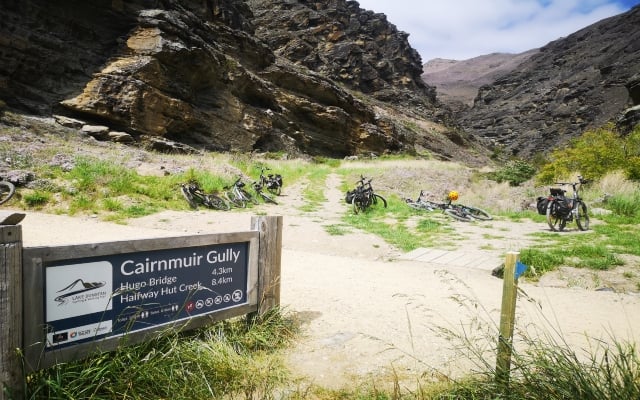 At the top of the steep switchbacks it's a great time to stop and take in the views of Lake Dunstan.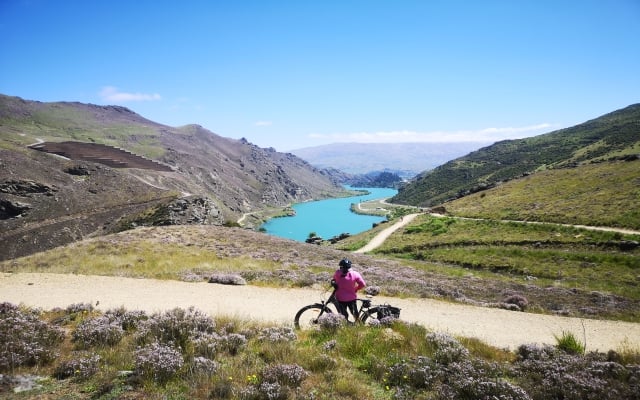 From here, enjoy a nice downhill ride to Hugo Bridge, the highest swing bridge to cycle across on the trail. The trail path is very well formed to make cycling fairly stright-forward. However, there are a number of tight turns at heights where there are no barriers so you'll need to fully focus during your ride.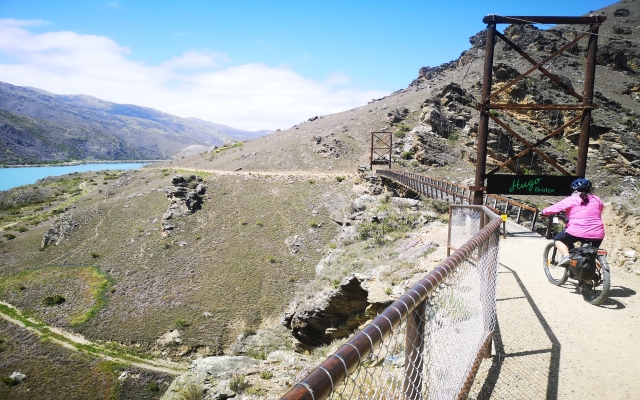 The rest of the trail is fairly flat while hugging alongside the lake. There are of course lovely views at every turn with a few boardwalks to navigate.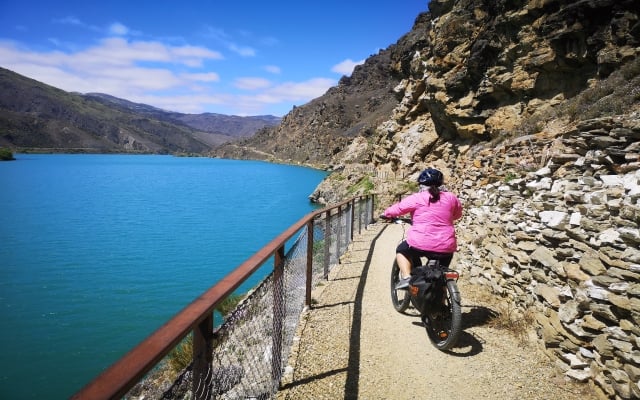 As you near the end of the trail at Clyde, take time to stop at the Clyde Dam before crossing the much photographed Clyde Bridge.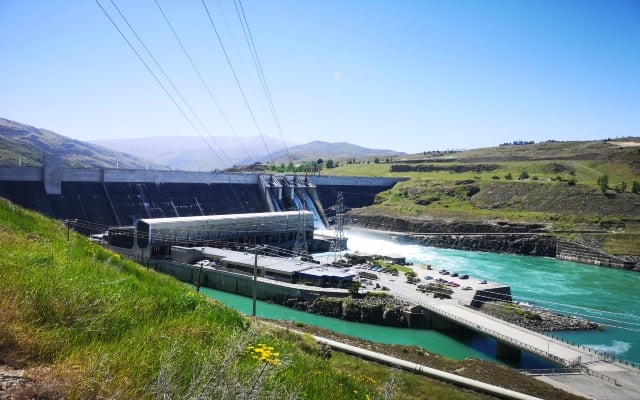 The historical precinct of Clyde marks the end of the trail. There are a number of accommodation, galleries and food establishments to enjoy a well drink and bite to eat.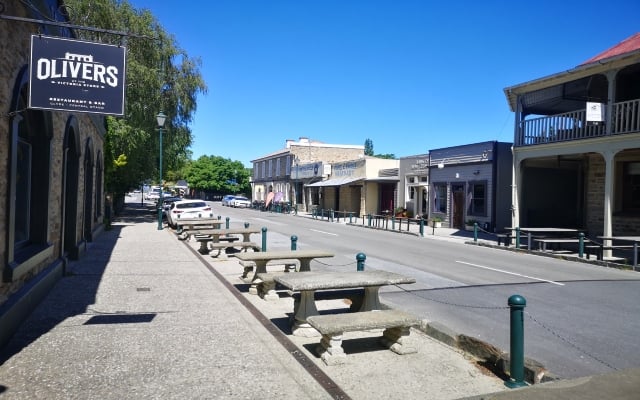 Trail Highlights:
Cromwell Preccinct (start)
Carrick Winery (approx 45 minutes)
Pixel Bridge (100 minutes)
Coffee Afloat (Snack stop, 105 minutes)
Cairnmuir Gully Switchbacks and Highest Point (2 hours)
Hugo Bridge (approx 2.5 hours)
Clyde Dam (4 Hours)
Clyde (end)

Trail Sections:
Cromwell to Bannockburn Inlet - 7km, easy/moderate.
Bannockburn Inlet to Cairnmuir Gully - 11.3km, moderate.
Cairnmuir Gully to Halfway Hut - 8.4km, moderate.
Halfway Hut to Dunstan Arm Rowing Club - 10.7km, moderate.
Dunstan Arm Rowing Club to Clyde Heritage Precinct - 3.5km, easy.
Lake Dunstan Bike Services:
SheBikesHeBikes
-
Bike hire and transport.
BikeItNow
- Bike Hire and Transport. Can also include Queenstown shuttle pick up and drop off.
Wanaka Bike Tours
- Bike hire and transport if you are staying in Wanaka.
Trail Tips:
Be aware of severe weather conditions: heat, high winds, rain and cold.
Take at least 2 litres of water, food and warm, layered clothing with you.
Carry a mobile phone with you although cell phone coverage is limited.
Trail Map:
Click here
to view/download a detailed map view of the trail.
Video & Photos:
View Our Photo Gallery below taken on our ride.
Video -
Lake Dunstan Trail Highlights
Instagram - #lakedunstantrail
Car Hire:
If you need to hire a car to reach any of the trails, check our
My Guide Car Rental Comparison
Tool for the best deals on the market.