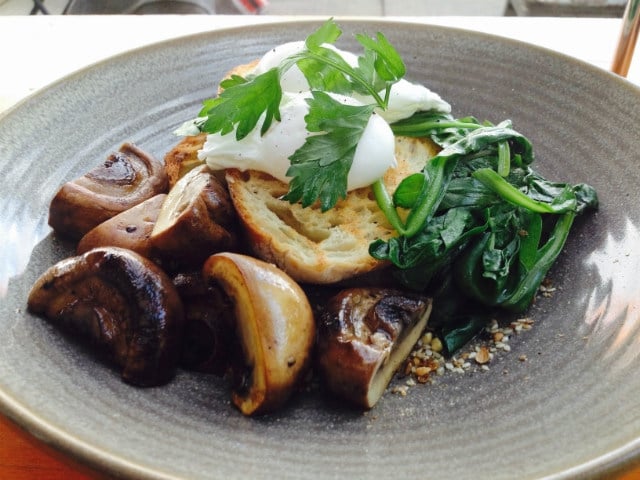 7 Cheap (and Not So Cheap) Places To Eat in Queenstown
Food & Drink Hot List
Our writer's dining picks to check out in the all year resort of Queenstown
Queenstown
is blessed with so many
cafes
and
restaurants
you could quite happily eat at a different place every day of the week for a month and still not scrape the surface. Even though my trip wasn't as long as a month (or even a week), I managed to chalk up a few recommendations, leaving plenty of options for future visits.
1. Bespoke Kitchen
Just a stone's throw from the bottom of the
Skyline Gondola
, tucked away in a side street this cafe has a rustic, relaxed feel and seemed to be a firm local favourite. The friendly staff were welcoming and the dishes were organic, wholesome and tasty. I had the free range poached eggs on sourdough bread with a spinach and mushroom side ($19). The soup specials - chunky chicken miso broth ($20) and cheesy leek and potato ($12) - were also tempting. I chose to sit outside at the wooden tables and there were heaters and blankets on hand to keep warm. Good for breakfast, lunch or afternoon tea.
Location: 9 Isle Street. Mon - Sun: 8 am - 4 pm.
2. At Thai
On my first night I decided to try this Thai restaurant, and opted for a takeaway vegetarian green curry + rice ($10) which I ordered onsite. While I waited I chatted to a local guy who worked as a bungy operator. He had ordered up large which was promising, and I noticed the menu offered a wide range of options. My own curry had a good selection of seasonal veggies: beans, carrots, broccoli, mushrooms and courgettes. It did make my eyes water, but it was excellent. The takeaway delivery menu is slightly more expensive than if you drop by in person and there is a delivery fee.
Location: 8 Church Street. Mon - Sun: 11.30am - 10pm.
3. Rātā
Josh Emett's signature restaurant had always been on my restaurant bucket list so, with my newfound travel companion, I gave it a go. I discovered it pays to be rather hungry when you go to Rātā (and have a full wallet) so you can enjoy all the courses. We started with the 'bites' Josh's favoured goats cheese profiteroles with Rātā blossom honey & rosemary and the line caught tuna crudo. We skipped the starter and moved onto lamb and fish for the main, we skipped dessert and finished up with a cappuccino and a hot chocolate. Along with a bottle of Dog Point sauvignon blanc the meal totalled $171.50. I thought everything was delicious and beautifully presented.
Location: 43 Ballarat St. Mon - Sun: 12 - 11pm.
4. Pier 19
The next morning we met up on the wharf to try out the breakfast menu at this snazzy place. It did have rather an eclectic choice ranging from savoury mince, to breakfast salad with coconut kale. In the end my friend had the hot smoked salmon fillet with poached eggs and tomato hollandaise ($20) and I had the house granola with winter fruits ($14). The salmon was pronounced delicious and the hollandaise unusual but "it worked". My granola was wholesome and gave my jaw a decent workout.
Location: Steamer Wharf. Mon - Sun: 10am - 10pm.
5. No5 Church Lane
After deliberating over several options for dinner in Church Lane we opted for No.5 which turned out to be an excellent choice. Our Swedish (or perhaps Austrian?) waiter was extremely helpful and pleasant and the food was divine. We had the roast beetroot falafel ($26) and the smoked cod fishcakes ($28) which we shared. I tried the hot mini donuts with riesling roasted feijoas and vanilla custard for dessert ($15) which was yummy and if you have a sweet tooth you'll love it.
Location: 3 - 5 Church Lane. Mon - Sun: 7.30 am - 11pm.
6. Skyline Light Bites
As I was trying out the luge experience at the Skyline Gondola (and it was snowing) it made sense to warm up afterwards with a coffee and a snack. The light bites menu did the trick with a good selection of options. My friend had the vegetarian nachos ($13.50) which were huge, definitely a two person job, and I had the minestrone soup ($7.50) which came with two bread rolls and a generous pile of croutons.
Location: Top of Skyline Gondola. Mon - Sun: 9am - 11pm.
7. Airspresso a la Carte
I arrived early for my flight back to Auckland so I tried out the breakfast fare at this cool cafe, perching on one of the booth seats with views out onto the runway. With the sun streaming in, a platter of Annie's poached eggs on sourdough toast ($12.90) and free Wifi I was quite content. My only regret is not including the bacon as a side. Next time!
Location: Queenstown Airport. Mon - Sun: open half an hour before 1st flight - closes half an hour after last flight.
Written by:
Angela Pearse
PUBLISHED: Aug 23rd 2018