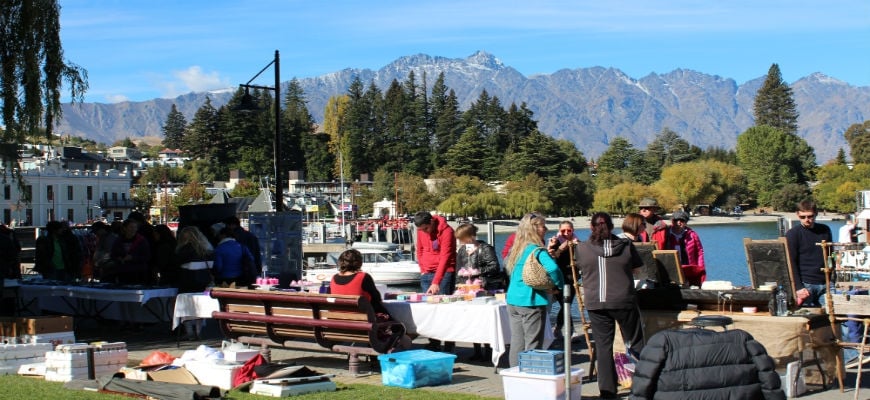 Queenstown Weekly Markets
Our guide to the weekly markets in and near Queenstown
Creative Queenstown Arts and Crafts Market:
Every Saturday, the Creative Queenstown Arts & Crafts Market enjoys the waterfront setting of Earnslaw Park. It's an opportunity to meet local artists displaying their wares accompanied by live music and memorable views. From Nov 1st to 30 April, the market is open from 9.00am to 4.30pm. From May 1st to 31 Oct it's open from 10.00am to 3.30pm.
Farmers' Market:
Held every Saturday morning from 9.00am to 12.30pm, this centrally located market offers live music alongside a number of stalls offering fresh produce from local suppliers. Head to the gardens of the Anglican Church on the corners of Church and Camp Street. A great way to kick-start your weekend.
Remarkables Market:
Head out to the Red Barn, alongside the Remarkables Shopping Centre in Frankton, to enjoy this lively weekly market. Arts and craft stalls sit alongside fresh produce suppliers, with freshly cooked food giving you a decent breakfast option. Live music and the backdrop of the Remarkables add to the atmosphere. The market runs from October until April, opening at 9.00am until 2.00pm.
Wanaka Farmers' & Gardeners' Market:
This market is held from October to April on Thursday afternoons, 4.00pm until 6.30pm in Pembroke Park. Just head to the corner of Ardmore and Dungarvon streets. It's an opportunity to meet and buy from local gardeners and farmers selling their locally grown produce in a village style atmosphere.
Central Otago Farmers Market:
Summer market that takes place every Sunday from 9.00am until 1.00pm, late October until April. Set in the historic town of Old Cromwell, this farmers market offers local produce while enjoying the setting of Lake Dunstan. A Craft Market is also held every third Sunday of the month from 10.00am until 2.00pm. The market is run from Scotts Bake House Courtyard.
Alexandra Market:
Held in the centre of Alexandra in Pioneer Park, this market is full of stalls selling local produce, plants and crafts and a number of stalls selling unwanted items. The seasonal market is held during the months of December, January and February and kicks off at 10.00am.