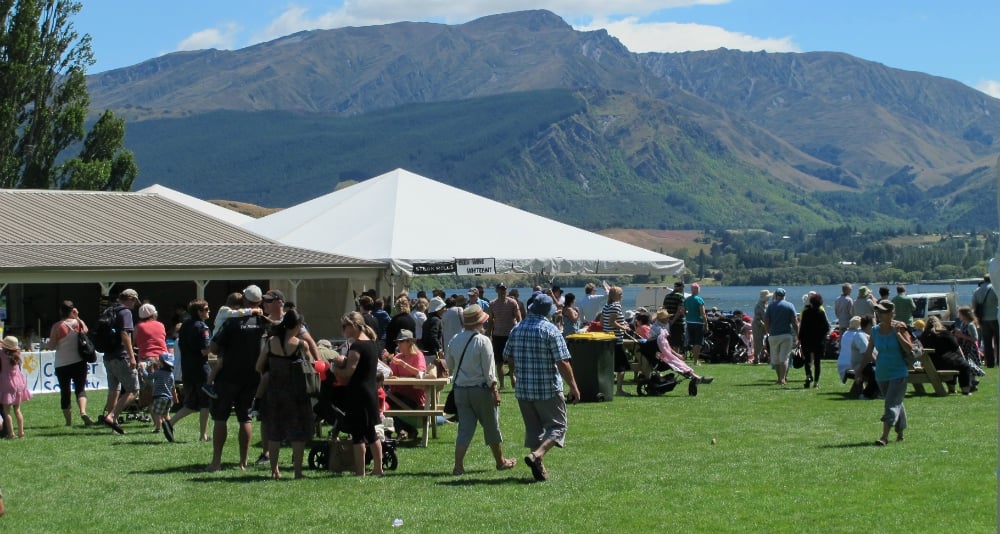 Queenstown Annual Events and Festivals
Our guide to the most popular events held every year in the Queenstown region
January
Glenorchy Race Day: Lively day at the races involving local riders.
More Info.
Lake Hayes Show. The Lake Hayes Show is a fun day out for the family and competitors on one of the most beautiful Showgrounds in the country. Every year the event brings the town a little closer to the countryside and gives the community a taste of rural life.
More Info
.
February
NZ Open: A top level professional golf held at Sir Michael Hill's and Millbrook resort in Arrowtown.
More Info.
March
Wanaka A&P Show. One of the South Island's largest and most popular agricultural and pastoral shows set on the shores of Lake Wanaka. Spread over two days packed with entertainment.
More Info.
April
Arrowtown Autumn Festival: Celebrating the colours of Autumn, the 10 day programme features over 50 events including the popular street parade.
More Info.
Warbirds over Wanaka. A biennial air show in Wanaka, held on the Easter weekend of even-numbered years since 1988. It's held at Wanaka Airport, 10 km south-east of Wanaka, in the southern South Island of New Zealand.
More Info
.
May
Quiet time of the year with the town preparing for the start of the ski season.
June
Queenstown Winter Festival: A 10 day celebratration that includes a Mardis Gras parade, plenty of live music, dining events, comedy shows and lots of fun competitions on the slopes.
More Info.
July
New Zealand Mountain Film Festival Wanaka: A 4 day event held celebrating adventure sports and lifestyle through film.
More Info.
August
Winter Pride: Winter Pride is a festival in a small town with a bold heart that celebrates love, community, diversity, visibility and inclusion. It is a festival that encourages locals and visitors alike to come together and celebrate their diversity.
More Info.
Winter Games NZ: This is the ultimate testing ground where elite athletes can experiment and explore performance limits against world-class competition.
More Info.
Torpedo 7 Peak To Peak: The South Island's biggest winter multisport event in its 25th year attracts a strong field of multisport competitors from around the South Island. Individuals and teams race by ski/ snowboard, mountain bike, kayak, foot and road bike from the top of the Remarkables Ski Area to Coronet Peak.
More Info
.
September
Alexandra Blossom Festival: This historic Festival has marked the arrival of spring for over 50 years.
More Info.
October
Queenstown Jazzfest: 5 days of jazz events, featuring world class musicians from across New Zealand and around the globe.
More Info
.
November
Quiet time of the year.
December
Queenstown New Year's Eve Celebrations - the new year is brought in with a great line-up of live music, entertainment and a spectacular fireworks display lighting up the night sky at midnight.
29 December - 1 January: Rhythm & Alps is the premier South Island music festival; with up to 10,000 party-goers joining us from all over the world. We have a line up of over 50 international and local acts that will be performing across four incredible stages (they are rad- trust us), accompanied by the best sound and lighting production New Zealand has to offer!
More Info
.
PUBLISHED: Apr 8th 2019 | UPDATED: Feb 25th 2020