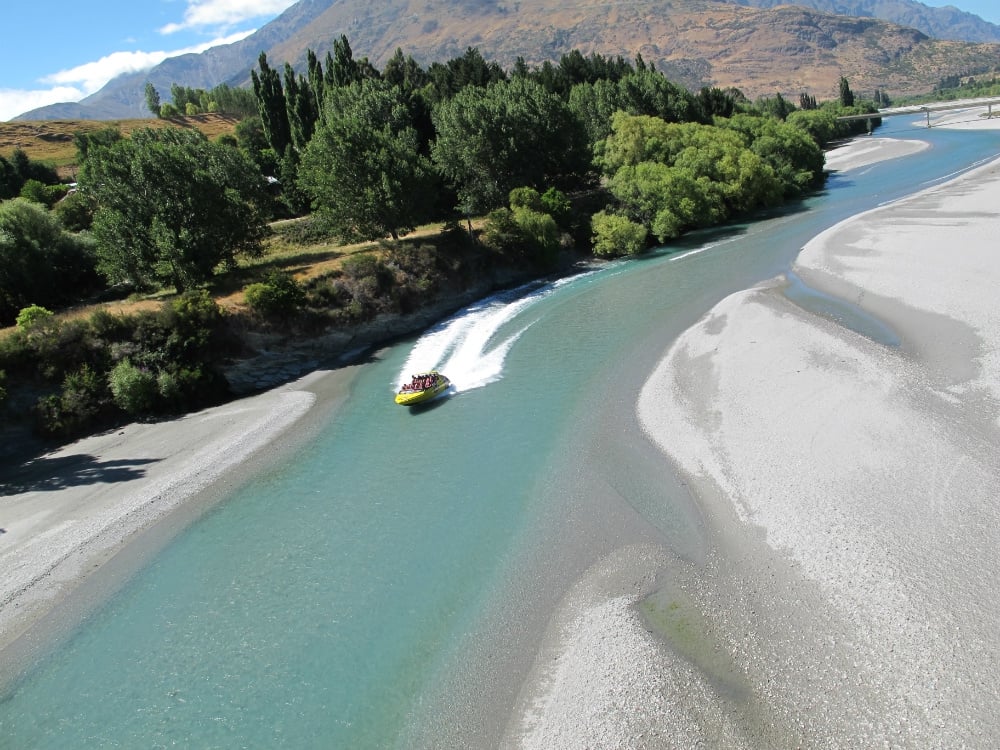 Top 10 New Zealand Adventure
New Zealand has a well earned reputation of high-octane adventure with an incredibly diverse landscape and a country that's continually pushing the boundaries of adventure activities. To whet your appetite, here's our guide to the 'Top 10 adventure activities in New Zealand'.

Nevis Bungy
Welcome to the world's highest Bungy Jump. Standing on the ledge, 134m above the Nevis River, this is not for the faint hearted. Your heart stopping rush consists of 8.5 seconds of falling, followed by a lifetime of relief. It's Queenstown's biggest and best.
Jet Boating
As you would expect from the 'capital of adventure', there are a number of thrilling jet boating options in Queenstown. Strap yourself in and hurtle across the Shotover and Kawarau Rivers at up to 95kph in water that's just a few centimetres deep in places. KJet is actually the world's first Jet boat company established in 1958 and helped pioneer adventure tourism in Queenstown. Prepare for close encounters with rocky terrain, boulders - all within touching distance as you do another 360 spin.
Glacier Heli-hiking
Head to the West Coast glaciers of Fox and Franz Josef. Following your scenic flight, you'll touch down and glacier hike with your guide through unspoilt, awe-inspiring glacier landscape. With the help of your guide, you'll navigate your way through incredible ice formations. Bring a camera to capture those brilliant blue ice arches and panoramic views of the surrounding mountain scenery.
Sky Tower Jump
Auckland's Sky Jump is further proof of the adventurous New Zealander spirit. The Sky Tower is now home to the highest jump in New Zealand. Simply put, it's base jumping with a wire. It's an eleven second, 85 kph fall into the Sky City Plaza 192 metres below. It's not logical, it's just fun.
Lake Taupo Skydiving
The plane is always quiet on the way up. Exiting a plane at 15,000 feet and freefalling for over 60 seconds does that to you. As the shear relief greets you with the opening of the parachute, you'll quickly appreciate the stunning Lake Taupo and snow capped volcanoes beneath you as you glide down to earth again.
Queenstown Paragliding
Combine the thrill of soaring high above the ground with the specatular alpine scenery of Queenstown. Tandem paragliding and handgliding can be enjoyed from Coronet Peak and from the top of the Skyline Gondola. It's just you, an instructor and a thin piece of material above your head as you experience an exhilarating flight over magnificent views of the entire Lake Wakatipu basin and beyond.
Blackwater Rafting
It's rafting with a twist. The Waitomo Caves gives you the opportunity to abseil, jump, and float through a glowworm-studded subterranean world below Waitomo. As part of a 8-12 strong group, your Blackwater rafting trip will be led by expert guides who will support and encourage you through the spellbinding tour.
Auckland Bridge Climb
New Zealand's only bridge climb offers you the best views of Auckland. Lasting one and a half hours, custom engineered walkways ensure you're safety. Upon reaching the top, you're rewarded with 360-degree views of Auckland.
Tongariro Alpine Crossing
Considered by many to be the best one day hike in New Zealand. The Tongariro Apline Crossing takes around 7-8 hours to cpmplete and passes through the volcanic badlands of the Tongariro National Park and past the cinder cone of Mount Ngauruhoe, the shores of turquoise lakes and stunning views across the North Island. The terrain also starred as Mordor in the Lord of The Rings movies!
Diving Poor Knights Island Reserve
Jacques Cousteau considered 'Poor Knights Islands Marine Reserve' to be one of the world's top five diving spots. With trips leaving Tutukaka town, this marine and nature reserve volcanic origins offer divers a myriad of drop offs, caves, tunnels and arches to explore. Steeped in Maori history, the reserve is also home to the world's largest sea cave.