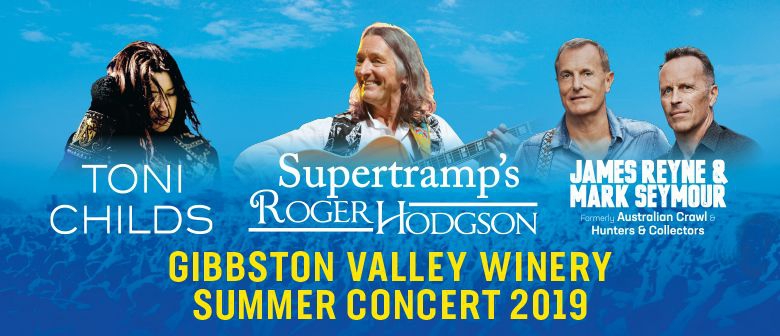 Event Details
Another scorching hot summer of music will be arriving on our shores in January with Greenstone Entertainment's artist line up for the annual Gibbston Valley Winery Summer Concert on Saturday 19 January 2019.
Supertramp's Roger Hodgson, legendary singer-songwriter, will present all his Supertramp hits from the 70's and 80's, with a familiar track list that we all know and love, including "Dreamer", Give A Little Bit", "It's Raining Again", "Breakfast in America", "Take The Long Way Home", "The Logical Song" and more.
James Reyne (Australian Crawl) and Mark Seymour (Hunters & Collectors), will be playing classics from Australian Crawl, Hunters & Collectors, and each of their solo works. As founding members and former lead singers of Hunters & Collectors and Australian Crawl, Mark and James are joining up for the first time in New Zealand to rock concert goers with some of their well known hits from the 80's and 90's including "Holy Grail", "Throw Your Arms Around Me", "Reckless" and "Downhearted" to name just a few.
Finishing this stunning international line up will be the distinctive and powerful voice of Toni Childs, who again is sure to have everyone singing along to her Top 40 hits from the late 80's early 90's including "Don't Walk Away", Stop Your Fussin" and "I've Got To Go Now ".
The tour also stars in Taupo and Whitianga - hot on the tails of the sellout 2018 Summer Concert Tour which saw audiences of 48,000 across the three shows.
Last year's Gibbston Valley Winery Summer Concert featured Alanis Morissette, Colin Hay of Men At Work fame and The Orchestra featuring former members of Electric Light Orchestra with previous years artists including Icehouse, Alan Parsons Live Project, Bonnie Tyler, Huey Lewis and the News, REO Speedwagon, Melissa Etheridge, Pat Benatar and Neil Giraldo, Foreigner, Heart, Lynyrd Skynyrd, 10cc and The Doobie Brothers.
With its unparalleled afternoon aura, and the incredible backdrop of the Crown Range, concert goers won't be disappointed with next year's 9th annual Gibbston Valley Winery Summer Concert.