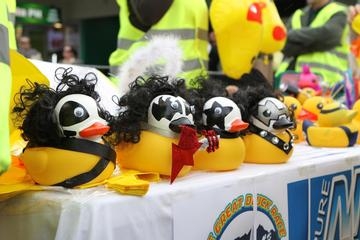 Event Details
Grab a map and take in the huge range of what is on offer – from locals on the RockFormation and additional music stage, FMX freestyle motocross, roving buskers and plenty of fun children's entertainment.

The Queenstown Mountain Bike Club will be looking for help to reach their ambitious target to raise funds for the 7 Mile bike park.

Also don't miss Marcus Winter's 'The Sandman', brought to you by the Queenstown Lakes District Arts Trust. Telling stories through images in sand, he will be choreographing his performance around winter in Queenstown and Maori Legends of the area.

The full line-up of entertainment will be on your map and can also be found online at www.winterfestival.co.nz
Be sure to arrive hungry and be tempted by a diverse range of food stalls with hot and tasty treats to try.

CHARITY DUCK RACE
Meet at 3pm at the Village Green for the NRG Queenstown (New Rotary Generation) Charity Duck Race. Extravagantly adorned ducks float furiously down Horne Creek to raise funds for the Cancer Society and the Wakatipu Youth Trust. Visit www.winterfestival.co.nz to find out how you can buy a duck.